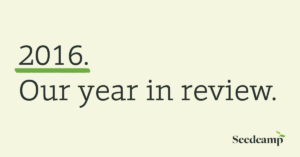 As 2016 draws to a close, we wanted to take a moment to reflect on the year that's been. Amid the turbulence there's been great work achieved and we're incredibly proud of our portfolio companies and the European startup ecosystem as a whole for how it's continued to evolve, in spite of external factors.
For us, 2016 has been our strongest year on record. We've backed over 35 companies across pre-seed and seed with startups spanning from Legal Tech to VR, and AI to marketplaces. As reported in the Financial Times, we also broke the traditional taboo on investor returns – revealing that we've returned close to 2x on our first fund, dating from 2007, with four exits this year alone (including the multi-million dollar sale of Stupeflix to GoPro) and companies have gone on to raise over $500M in further funding, including significant raises this year for FinanceFox, Property Partner and Transferwise.
Thank you to everyone who's supported Seedcamp this year. To our investors; whether you've attended an event, listened to a podcast, mentored one of our portfolio companies, applied for funding or viewed our online resources, your contribution is incredibly valuable.
Below are some highlights from 2016 at Seedcamp. Here's to more entrepreneurs and teams enjoying breakthrough successes in 2017 and to our tenth year! 
PLATFORM 
The Seedcamp platform continues to go from strength to strength with our curated calendar of events and masterclasses, in-house Experts in Residence and our expansive network. We've travelled the world – over 27 cities – in search of the best startup talent;  hosted over 100 events and worked with key partners to bolster our expertise around specific verticals
This year we assembled key speakers, founders and industry experts for our Seedcamp Summits. In March we tackled one of the keywords on every startups lips – Growth – with key speakers from Transferwise and 500 startups sharing their stories with a packed out room. In September we hosted our inaugural COO Summit in partnership with PwC and with great advice from one of the speakers: Ben Gately at Charlie HR. 
In June this year we focused our attentions on the fast-growing Legal Tech sector after issuing a global callout for startups in partnership with Next Law Labs, resulting in our co-investments in Libryo and Clause.
As we continue to invest across sectors using technology to shakeup industries that are ripe for disruption, we hosted our first event focused on one of the hottest topics of the moment – artificial intelligence –  for our 'AI is Now' panel with our friends at Northzone.
And we can't forget one of the highlights of the Seedcamp platform, the bi-annual US Trip; taking in the East and West coasts and introducing a number of our startups to key investors and companies stateside. Olivier Plante, at ThingThing, shared his tips on fundraising in the USA. Read more here.
PODCASTS
Carlos welcomed a host of incredible guests onto the Seedcamp podcast this year and celebrated the 100th edition with special guest, Werner Vogels, CTO at Amazon. 
Be sure to check out our Soundcloud page to hear more from founders, investors and leading tech voices; the people who've built businesses and products, scaled globally, failed fantastically and learnt massively.
Want to feature on the podcast in 2017? We'd love to hear from you.
PORTFOLIO 
We're incredibly excited to have backed over 35 startups this year – across pre-seed and seed – who are breaking new ground across myriad sectors. Read more about some of the newest additions to the Seedcamp family below.
EXITS
It's also been a stupendous year of exits for us, with four Seedcamp-backed companies being acquired this year. Stupeflix, which joined the Seedcamp portfolio back in 2008, was acquired by GoPro in February – followed shortly by Spanish banking giant BBVA acquiring the Finnish Fintech startup Holvi (2011) for an undisclosed amount. Meanwhile, September saw the acquisition of interactive video ad startup Brainient (2009) by Teads, following Farmeron (2011) being acquired by Virtus Nutrition in August.
RAISES
Seedcamp companies continue to raise money from great investors and 2016 was also a year of big raises. You can check out some of those in the press here: