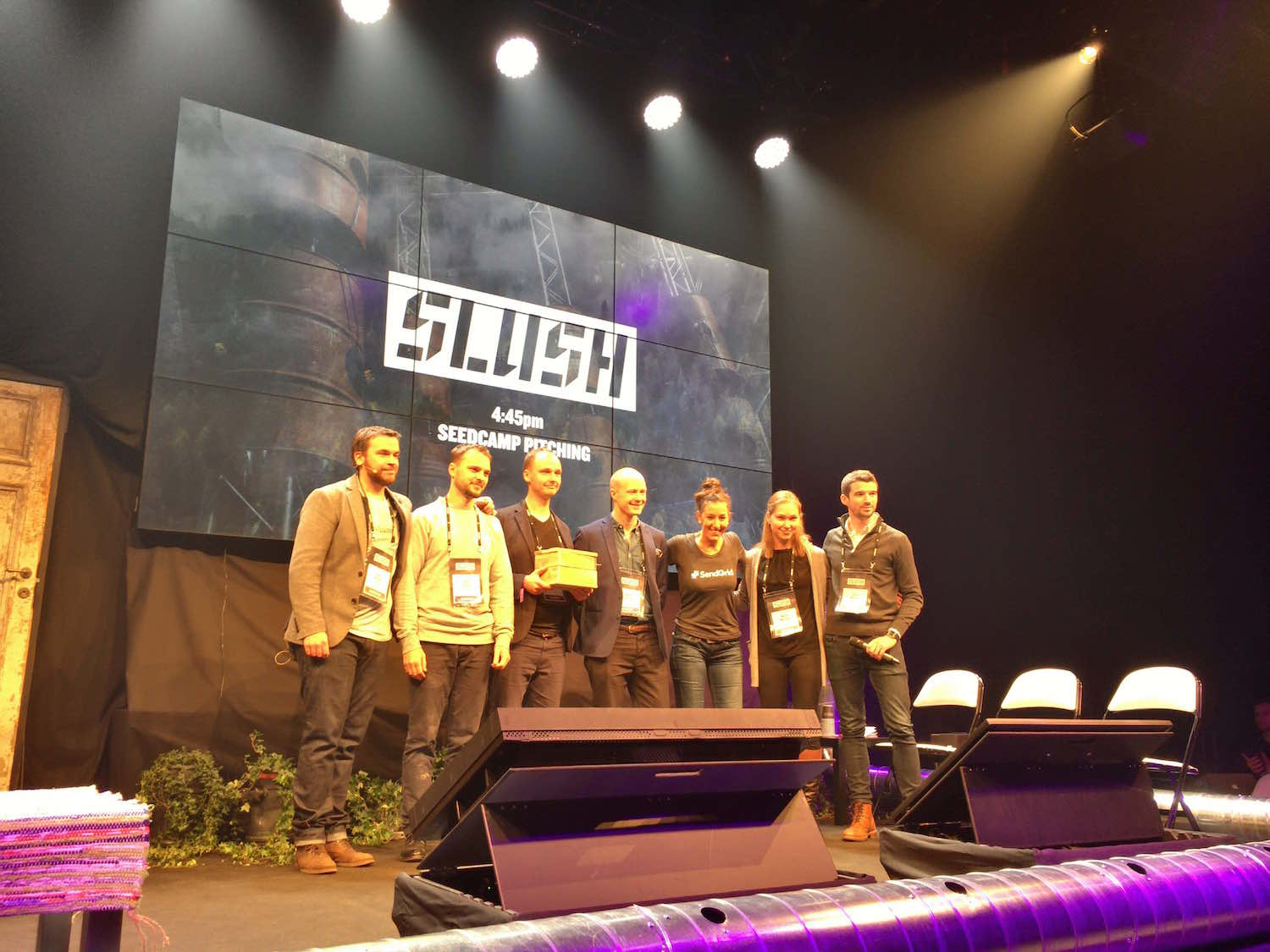 Winning teams from this year's Slush 2016 live pitching event with Dave Haynes & Tom Wilson from Seedcamp
Slush is over for another year and 2016 was bigger and better than ever.  The great and the good of the tech world flocked to a beautifully wintery Helsinki for the two day event packed full of incredible speakers and startup pitches.
Established to help the next generation of great, world-conquering startups, Slush has grown exponentially since launch in 2008 and we're incredibly impressed by the talent it continues to attract. I'd go as far as to say it's the best conference we've been to this year. Slush has built an incredible network and awareness in the Nordics and it's a great opportunity to come and leverage that and also meet with some of the exceptional startups emerging from the ecosystem that's been steadily cultivated here.
The Nordics is a real focus area for us in 2017. We consistently find the quality of founders to be very high and there's a great flow of talent coming out of established ecosystem companies, such as Klarna, Supercell and King (to name but a few). That's one of the great things about Slush; it attracts talent from these regions and gives us great insight into how the ecosystem is evolving and the companies to look out for.
At last years Slush, we were so impressed by the startups at the live pitching event we hosted that we went on to invest in one of the finalists, Estonian based Greenhouse.  For this years event we had an amazing 400 startups apply from which we narrowed down to a select group of seven companies to pitch on stage to a panel of judges including Anna Bofill Bert from Sendgrid, Marili Merendi at Karma Ventures and myself flying the flag for Seedcamp.
The companies, predominately originating from the Baltics & Nordics, covered a wide range of sectors including AI, logistics, robotics, VR and mobile and pitched to a packed out room on the Engine Stage on Day 1 of the conference. The quality, not just in the business ideas but in the overall presentation style and appreciation for  design in their early product was great to see. The quality of startups was so high the judges ended up selecting three winners from the seven, all with unique and compelling solutions to major pain points in key sectors.
Nordigen, from Latvia, impressed us by the early traction they've already managed to gain in a hot area: credit scoring for  lenders. They were selected as the overall winners with the judges particularly taken with the in-house tech they've built to categorise transactions that drives their credit checking engine. The founder did a great job presenting what could be quite a technical product and we think they're on to something really interesting here.
Another compelling founder came from Swedish company Shipwallet. Targeting one of the biggest outstanding pain points for e-commerce providers – logistics and shipping – they've created a logistics solution that plugs into the checkout process enabling merchants to provide a greater choice of shipping options. Last mile delivery is still a huge pain point and the judges were impressed with Shipwallet's good early traction in Sweden and their impressive partnerships with large brands in the region.
The last finalist we selected, Gleechi – also from Sweden – has created a state of the art software solution to create realistic hand movement and interaction for artificial hands. The software is based on 8 years of robotics research and solves a fundamental problem for both virtual reality and robotics, arguably two of the most important technology areas of the future. The judges were impressed with their approach of starting with VR and gaming enabling the machine learning algorithms to run on large amounts of data and improve over time.
Thank you to everyone at Slush for organising such a fantastic event, to our fellow judges and to all of the startups who presented. We're incredibly excited to see the talent that continues to emerge from the region in 2017 and, of course, for next year's event!
Tom Wilson, Investment Manager