37 new additions to the Seedcamp Nation, £1Bn+ raised, 2 new unicorns, and our ecosystem support continues with the launch of Seedcamp Firsts and Seedsummit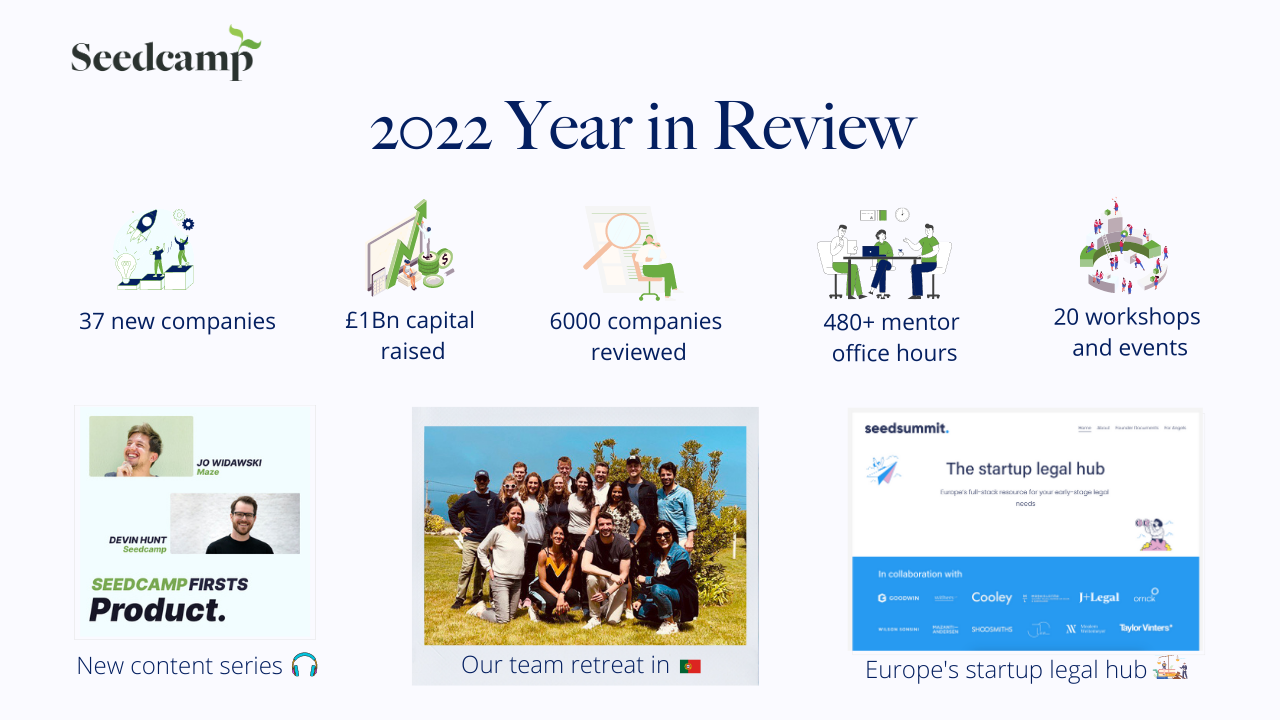 2022 has been another rollercoaster of a year.
While the global backdrop has presented fresh challenges for everyone to face, we've remained hard at work identifying and partnering with exceptional entrepreneurs, building at the earliest stages, and tackling problems we believe have the potential to go the distance and weather the current storm.
As early-stage investors, we are encouraged by the continued optimism we're seeing from exceptional founders who are so passionate about their mission that they won't be dissuaded from bringing it to life. We remain committed to backing these individuals and supporting them on their journeys.
You can see the wider market correction reflected in our annual number of investments which is more in line with where we were pre-pandemic, with 37 companies joining the Seedcamp Nation in 2022 (compared to 50 in 2021). These companies span the likes of Ourspace – a company set to redesign teams – and Rerun, which is building open-source visualization tools for computer vision in the real world. We do feel this is one of those times when the next billion-dollar companies are being created.
In spite of the bleak forecast, there is still growth to be had. Collectively, our portfolio companies have raised over $1bn in 2022. We've seen wefox raise one of the largest Insurtech rounds at a post-money valuation of $4.5 billion, representing a 50% increase from last year. Our unicorn count grew to 9, with viz.ai and Grover reaching $1bn+ valuations. With a bold vision and great execution, Maze has raised $40 million in Series B funding to democratise product research. As too did Ramp, which recently raised a $70M Series B round for its fully compliant crypto payment infrastructure. We're encouraged when we look at the breadth of industries our most valuable businesses span across the likes of Finance, AI, Robotics, Health, and Insurance, to name but a few.
Many talk about the power of their network but we see it in action every day at Seedcamp. In 2022 we've truly seen the effects of the Seedcamp Nation flywheel in motion with portfolio companies partnering, finding customers, hiring, or even merging, as seen with UiPath's acquisition of re:infer earlier this year. With a portfolio now that stands at over 450 and with over 100 mentors and experts who've scaled some of the most impactful companies globally, we're bringing that hard-won knowledge from across the Seedcamp Nation to life through Seedcamp Firsts, our new guide to the all-important first steps in company building.
We are also excited to join forces with some of Europe's top law firms and VC funds to launch Seedsummit, a free full-stack hub for early-stage founders to get guidance on a startup's legal journey from the moment they incorporate to their first institutional round.
We're proud to see our co-founder and Managing Partner, Reshma Sohoni, on the Forbes Midas List (global) for the first time. Our Managing Partner, Carlos Espinal, is also flying the flag for us on this year's Forbes Midas List Europe, also marking our sixth consecutive year on the list. This is a great recognition of our team effort and a testament to the power of the growing Seedcamp Nation!
While we know 2023 will likely have plenty of challenges in store that will require further adaptation, we remain optimistic that smart people are still driven to create impactful businesses and look forward to partnering with them on the journey.
We look forward to seeing you in 2023!
Looking for funding? Our team is excited to see what you're building!
A sneak peek into the 37 new Seedcamp Nation companies
Autone: Modular data platform to help retail & CPG businesses make better decisions.
Cyscale: Complete cloud visibility & control platform.
Figures: Access compensation data coming from employees, start-ups & scale-ups.
Granular Energy: Market solutions for 24/7 clean energy.
Klump: BNPL for Africa.
Manara: Connecting companies with the best software engineers in the Middle East.
Ourspace: Source of truth for leaders of product, engineering, design to build and maintain team structures.
Outverse: The platform built for the next generation of online communities.
Popup: No-code e-commerce platform that lets you control the customer journey, visually.
Papaya: The platform to source, run and manage your electric vehicles.
Rayon: Collaborative space design at scale.
Rerun: Visual troubleshooting for computer vision in the physical world.
The Electric Car Scheme: Government tax savings on any electric car.
Tilt: Live shopping experiences for digital natives.
20+ companies are still in stealth building across biotech and commodity exchanges. Stay tuned for new announcements in 2023!
Portfolio Highlights
Health-Tech Startup Viz.ai Raises $100 Million
Gadget-Rental Startup Grover Raises $330 Million to Expand in U.S.
Ramp closes $70M Series B fundraise led by Mubadala Capital and Korelya Capital
The power of the Seedcamp Nation: Re:infer joins forces with UiPath to help customers supercharge their digital transformation efforts
Green fintech startup, Treecard, raises €22 million so you can plant trees as you spend
Yonder launches with £20M seed round to rebuild our relationship with credit
Flow Engineering wants to modernize the hardware engineering design process with $8.5M in funding
Salesroom brings smart video to sales meetings with $8M in funding
Fullview doubles down on redesigning customer support with $7.5 million seed round
Crypto gaming firm Cauldron raises $6.6M to build 'Pixar of web3'
Dreamdata raises a €6M series A and launches a B2B alternative to Google Analytics
Surfboard raises $5m to supercharge collaboration in Customer Support teams
Food creator JULIENNE BRUNO raises over £6 million to make the vegan prefix obsolete
Seedsummit
Seedsummit is a collaborative effort by law firms and early-stage VCs to support European founders by bringing transparency to the key legal documents needed when starting and building a company. Legal documents include a founders' agreement to help jumpstart company building, employment documents, and privacy policies to build out the business, and financing documents to raise a first institutional round. We hope founders and angel investors will find it useful in navigating those critical first steps in getting yourself set up for success.
Seedcamp Podcast
We continue to have some of the best operational and founding talent join us across our growing number of content streams on the Seedcamp podcast. Highlights in 2022 include an in-depth conversation with Stripe CTO, David Singleton, a deep dive into the future of digital healthcare with our portfolio company, Ezra, and a two-part series on building out excellence in customer operations with Seedcamp Mentor Rona Ruthen. Listen to the episodes via your favourite streaming platform below.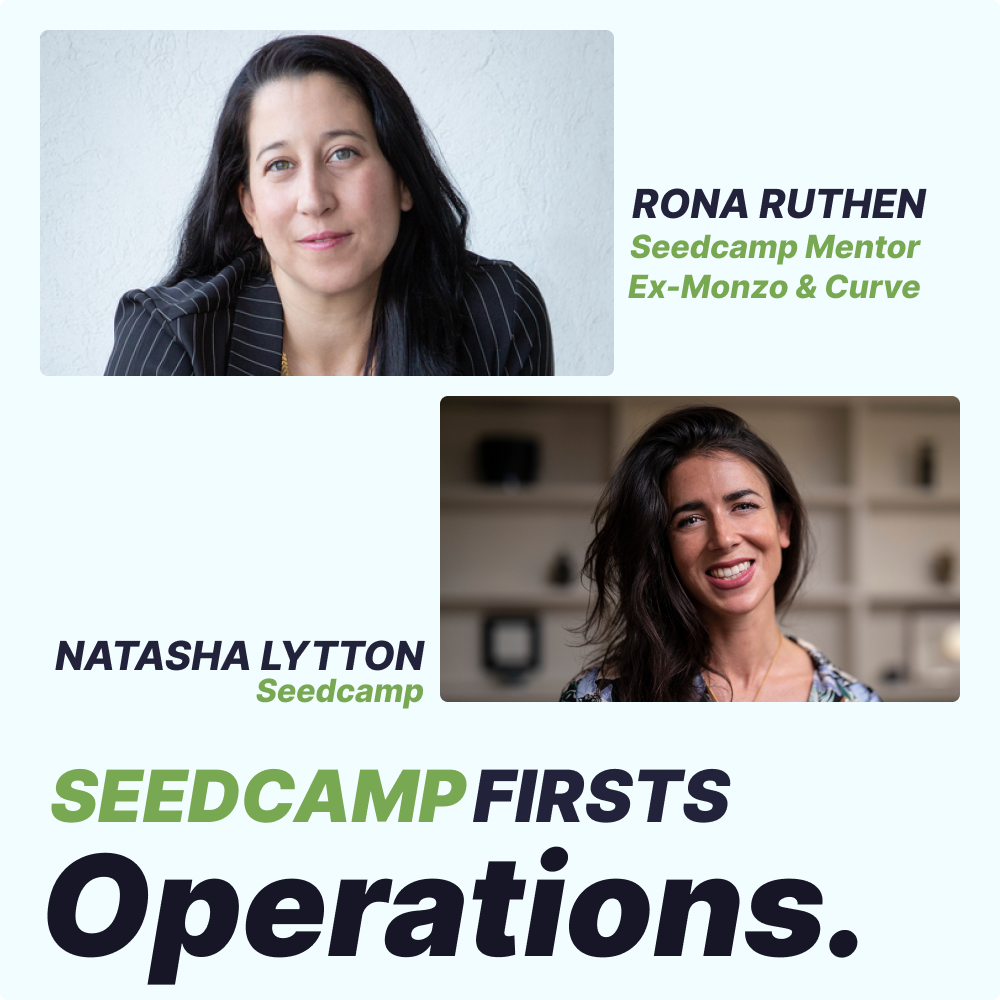 Stripe's David Singleton on Technology Innovation, Putting Customers First and the CTO Role [This Much I Know]
How Digital will Healthcare Become, with the Co-Founders of Ezra [Deep Dive]
Why Sequoia came to Europe, with Sequoia Partner Matt Miller [This Much I Know]
The founding story of Maze. How to test, explore and validate your first product ideas as an early-stage startup, featuring Jonathan Widawski, Co-founder and CEO at Maze [Seedcamp Firsts]
How to set up customer support and operations as an early-stage startup, featuring Rona Ruthen, ex VP of Customer Operations at Monzo [Seedcamp Firsts]
How to Make Employees Healthier, Happier, and More Productive, with Itxaso del Palacio, Partner at Notion Capital & Sammy Rubin, Co-founder and CEO of YuLife [Deep Dive]
Making big bets as a DeepTech startup with Victor Riparbelli, Co-founder & CEO of Synthesia [Seedcamp Firsts]
Wisdom from Across the Nation
We continue to focus on creating the content that we know founders and the ecosystem will benefit from the most. This year we launched our inaugural startup founder compensation survey to bring much-needed transparency to what founders should be paying themselves, and how that compares across geographies and stages, to deep dives around sectors we're particularly interested in.
Read more:
Start-Up Founder Compensation Survey by Alex
When to hire a CMO for your startup? by Natasha
The Rise of Real-Time Collaborative Tech by Kate
The Future of E-Commerce and the Companies out to Enable it by Kate
WTF? Brand – live from Slush by Natasha
See you in 2023!