Electric Vehicle adoption plays a pivotal role in the transition to carbon-free transportation and urban sustainability. However, the process of purchasing low-carbon assets is expensive and complex for consumers.
We are excited to see the Electric Car Scheme, a UK-based salary sacrifice employee benefit startup, accelerate the future of sustainable urban mobility while enabling employees to make more environmentally-conscious decisions when purchasing new cars.
Set up in June 2020 by Thom Groot and Tom Eilon, who found the government's tax incentive to help employees switch to driving electric cars and go green impossible to access, ECS allows employees to lease electric vehicles at a 30-60% lower price – all at no cost to the employer.
Since the start of the year, the salary sacrifice scheme has grown its customer base five-fold, making electric cars available across hundreds of companies. Many employees who have benefited from the scheme say that the opportunity made the difference between buying a polluting petrol or diesel car and going electric. The company estimates it has reduced as many harmful emissions as one would planting more than 100,000 trees. And it's just getting started!
Co-founder and CEO of The Electric Car Scheme, Thom Groot says:
"We are ecstatic that so many companies are recognising how easy it can be to offer their employees a great perk and bring down emissions – all at no cost. It's a real no-brainer.
The consistent feedback we get is that our scheme is the difference between going electric and sticking with fossil fuel cars."
On our investment, our Managing Partner Reshma Sohoni, comments:
"Starting with electric car purchases, ECS is the catalyst for consumers to make net zero choices easily. The early customer love being shown is a testament to the need for a product like ECS. Furthermore, we think Thom and Tom have the perfect mix of operational expertise to build the company into a category leader and continue enabling the transition to net zero."
We are excited to participate in Electric Car Scheme's £2.5m funding round alongside Triple Point Ventures, Adjuvo, Portfolio Ventures, Ascension, Voyager, and a number of high-profile angel investors, including Henry de Zoete, Evelyn Bourke, Phil Chambers, Will Neale, and the Funding Circle co-founders Samir Desai, James Meekings and Andrew Mullinger.
With the new funding, the company plans to continue growing its team, invest in technology, and reach as many employers as possible.
For more information, visit electriccarscheme.com.
The credit industry has gained criticism over the years, and rightly so with many companies profiting from their customers, rather than putting their best interests at heart. We believe there's a huge opportunity for a challenger to come in and create a proposition that genuinely serves people's needs. That's why we are excited to back Yonder as they come out of stealth with their new credit card, built by ClearScore alumni, and with £20M in funding following a pre-seed round we led of £850k in February 2021.
The concept for Yonder was borne of CEO Tim Chong's frustration with the struggle of accessing a quality credit provider as an Australian in London – despite a successful career and excellent credit score back home. While credit cards hold the key to building a credit score, securing purchase protection, managing cash flow, and numerous membership perks, Chong found countless customers were underwhelmed by the options available. The market size for 'credit invisible' customers who are underserved by current credit providers stands at 5.8 million people across the UK. Yonder's mission is to restore consumers' confidence in credit and eliminate stress and complexity from the customer experience.
"For too long, credit cards have short-changed and/taken advantage of consumers. Hidden fees, discriminatory credit scoring, and rewards that belong in the 1990s, all in the interest of the bank's quarterly earnings," said Yonder's CEO and co-founder, Tim Chong. "We're challenging the status quo with a beautiful card that helps our members discover the best of their city, and a promise to put the customer first."
On our investment, our Managing Partner, Carlos Espinal, comments:
Credit and credit products do much more than simply allow people to buy things, increasingly, they can be the conduit to showcase what you want to support, and how you want to live your life. We backed the team at Yonder because they have a vision for how credit products need to evolve from where they are today, catering to the few and well established, rather than enabling a new generation of customer to live life and experience the best of what their local community has to offer.
Yonder's mission is to make credit rewarding and empowering, taking the stress and complexity away from a tired industry. Their credit card rewards customers with access to exclusive drinking, dining and leisure experiences with partners including The Gladwin Brothers and Gunpowder restaurants; it will also provide comprehensive travel insurance and the ability to spend abroad with zero FX fees. The company takes a novel approach to evaluating credit suitability which is based on transaction data, using open banking to build a more nuanced, personalised picture of its customers' spending habits than relying on traditional credit checks alone. They're launching an iOS and Android app with the modern credit card basics you expect like Google Pay and purchase notifications. Yonder secured FCA authorisation in just nine months.
Joining Chong on his mission to transform customers' relationship with credit are co-founders Theso Jivajirajah and Harry Jell, also of ClearScore, alongside senior talent from Monzo and Wise.
"The new funds will enable us to double our headcount and pack Yonder's credit card with unrivalled features. We're thrilled to have the backing of investors with such a strong track record in propelling consumer fintechs to success," said Chong. "Our customers are adventurous spirits who want to unlock the best of their cities, and we're partnering with some of the hottest experience providers in London to make sure their Yonder membership will deliver bang for their buck. We can't wait for members to experience credit the way it should be."
We're delighted to join Northzone and LocalGlobe who are leading the round alongside angel investors including Sharmadean Reid, Marshmallow founders Oliver and Alex Kent-Braham, and Rio Ferdinand.
For more information and to sign up visit yondercard.com
We are incredibly excited to announce our first investment in Africa as we back Jess Anuna and her vision to build technology for cross-border commerce with Klasha as part of a $2.4 million seed round led by Greycroft. We're delighted to participate alongside a number of close friends including Seedcamp Expert in Residence and former Marketing head at Wise, Joe Cross; Gumtree Co-founder, Michael Pennington and First Round VC, Practical VC, Plug and Play, Expert Dojo and 2.12 Angels.
Not every partnership happens overnight. We first met Jess back in 2018 and were incredibly impressed with her experience at the likes of Shopify, Net-a-Porter, and Amazon and stayed close as she's since pivoted and evolved Klasha to take on the massive undertaking of building technology for cross-border commerce to enable the 400 million+ internet users in Africa to more seamlessly transact online.
Africa presents vast opportunities for scaling quickly in commerce, with the total value of e-commerce expected to reach $29 billion by 2022. Still, the ability to pay online with African money methods including cards, M-Pesa, bank transfer and mobile money is challenging for consumers on the ground. Klasha believes that consumers in Africa should have built technology to facilitate the same frictionless access to the goods they want regardless of their geographic location.
"By 2025, half of the world's population will live in Africa. At Klasha, we're building the technology to facilitate frictionless cross-border payments and allow international businesses to scale seamlessly into Africa through our API," Jessica comments. "Equally, we're giving consumers in Africa the same access to the global e-commerce economy experienced on other continents. It is imperative that African consumers are able to remain globally competitive, which includes having access to the goods they want without payment or delivery restrictions."
The appeal of Klasha's core technology is that it allows African consumers to pay international online and offline retailers in African currencies through their preferred African payment method (card, bank account, USSD, M-Pesa, Mobile Money), while the retailers receive payouts in their dominant currencies, such as USD, GBP, EUR. Klasha has built several plug-in integrations for WooCommerce, OpenCart and BigCommerce. They also offer several other features such as checkout, payment links for merchants with no e-commerce front, wire transferring and a mobile app to allow for payments across friends and family.
In the past few months, Klasha has continued to power international businesses with the tools they need to grow and expand into Africa. Within five short months of launching, Klasha has already processed more than 20,000 transactions across Africa with an average 366% MoM growth rate.
Our Managing Partner, Reshma Sohoni, comments, ''As Africa continues to undergo digitisation, there's an increasing opportunity for online businesses in Europe and the US to garner market share quickly by accepting payments online in African currencies due to the nascent stage of commerce on the continent. Klasha is our first investment in Africa which will allow frictionless scalability for merchants into the continent through their cross-border payment technology, enabling billions of underserved consumers to access their services.''
With this investment, Klasha will expand its technology to help international B2B and B2C businesses such as ASOS, Zara, Amazon, or Zoom to receive payments seamlessly online in African currencies from consumers across Africa. Klasha's core technology allows African consumers to pay international online and offline retailers in African currencies while the retailers receive payouts in their dominant currencies, including USD, GBP, EUR. Klasha is currently available in Nigeria, Ghana and Kenya and will invest in driving more revenue, growing its current 10,000 customer base, and expanding into new markets with three more African countries set to go live by Q4 this year.
We are incredibly excited for the journey ahead with Jess and the Klasha team.
If you'd like to join Klasha and are building an early-stage business that has the potential to radically change how we live, interact and buy, let us know what you're building here.
One of the biggest strengths of the Seedcamp Nation is the huge value that comes from founders helping other founders. Although we haven't gathered in person in over a year, the impact of our community is tangible through the incredible products and services being deployed around the world and the insights and advice being shared between our founders in private.
Every day founders have questions about logistical challenges, administrative concerns, and more. Questions like how to choose the best cloud hosting platform, legal experts, or tax consultants. But one of the biggest value adds is the human connection; the open, honest conversation about leadership challenges. The pandemic further unlocked the power of our community with the unexpected upside that our founders have doubled down on our online platform – Mobilize – to strike up new points of connection, and engage in discussion. Having founders from across Europe and beyond, brilliantly varies the insights shared and one recent discussion on avoiding pandemic-related burnout was particularly insightful.
It started on a 'normal' Monday when Matt Wardle, Founder & CTO of Kasko reached out to the Seedcamp Nation for help with proven strategies for combatting this burnout when leading your team. What followed was an outpouring of useful advice, resources, and ideas from across the Seedcamp community that were far too great to keep to ourselves.
Therefore we present to you the Seedcamp Nation Burnout Prevention Guide, a collection of tools and methods to try out for yourself and with your team to ensure that you're thriving in remote settings despite the pandemic.
Special thanks to all of the Seedcamp Nation members who shared their experiences and contributed ideas.
Managing Your Team
In the UK alone, 4 in 5 (79%) workers have felt 'close to burning out' at some point in the last year and more than half (51%) of workers reported feeling guilty about taking annual leave. It's paramount to focus on high-risk individuals and pay particular attention to changing behaviours: negative thinking, loss of focus, and feelings of being overwhelmed.
Time Off – Remind your team to take their holidays. Although they may not be able to go anywhere, taking a break and removing work from the living space can do wonders. You may have to lead by example and set your out of office to give your team the confidence to do the same. Or why not give your team a Friday (or just an afternoon) off? This can recharge batteries and boost morale, helping teams return to work incentivised and ready to build the best solutions the following Monday.
Flexible Hours – It may not be possible for everyone, but asynchronous working can help maintain productivity. Making it clear within the team that it's okay to have different work schedules among colleagues will alleviate some mental pressure for those who would benefit from it. Charlotte Guzzo, COO at Sano Genetics, encourages 'people to book some time in their calendars for homeschooling or other personal commitments when needed' helping the team.
Workplace Resources – It's important to recognise burnout affecting mental health and invest in protecting the mental well-being of your team. 

Calvin Benton, Founder of Spill – the mental health app – has created these intuitive guides on how to prevent employee burnout. The Spill app is a Slack integration that gives your team access to trained mental health professionals 
Ben provides flexible workplace benefits that can be redeemed while working from home and serves the needs of individual team members. They're also another member of the Seedcamp Nation, and we're such big fans that we've rolled out Ben cards among the Seedcamp core team. ]
No screen meetings – Encourage colleagues to take calls away from the screen from time to time if it does not require a presentation or group discussion. Some Zooms can be regular old phone calls!
Deep work – Another one of our founders introduced 'silent office' time: deep work coupled with co-working via Google Meet, where team members meet, share goals to achieve for the session, and then get down to it in silence. It has done wonders for focus and team connectedness.
Deep Learning – Introduce lunch and learning sessions to talk about a skill/topic team members are passionate about inside or outside of day-to-day work. Doing so can be a great way to knit in new joiners and/or level up the team at the same time.
Staying Social
Finding ways to replace water cooler conversation can be tricky, and one aspect of office life that we all miss dearly is shooting the breeze about what's hot and what's not on Netflix and in the news. Our Office Manager Alexandra found that she shared a love of the Eames designer with our very own Partner, Tom Wilson.
Here's a list of other tips, activities, and apps suggested by the Seedcamp Nation to keep the team connected beyond work:
Catch-Ups – The social variant of no-screen meetings, a special spin on catch-ups has been adopted by more than one company within the Seedcamp Nation and named 'Walkie Talkies'. These 30-minute voice-only chats work with at least 3 random team members and allow people to stretch their legs, take in some fresh air catch-up beyond their projects.
Serendipity – bring back some workplace serendipity with randomly assigned virtual coffee chats to break down barriers and spur great conversations, helping team members relate as people and not just colleagues. The Donut app (Slack integration) does this really well. Don't use Slack like the Seedcamp team? Write some code to assign some chats or do it the old-fashioned way and send a calendar invite to a new starter or someone you haven't caught up with in a while!
Physical Activity – keeping active will hugely benefit the team, doing it together will strengthen the sense of community among the team. Introducing a bit of competition can go a long way to getting people engaged beyond work. The breaks and activity will improve physical and mental health, likely improving creativity too. Apps such as Strava & Just Breathe are great for this. Check out this great article on the benefits of yoga and lessons on preventing burnout.
Celebrate – it's easy to forget with so much going on but little intentions like birthday cards, anniversary gifts, socials around special occasions (celebrating wins, new joiners, product launches, calendar holidays, etc) make a big difference to team morale.
Game apps – to plan your next social
We'll be adding more resources as we come across them, so watch this space.
(Updated Mar 2021)
The increased demand for residential real estate across Europe and the recent correction in property prices provide an attractive investment environment for real estate investors. In particular for institutional investors who are shifting their attention from commercial real estate to residential real estate investments.
This is why we are excited to back DoorFeed, a real estate technology company founded by serial entrepreneur, early UBER employee, and longtime Seedcamp Mentor James Kirimy. Ideally positioned to support the industry through the current transition, the platform builds and manages customized portfolios of apartments, houses, and buildings.
DoorFeed leverages its full-stack servicing platform with a suite of integrated software dedicated to investment managers and their ecosystem (e.g., tenants, builders, solicitors, accountants, auditors) and a network of hundreds of local operating partners who work on-demand throughout the entire investment lifecycle – from due diligence to renovation and the day-to-day management of tenants and properties. The platform analyzes thousands of sources in real-time, uncovering 100,000 opportunities every day in the European residential sector. It then creates tailored portfolios of properties for institutional investors, handling everything from acquiring and renovating to managing their assets.
Earlier this year DoorFeed supported the launch of the first French Private Equity fund specializing in single-family residential properties. Building on this significant milestone, the company aims to advance its platform capabilities, grow its operations in France, and prepare its expansion across Europe.
James Kirimy, founder and CEO of DoorFeed, highlights: 
"We're on a mission to institutionalize the residential market across Europe by making it as easy to buy properties as it is to buy stocks to investment managers. We are focused on creating market-beating strategies with our clients and playing a leading role in addressing the housing crisis. The US market has been leading the way and investors are now looking to penetrate Europe."
On our investment in DoorFeed, our Partner Sia Houchangnia comments:
"We have known James for over a decade and have always been impressed by his strong capabilities as an operator. The DoorFeed journey so far only highlights this further. James and his team have built a unique, full-stack platform that is revolutionizing the way institutional capital is deployed in the European real estate market. We are excited to continue supporting DoorFeed and to witness the strong momentum they are now gaining."
We are excited to participate in DoorFeed's €12 million Seed funding alongside Motive Venture and Stride. With the funding, the company plans to accelerate its growth to become the leading partner for institutional investors looking to deploy capital in the residential real estate market in its core French market and to prepare for its expansion across Europe.
For more information, visit doorfeed.com.
Hiring the right people is one of the most important components of company-building, especially at the earliest stages. However, deciding who to hire and which roles to prioritise is easier said than done.
In this piece, we have mapped out the hiring decisions made by 60 Seedcamp-backed companies with less than 20 employees. These companies are all pre-Series A and although the dataset doesn't spit out any 'right answers' about who to hire, it surfaces lots of interesting correlations.
Inspired by Lenny Rachitsky's article about the order of early hires at breakout B2B companies, we tackle hiring from a different angle, focusing on the hiring patterns driven by sector and distribution channel.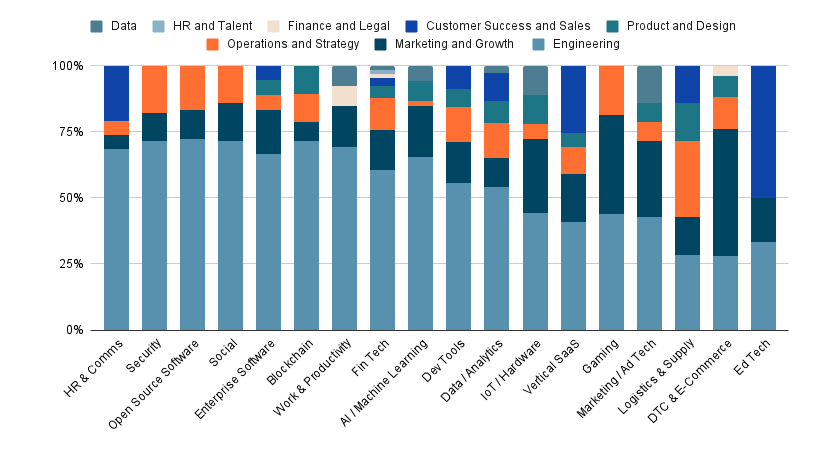 Engineering is the most important role among the first 20 hires by a significant distance. Across most sectors, engineers comprise over 50% of the first 20 hires and in several sectors, engineers comprise closer to 75%. In categories with a lower engineering contingent, such as Gaming, E-Commerce and Ed Tech, design and marketing functions tend to eat into engineering as a result of the intense competition for eyeballs on the end-user experience.
Data hires are most obviously critical for cases where the core product involves interaction with company or user data (e.g. ad tech, ML, AI). Data engineers also tend to be more important for companies where product-market-fit can be an exercise in fine margins (e.g. enterprise, productivity). Understanding user interactions with the product and making minute adjustments to UX choices can unlock big retention gains.
Customer Success and Sales hiring seems to depend more on the typical sales cycle for the product. Highly complex deals with large enterprise customers require a sales-led motion and strong post-sales support. Whereas security and OSS (open source software) tools don't necessarily have 'end users' within the enterprise and require limited non-engineering customer support, vertical or HR software is likely to have several features for different users working in different parts of a business. For example, an HR suite could be used by different teams for performance management, onboarding and hiring.
Marketing. Most companies seem to need an early marketing hire in one way or another. The data emphasises sectors that are hotly competed by lots of adjacent companies (e.g. enterprise software) are competing for eyeballs (e.g. gaming), or might have a more extended user education curve (e.g. IoT).
Product hiring trends are harder to derive from the data. Often one of the founders will be the business' de facto product leader through the early stages of growth. As a result, until the engineering team reaches a critical mass, a PM is typically less vital to the team. This is especially the case while there is minimal data with which product decisions can be made. That said, the crossroads of scaling product is very founder-specific .If the founding team are required in other areas of the business, the first PM is a critical hire.
Operations are not totally dissimilar and depend largely on the specific components of the business. For many software companies, there simply aren't many operational considerations early on. Whereas some businesses have operational complexity in the physical world embedded at their core, such as a food delivery marketplace or a solar financing business, the majority do not.
B2B vs. B2C Companies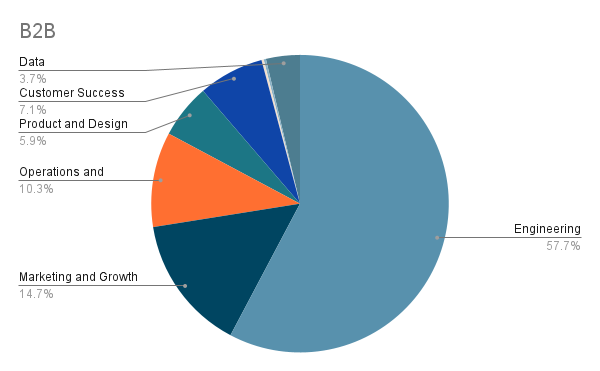 For B2B companies, engineering contributes the lion's share of employees. Start-ups are increasingly being born into a world where MVPs need to look and feel like the finished product, before considering hiring a flock of sales people. This requires a lot of engineering up front as 'building in public' continues to become less popular.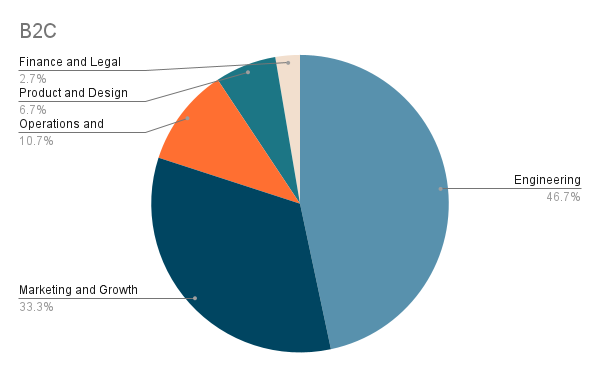 You will notice that for B2C companies, the allocation of hiring to Marketing and Growth is much larger, at the expense of Engineering.
It used to be a consensus that a consumer needed to be reached by marketing 7 times before making a purchase. That number is probably now far higher with the saturation and competition of 'sexy' consumer brands on social media.
According to Chamath Palihapitiya in a now-deleted Social Capital shareholder letter from 2018, "Startups spend almost 40 cents of every VC dollar on Google, Facebook, and Amazon". Although this may well be overstated, marketing spend is clearly key to many B2C winners. Duolingo for example continues to outspend competitors on performance marketing by 5x.
B2C companies have a very similar portion of operations and strategy employees to B2B companies and do not require customer success and sales execs that guide through heavy duty contracts.
Variety and Deviation
This data is all well and good but doesn't necessarily show the strength of correlation within each of these hiring categories, which varies considerably.







If you have thoughts and opinions on hiring in early-stage tech companies, we'd love to hear them! Alternatively, if you are interested in a role, join the newly-launched Seedcamp Talent Network.
Notes on the data
We used anonymised data on 60 companies in Funds V and VI. The data is taken from LinkedIn.
The companies included in this analysis are all pre-Series A and have less than 20 employees, excluding the founders. The data does not include the order of hires or seniority of employees.
Where certain role titles can represent multiples 'jobs; – 'growth' could mean marketing or launching a new market – they have been bundled for simplicity.
The data reflects the current employee base. Some companies have had employee churn and so the composition of early hires will have already evolved.
This post was written by Will Bennett, Associate and James Wright, Head of Talent at Seedcamp.
Our Talent Manager James Wright spoke with Brett Putter, CEO of CultureGene about the role culture plays in today's work environment, especially when it comes to hybrid and fully remote teams.
At CultureGene, Brett and his team help companies develop effective hybrid, remote-first, or remote companies. They have developed different tools and different programs to help companies depending on the size and scale of the business. Typically, they work with companies that are growing rapidly and need to stabilise their DNA and the foundation so that growth is built on solid foundations.
Watch the video or read the Q&A below!
James: There is no clear consensus on whether fully-remote, hybrid, or office-based cultures are best. What are the major benefits or drawbacks of these options from your perspective?
Brett: There are a number of elements to consider here. If you're intentional about building the remote capability inside your company you can see how well it can go. Take companies like remote.com who scaled from a startup to over 1000 employees in four years in 60 countries. They are doing it well. Gitlab also went from 100 people in 2016 to 1800 now. So you can see remote first businesses can do it very well. But like anything, there are benefits and drawbacks. The benefits are that you have access to a wider talent pool, you can hire and find the best employees from anywhere. Some companies are saving money on office space and scaling quicker because of that. Studies have also shown that remote and hybrid employees are happier and they're also more productive.
On the other hand, if you are not intentional about building a remote working capability, you can see many issues arise. Communication and collaboration challenges are common challenges. Cultural challenges can grow and the leadership often struggle to maintain high performance as a result. It can also be hard to track employee performance for remote or hybrid teams.
With an office environment, leaders know how to lead in this environment. We've done it before and we are designed as humans for synchronous communication, so it is naturally easier to collaborate. It's easier to develop a company's culture and it often happens by default. You also typically find it is easier to manage performance too. But the drawbacks are limited access to talent, often higher costs, and a general decrease in employee flexibility. This last one is the biggest threat to companies as employees want flexibility and autonomy.
So there is no easy answer and no silver bullet.
James: Frequently founders of remote companies realise they have performance problems, but struggle to identify where they originate from. How do you go about identifying the bottlenecks in a business that is fully remote? And then, how do you fix them?
Brett: Bottlenecks are happening ultimately because of remote work friction. And this happens because most remote companies operate like they would in an office environment. They aren't being intentional about building a remote work capability.
The bottlenecks usually originate from collaboration and people management. When it comes to collaboration, if you aren't defining your key processes then new employees have to work it out themselves. If you aren't being deliberate about developing and documenting processes a lot of time is wasted either by the employee asking others in the business for help or taking more time figuring it out themselves.
If you aren't balancing synchronous and asynchronous communication and working out what you should do when, and building rules and structure around this, then that is where the friction happens. If you aren't being deliberate about building social capital and social connection as your business scales, then people lose connection, contact, and trust over time.
Remote work companies manage and lead differently, they are outcomes-based rather than input-based. To your point around performance, they have a way of ensuring that you know who's performing even at a micro level. So it's on the manager to be on top of performance so this can then be fed up to the leadership.
James: A lot comes down to the people you hire in a business, and different work environments need different people. Have you seen a typical leadership persona that works well in a remote-first business?
Brett: There is some research on this, Georgia Southern University did a study before the pandemic. They had 220 teams of 4 people. 110 worked remotely and 110 worked in an office. All the teams had to choose their leaders at the end of the project.
Those who had been in an office environment had leaders with the following characteristics: charisma, hierarchical, verbal, and delegators. Whereas those that had been remote had leaders with the following characteristics: coach, mentors, facilitators, project managers.
This is the crux of some of the leadership challenges that are happening right now, leaders who are strong in an office environment aren't necessarily strong in a remote environment.
Ultimately, a lot of companies quickly pivoted from in-office to remote first during Covid, without changing the leadership team and it's something we help our clients with, in changing the style of management in the organisation which is needed for high performance.
James: To monitor and track performance in a remote business, many default to micromanagement, which is never liked by employees. How can you avoid micromanagement in a high-performance, remote-first environment?
Brett: Micromanagement is very destructive. It's bad in an office environment but even worse in a remote operation. They are either going to waste a lot of time showing you proof of work, or they will lie.
What I've seen is remote work companies use is an idea by Andy Grove who came up with a concept called task-relevant maturity. It's the idea of how capable the individual is of doing the set of tasks they have to complete. As a remote manager, you can evaluate if a team member has completed those tasks before and what they might need support with. Essentially this is a powerful tool that allows you as a manager to get ahead of the bottlenecks before they happen. It's a slightly different way of leading but I've seen it used extensively in remote companies. 
James: It's certainly easier to introduce these processes when you incorporate your company as a remote-first business from day 1, but when you've transitioned from in-office to remote, how do you go about transitioning your style of working without suffering major brain-drain from resignations and poor performance?
Brett: Typically if you were in the office before the pandemic and then you've decided to go hybrid or remote, the thing that we don't fully grasp or appreciate is the extent to which the office helped us with our culture development. The office gives us physical proximity and learning by observation. When you're in an office space you almost don't need to be that intentional about your culture. You can catch up when it's 50 or 100 people and start being more deliberate. If you leave that environment it can often feel that your culture has been obliterated.
Even in a hybrid environment, the office is not as effective as it was. So as a leader, you need to understand what you've lost and how to make up for it. So one example is losing the ease of collaboration in the office. That might mean being more intentional about key processes, making sure everyone is aware, and keeping those processes up to date.
James: Flipping the direction of the conversation a little, we're seeing more and more of our portfolio head back into an office environment, or at least having more days in the office. How would you recommend managing that process?
Brett: When you say 'some of the team' want to be in the office, usually this is the leadership team that wants to be in the office and they are ultimately the ones driving this initiative. If they are, that is fine. However, you have to accept that some people are going to disengage as a result. There are some people who are now no longer willing to spend an hour travelling to the office every day. Ian Goodfellow was the Chief of ML at Apple. In 2022 Apple went from Remote to Office again and he resigned as a result. If a company like Apple can't keep their best people in that transition nobody can. Ian went to DeepMind who had a more flexible work arrangement for him. 
James: Different teams typically have different openness to office working. For example, engineering teams typically favour working from home and sales teams generally prefer office-based environments. Can companies create different rules for different functions in their businesses?
Brett: I've seen companies do this. It's viable if you manage it properly. I believe that if you have a hybrid or remote first mindset then you can have people in the office and people at home without issue. It just requires a lot of thought around how you ensure information isn't lost when some are in the office and others are at home. As long as everyone understands those processes to mitigate this then it can work.
This conversation has been edited for length and clarity.
The average enterprise uses hundreds of SaaS applications. When a company is considering purchasing new software, ease of integration with the existing stack is top of mind. Building integrations is also a priority for both developer teams and sales teams at every SaaS vendor.
This is why we are excited to back Integration.app, an AI-powered integration stack for SaaS products that aims to be the catalyst for deeper connectivity across the SaaS ecosystem. The platform provides a single flow to integrate with every external application, thus freeing developers from having to build the same integration scenario over and over again. 
Founder and CEO Daniil Bratchenko, previously an early engineering leader at DataRobot, a leading AI automation platform, has experienced first-hand the challenges of software integrations, while he helped grow the company from 20 people to over 1,000.
"At DataRobot, I saw first-hand how much customers value well-integrated software, and how important integrations are in purchasing decisions. At the same time, I have seen how challenging it can be for developers to build strong integrations at scale. It is my mission, and Integration.app's mission, to solve this problem for developers once and for all".
Integration.app's Universal Integrations architecture aims to revolutionise the integrations category by removing the trade-off between time-to-implementation and customizability. Product and engineering teams in software companies can use Integration.app's suite of APIs, SDKs, and UI components to build customer-facing integrations with multiple apps in one go, while maintaining the look and feel of their application.
The company's platform leverages emerging capabilities of Large Language Models to create a "one-to-many" paradigm, whereby developers can configure one integration scenario (e.g. import customer data from any app). Integration.app will intelligently map APIs and UIs across multiple applications to generate dozens of integrations at once, speeding time to production by up to 3-6 months. This empowers developers to focus on building core features, rather than spending hours reading API documentation and building repetitive integrations.
The platform is already being used by a wide range of B2B SaaS companies, from early-stage startups to large businesses such as Airmeet. Airmeet, a leading virtual events platform, saved budget and engineering time by using Integration.app to scale their portfolio of integrations with Sales and Marketing Automation tools.
"As we were looking to build out our next batch of CRM integrations, we discovered that Integration.app had a unique solution compared to unified API platforms or embedded iPaaS offerings. They are an API-first and developer-first solution, with a flexible and customizable framework that features the right amount of abstractions to build on top of. We managed to build out integrations with Salesforce Pardot, Pipedrive, ActiveCampaign, and Keap in a matter of weeks, which gave us time back to focus on our core features" said Raghav Takkar, Principal Product Manager at Airmeet.
SaaS vendors that use Integration.app save time and money on building integrations while shortening sales cycles from prospective customers who request specific integrations to the applications they need.
CEO Bratchenko emphasizes:
"5 years from now, integrations will become a commodity. AI will make it simple and free for a developer of a business application to connect with every other application their customers use. Think of how easily it is for smartphone apps to consume and send data across each other. This should be the same for business apps. Integration.app will provide this deep connectivity layer and pave the way to this future for the next generation of SaaS companies."
On why we invested, our Principal Felix Martinez comments:
"Integration.app is harnessing AI to create a new type of platform for integrations, harmonising the balance between being customisable and user-friendly – a choice that has traditionally challenged developers in creating native integrations. In a world in which deep integrations become table stakes for all SaaS companies, Integration.app can become the connective tissue which binds business applications into a cohesive ecosystem. "
We are excited to participate in Integration.app's $3.5 million Seed funding round led by our friends at Crew Capital, alongside Cortical Ventures, Accel Starters, DataRobot founders (Jeremy Achin, Tom de Godoy), and UiPath executives.
The new capital will be used to accelerate the company's mission of enabling SaaS apps to work seamlessly with each other. Integration.app will continue to expand upon its existing portfolio of hundreds of connectors with a breakthrough new product that leverages AI to enable developers to build their own custom connector for any application with a documented API.
You can learn about Integration.app and sign up through the website. Feel free to send a message to hello@integration.app if you're interested to learn more.
At Seedcamp we first invested in machine learning as part of Fund II in 2012, when artificial intelligence was mostly confined to academia. Our earliest investments were James Finance and Elliptic, which recently raised a Series C to continue powering financial crime detection. AI fundraising activity gathered momentum in the lifetime of Fund III. We are deploying Fund VI, which we launched in May this year,
We are now deploying Fund VI, which we launched in May this year, and are particularly excited about startups building AI-driven solutions across industries and verticals. Our most recent commitments include the AI governance platform EnzAI and AI-powered automation software AskUI.
Accelerated by rapid innovations in Generative AI, the AI space has reached blistering speeds and represents 18% of all investment in the venture industry.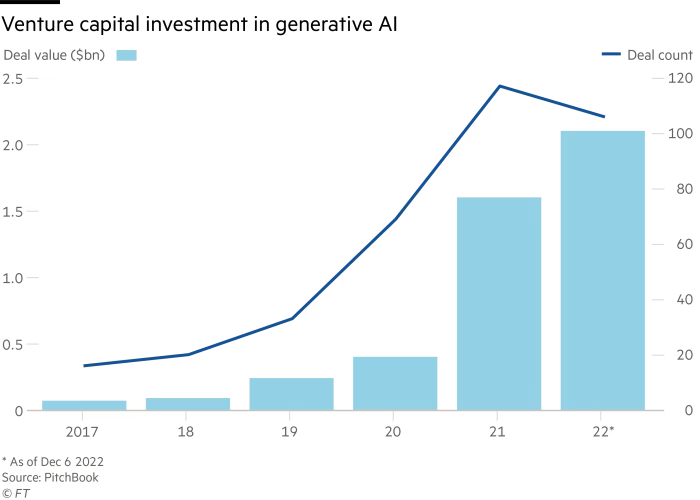 This article walks through some of the micro-themes that bind the 70 commitments Seedcamp has made to date in AI and ML.
Applications that 'do work'
Enterprise workflow stack and automation
MLOps
DevOps and deployment
Guardrails
Sector-specific discovery engines
Applications that 'do work'
Large language model are the first AI tools capable of doing work that would otherwise have been done by humans. Sarah Tavel of Benchmark has written a great article about this point of inflection. Where software could only previously enhance the efficiency of work, it can now literally do or generate it.
Seedcamp has invested in Metaview which writes interview notes, Flowrite which can write emails and messages across Google Chrome, and Synthesia which automates video production and recently achieved unicorn status.
Users can enter text to Synthesia, choose an avatar trained on actors, and generate videos
Users can enter text to Synthesia, choose an avatar trained on actors, and generate videos
The concept of software that does work is already catalysing a wave of startups and new business models and philosophies for the enterprise.
How should we re-calibrate 'productivity', if it is a function of infinitely re-produceable software?

Where 'time' was the denominator of the traditional productivity equation, [productivity = rate of output/rate of input], is the correct denominator now GPU?
If in the future humans are just responsible for validating model accuracy and precision, then the real opportunity is to find the 'fast moving water' (as coined by NfX), where AI is capable of the biggest volume of work.
Within this early wave of LLM applications that do work, a pattern is emerging of companies focused on automating time-consuming, high-complexity activities that are conducted in written natural language. Procurement RFPs, compliance questionnaires, legal documents, and code generation are all obvious early use cases. Companies that can translate the description of a problem in these areas to sound and reliable output are likely to capture value.
Enterprise workflow stack and automation
The lion's share of enterprise AI applications in the last decade have focused on employee efficiency. The most remarkable innovations have been horizontal software that tackle 'hard and boring' problems such as process mining, application automation, and project management to give employees more time to do more work.
UiPath (NYSE: PATH) is a category leader in the enterprise work stack after going public in 2021. The company helps businesses automate and improve high volume and low complexity tasks within the enterprise and recently acquired communications automation platform, re:infer, also Seedcamp-backed. We have also invested in AI businesses automating other corners of the enterprise such as Rossum, a document gateway for business communication, Juro, a contract collaboration platform, and tl;dv, which records meetings and helps you tag important moments on the fly.
Newer robotic process automation products and features increasingly include 'self-compounding' elements that use previous activities to prioritise future activities based on ROI and other key metrics.
In the longer-run, there may be a significant difference between apps that 'do work' and more general efficiency-enhancing enterprise software. AI businesses in the former category may use models trained on sector specific data, which are necessarily vertical software (a co-pilot for every industry). In the latter category, the market opportunity includes all business with processes, for which broader approaches may be more relevant. Vertical or sector-specific winners can of course still be massive businesses, and may capture 60%+ market share whereas horizontal winners rarely get more than 15%.
MLOps
'MLOps' has become a nebulous branch of the AI taxonomy but remains the best way to describe companies that enable the running, maintaining, analysing and fine-tuning of AI models.
MLOps has several layers that are each prerequisites for model development; the GPU layer, the data layer, the observability layer, etc. Companies typically have an insertion point that tackles one of these and move on to add features that target several at once where there are obvious adjacencies. MLOps companies are the 'picks and shovels' of artificial intelligence.
Pachyderm's products serve customers across several uses case within model production
In our portfolio, Embedd.it parses data from ML datasheets to generate drivers for semiconductors and Fluidstack aggregates spare capacity in datacenters to rent out to customers.
The speed of developer adoption of MLOps tools highlights that demand may be outstripping supply in this category. For example, at the data layer, there is still plenty of white space for AI-native tooling for observability, integration and transformation, and the race to build tools to debug and increase performance of models is red hot.
Redpoint Infrared Report (2023)
Guardrails
Propping up the MLOps ecosystem is a cluster of software trying to prevent the general misuse of AI. If generative AI is an open-road race, the guardrails are the police, the red lines, the car bumpers, the rolling barrier and the orange cones. The guardrails entail a broad set of companies spanning from cybersecurity – Resistant.ai protects AI-native systems from complex fraud and sophisticated machine learning attacks through to governance; Enz.ai helps organisations adopt policies to build and deploy AI and track their practices against them.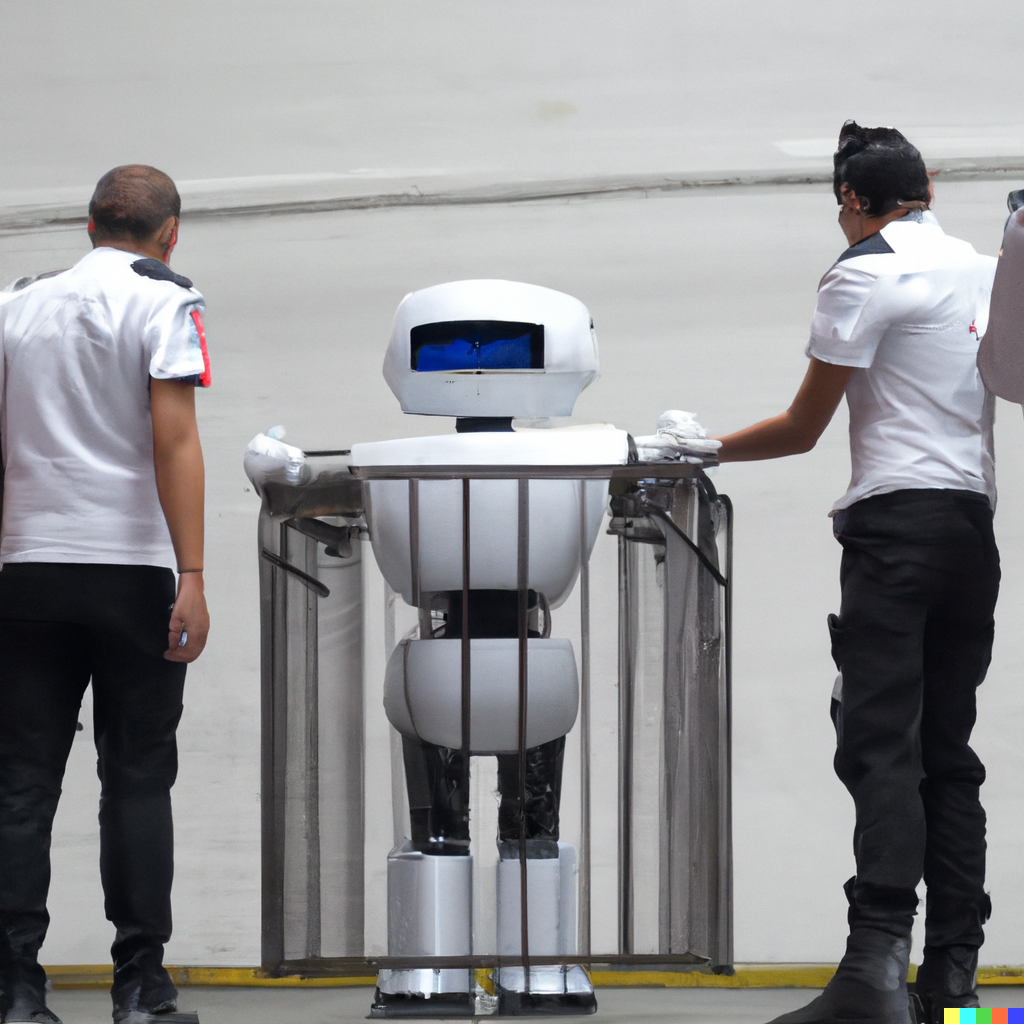 DALLE's best impression of AI guardrails
Guardrails are plausible at many insertion points within a model pipeline. Software that ensures only the right company data is sucked into in an open-source model, software that sits on top of a model to ensure brand alignment and software that generally 'troubleshoots' the software supply chain in complex cloud environments, such as RunWhen.
Tools of this nature are increasingly integrated into infrastructure rather than at the application level. They have 'shifted left' chronologically. This enables companies to ensure compliance and security across the entire model production sequence. Although this approach often has a higher rate of false-positives, since checks occur prior to project completion, there is scope for reinforcement learning layers to drive a smoother workflow and categorise issues as they are flagged.
Devops and deployment
The hardest category to succinctly compartmentalise is the tooling layer that helps developers integrate models. These aren't a feature of model 'building' but rather how developers within enterprises can best select and use these models.
These tools are often modular and focus on how models interface with the enterprise and with the end-user. Deployment channels will be especially relevant for industries with fewer software developers to conduct bespoke model integrations. Companies in the Russell 3000 might well be thinking about how to do this effectively.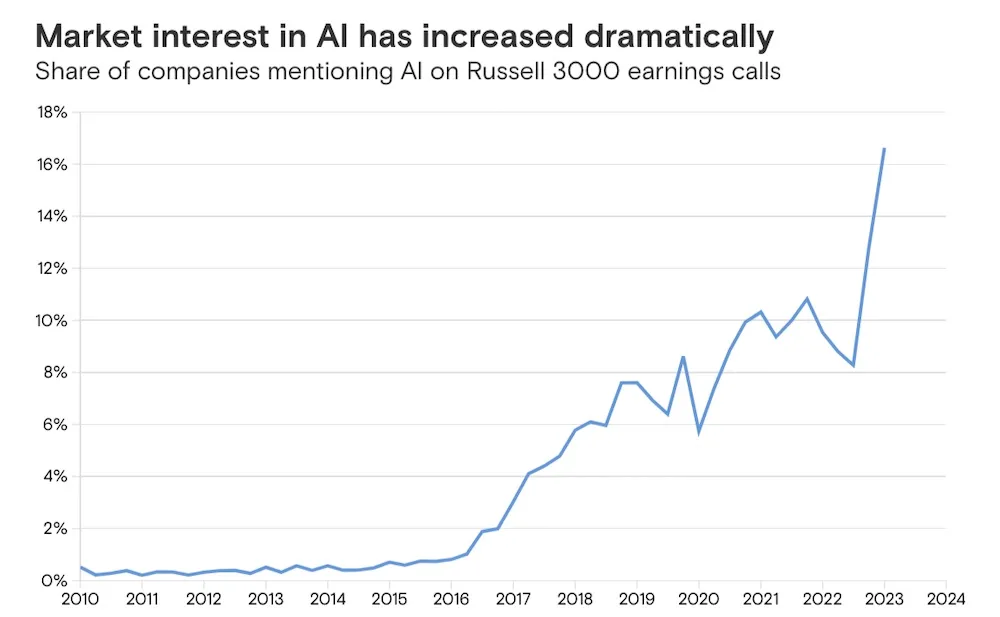 Goldman Sachs (2023)
This is one of the spaces that is moving incredibly quickly in the current LLM wave as the answers to many questions are yet to emerge.
Will all businesses need to integrate an LLM?
Do all sectors require a co-pilot based on industry-specific data?
Do all employees need to be able to interface with a model or only developers?
At Seedcamp, we have invested in several early-stage businesses in this space. Dust is a platform for creating sophisticated processes based on large language models and semantic search. AskUi is a prompt-to-automation platform that understands applications and helps users build UI workflows that run on every platform. Kern.ai helps companies connect external models to a internal data in a secure fashion.
Sector-specific discovery engine
Finally, there are the predictive applications of 'old-school' AI; much less a la mode. This type of business typically detects unknown unknowns, such as suspicious trading patterns, but can also detect known unknowns earlier in a workflow, which is often the case in a medical setting.
Despite the heady excitement around generative AI, predictive AI still has a lot of room to improve its own value proposition. For example, intelligent AML, KYC, and transaction monitoring technologies are still trying to crack financial crime and scams. The amount of risky and illicit crypto flowing into financial platforms is still in the hundreds of billions despite trending downwards YoY and represents 2-3% of all inflows.
At Seedcamp, we have focused on healthcare and fintech in this space to-date. In healthcare, we are investors in Ezra, an early cancer detection technology that combines advanced medical imaging technology with AI, and viz.ai, which alerts care teams to coordinate care, connect professionals to specialists and facilitate communication. In fintech, we are investors in 9fin, a platform for financial institutions to leverage analytics and intelligence and Elliptic.
Other interesting areas in this space might include agriculture, manufacturing and logistics. There has been compelling innovation but it has largely been confined to incumbents like Siemens and John Deere. John Deere spent $1.9bn on R&D in 2022, or 4% of revenue. That wouldn't be much for a pharmaceutical company but its a hell of a lot for a heavy machinery business.
One reason that AI is so exciting is that it continuously forces investors to reconsider what they believe. Seedcamp's first AI/ML commitment in 2012, James Finance, built fintech infrastructure to determine customer eligibility. In Europe, Lendable and Funding Circle became breakout companies in this space, but AI advancements didn't propel a large group of winners in the intervening period and investor theses about the space decayed.
With each evolution of AI technology, the category has changed and in 2021 and 2022, predictive fintechs like Marshmallow reached significant scale with technology that determines customer eligibility. Investor sentiment pivoted again✝.
---
At Seedcamp, we are optimistic about the way AI upends sectors and we are always interested in new solutions at every interval of the software value chain.
We are especially excited about entrepreneurs with a differentiated perspective on the future. That might be that every company will operate myriad small open-source models via a routing layer, that the entire data pipeline needs to be rebuilt or that federated learning between farms will unlock a new wave of agricultural prosperity. It might even be that language models are a flash in the pan until they are in the hands of humanoid robot butlers, doctors, and waiters.
Whatever it is, we would love to hear it, so please get in touch!
✝Funding Circle, Lendable, and Marshmallow are not Seedcamp companies.
With a multi-trillion dollar valuation, the global Real Estate industry has been slow in embracing digital transformation. It remains one of the most document-heavy and data-filled industries, with enormous potential for automation and talent upskilling.
This is why we are excited to back Fifth Dimension AI, a London-based startup on a mission to amplify the exceptional in real estate professionals. Coming out of a pilot phase, the company launched its flagship product Ellie, a first of its kind AI co-partner developed to improve productivity and amplify exceptional teams in industries that deal with a lot of documents and data. It automates time-consuming tasks such as data analysis and industry research, thus freeing people up to focus on bringing value to their business and fully using their expertise and insights.
Founded in January 2023 by Johnny Morris and Dr. Kate Jarvis, Fifth Dimension AI leverages their wealth of expertise across real estate, finance, and technology. Dr. Kate Jarvis, a large language model wizard with a PhD in Linguistics from Stanford University, has spent over a decade designing Machine Learning-powered products and bringing them to market. Johnny Morris brings more than a decade of real estate experience, in roles such as Chief Operating Officer at Wayhome and Analytics Director at Countrywide. The founders believe that Large Language Models (LLMs) can unlock the exceptional in people, taking away the time-consuming and often boring task of reviewing large quantities of information locked away in disparate documents, and instead producing outputs in a fraction of the time.
Dr. Kate Jarvis, Co-Founder & CEO of Fifth Dimension AI, comments, "This investment is a testament to the recognition of Ellie's ability to redefine the world of work beginning with the real estate industry. We solve the issue of lifting employees out of time-consuming, repetitive and boring work, working with natural language that is designed to ensure people from all backgrounds can use it in the way that is most productive for them. Ellie empowers knowledge workers to do their best work and lead happier, purposeful, and more fulfilled lives."
Johnny Morris, Co-Founder & CPO, Fifth Dimension AI, adds, "We designed Ellie to provide real estate professionals with a competitive advantage by providing a partner to help them get done in minutes what usually takes hours. Across our clients, we've been amazed by the impact that Ellie has on the newest generation of real estate professionals. These young and ambitious individuals are able to increase their output and amplify their expertise in the industry – in a fraction of the time. With Ellie as their partner, we believe the next generation will have the power to truly move the industry forward."
Following the completion of an initial pilot scheme running since April, Fifth Dimension AI already boasts nearly 10 major real estate firms as clients, including big names such as Hamptons.
On why we invested in Fifth Dimension AI, our Managing Partner Carlos Espinal comments:
"With their wealth of expertise across AI, Real Estate, and Finance, Johnny Morris and Dr. Kate Jarvis are a world-class founding team taking on a massive opportunity to innovate the real estate industry. We love their emphasis on the human element, i.e. enabling real estate professionals to fully leverage their talent and knowledge, and thus focus on high-impact activities that create more business value."
We are excited to co-lead Fifth Dimension AI's £2.3 Million pre-seed alongside Anthemis' Female Innovators Lab Fund, with support from Ascension Ventures Ltd, Concrete VC, Love Ventures, Twin Path Ventures, and Sie Ventures. With the new funds the company aims to scale the business' sales and marketing functions and focus on product development to enhance the tool's capabilities for an expanding audience across the real estate industry
For more information visit fifthdimensionai.com.
"The most aspirational high-level line is if you built a community, your community and users feel like they belong to the product. And so that combination of ingredients really built an ecosystem where our users were just empowered to build and innovate around Sorare." – Dan O'Kelly, Sorare
In a new Seedcamp Firsts podcast episode, our Partner Sia Houchangnia chats with Dan O'Kelly, an early Community Lead at Seedcamp-backed fantasy sports unicorn Sorare. They cover all things community building, including:
the importance of community in building a fast-growing startup;
founders' key role in setting up the vision and building the foundations of an authentic community;
the early tactics Sorare used to build their community;
how to kickstart and nurture your community;
how to nurture organic initiatives by community members;
why it is important to put resources into community building;
mistakes and lessons learned in scaling community in the hyper-growth phase.
Key takeaways:
Identify and integrate yourself in micro-communities you believe your value proposition will resonate with;
Empower early adopters to start their own initiatives and leverage word-of-mouth;
Build relationships with key people in the community;
While in the early days community members have patience and more understanding, as you scale and develop your product, their expectations rise;
Adapt your messaging to the different audiences you want to reach;
While there is no real standard science for measuring community sentiment, find ways to measure the ROI of your community;
As the company grows, make sure that the community function is well understood, especially by new hires, and that resources are allocated to community building and nurturing.
Listen to the full episode or read the conversation below:
Sia: Can you tell us about those early days and how you kick-started the community-building effort?  
When I joined in November 2020, there was already a very, very engaged core community that lived on Discord and was starting to grow and live on Twitter. So what Nico, one of Sorare's co-founders, had done from day one pretty much, is he knew he had this really interesting value proposition with what Soare was.
He knew it was really new and innovative and he just started from there and started to integrate himself into very, very niche micro-communities in which he believed that new value proposition would resonate. So he searched for that niche crossover between crypto fans and diehard sports fans and collectors, and, if I'm right, there was one that existed already with MLB, something that was quite similar and within there, he was finding people that might be curious about a football game.
He used and nurtured these relationships to also help with product development. And from there, having this kind of core group of people who were very curious about what he and his co-founder Adrien were building, he really focused on Discord and grew from there.
Brian, who, like me has done a large number of jobs at Sorare, but was kind of our 'growth guru' in the early days, had also tapped into the potential of what Nico had already started building. We had a really cool core community and there was a huge potential with word-of-mouth. People were excited about what we were building, so when I joined, Brian had already started putting the tools in place for the community to grow and engage with each other. There was an ambassador program and a referral program that had just been set up and an affiliate program was in its early stages of ideation. So that's everything that was in place when I joined.
Sia: And so the point of touch you had with the community where they're mostly over Discord and Twitter, or were you using any other tools?
Dan: There was Telegram and Discord. They were the two big ones.
Telegram largely because that's where a lot of the crypto audience lives; Discord because there was a nice crossover between gamers and crypto live there as well. But we found there was a grown interest from really, really diehard fantasy players who were way more native to Twitter or well, X formerly known as Twitter, but they were actually learning and migrating to Discord just because that's where our community was living. That's where we were present. So when I joined, Discord was growing and super active, but still, you could go in there and scroll the general chat and there wouldn't be such a high-level activity where it was impossible to follow. You could really chat with people in the morning and you kind of knew everyone that was part of it. So it was still the size where everyone knew everyone.
When I joined, Nico shared with me the adjacent user theory. He said, 'Look, this is where we are right now. We're pretty strong with this crossover of crypto and sports audience, but it's a small market and our product is pretty good for them, but it's not great for all these fantasy players.'
We had the best of blockchain technology, but we also had the frustrations and the worst of it, like fluctuating gas prices. That means nothing to a football fan who is just ready to collect cards. So my first challenge was to see how could we start making easy, quick tweaks to the product and also how we communicate so that it resonates more with our next target market, which was really diehard football fans who are either big collectors or big, big fantasy players.
Sia: On the role of those early adopters, really interesting to hear how Nico very intentionally went after microcommunities he had identified that foot could be the first one to resonate with what Sorare was doing. Can you share a bit more about how you were also interacting with those folks who are very early in the community? Did you really work on giving them more tools and content, so that they could start evangelizing others about the platform, or how did the relationship with those early adopters work?
Dan: We have these three community pillars, which are pillars that you use across, in my opinion, the full journey of a company, from small to big. You have to listen to them and make sure that they know that they're being heard.
And you make sure they know they're being heard by engaging with them. So that's being proactive, but also reactive to what you're seeing and listening. And then you also have to empower them. So, when I joined, a lot of the early adopters had also taken it upon themselves to say, 'well, look, it's up to us to help grow this.'
And honestly, for me, it was extremely exciting coming in as a community manager, because one of the hardest things to do as a community manager is to make our users proactive enough to first engage with our content and give feedback, but then also to build their own tools and ecosystems around it.
So we were lucky in that the inherent nature of blockchain technology and Adrien's vision from the tech side of Sorare that it would be an open world where you have access to the APIs and all that stuff; and also, Nico's very proactive approach in being transparent, and available to users, making sure that they feel that they belong to the product.
The most aspirational high-level line is if you built a community, your community and users feel like they belong to the product. And so that combination of ingredients really built an ecosystem where our users were just empowered to build and innovate around Sorare. For example, Sorare Data was kind of built in the really early stages.
When I joined, Nico had a list of 15 people and said 'You have to speak to these, just build relationships with them and understand and they'll be key to your understanding of what Sorare is'. So that's what I did. The first two or three months, I just really ingrained myself with all these amazing projects that people were building, trying to understand a little more about it, because I was new to NFTs and blockchain.
Adrien and Nico put the ingredients in place for users to be proactive, and then from there, when I came in, it was just to make sure that we continue to build on that momentum. So really my job was just to keep the momentum going and be a more visible and human presence that the lads had previously hadn't had the time to commit to.
Sia: Yeah, that's critical, right? Also doing those things that won't really scale, but early on will build the trust and also bring some authenticity to the community. It feels like that is often something we hear about when it comes to early community building. And I remember you were the soul of that Discord, you were everywhere replying in DMs, every day, posting updates, etc. To what extent were you just being yourself or were you actually very intentional about the people you would interact with on a daily basis, about the posts you would make on the channels?
Dan: Initially, it was a lot easier to be myself and to be quite transparent and human and all that, because obviously it's not that the stakes are lower, but you're with a smaller group, you kind of understand everyone, and also when you're a certain size, there's more acceptance and patience on the community side as well.
"Look, they're starting off, they're a small team." And, with that, you can just afford to be a lot more casual as well with how you engage with users and, or the community, so I really was myself. I used to make a lot of jokes, and if I saw that people were making jokes in the Discord, I would just take part.
Also, in my case, it was a lot easier to relate to the community – I didn't have a crypto background, but I am a big football fan, and also a big gamer, and I came from the gaming industry. A lot of them were kind of similar age to me, anywhere from late twenties to late thirties, forties, so it was really easy to connect and relate to them. And it was really motivating, but like you said, it's not something that can really scale. So that was an area where if we want to go into the mistakes, that's an area that if I look back, I would have liked to have done a better job there.
In the early days, it was obviously really important to be present on Discord and be there all the time. I was there pretty much, you know, not 24/7, but I was there at the weekends making sure that users saw that we cared and that we were going above and beyond, like the call of our duty.
You want the early community to feel that this is a team of hard workers and people who care about what they're building. I really do, and I really did at the time. It's obviously not something that can scale, and I think where we maybe lacked a bit was that when we did grow quickly as a team and staff up, we were slow to put the right resources in place on a community side so that we could still have that active presence in Discord.
And I think I could have done a much better job at balancing who I interact with in Discord and when; and also how can I build foundations and put new systems in place in which we can also scale and speak with a much wider community, not just the core community, even if it's through support. When I joined, I was also managing our support and we were getting maybe 30 tickets a day, which is really, really manageable. But in February 2021 there was the big spike, the big boom. And then because there were loads of things that we hadn't improved on a product side, within a day, we were getting 2000-3000 tickets, every two to three days and it became impossible to manage. And then, because no one really knew that boom was coming and because I hadn't really scaled the support side enough – as I was quite focused on Discord and one-on-one interactions – it put us in a bit of a tricky situation where we had potential for huge growth, but a lot of users were churning because we didn't have a very good support system in place. That's just an example of some of the challenges between scaling, but also being very approachable.
Sia: Yeah, we'll get more into some of the challenges and learnings, from the last few years, but just to cover a bit more the way things have evolved because obviously, Sorare went multi-sport, you increasingly have a global audience. How has that impacted the way you think about the community? I guess the way you speak to football fans might be different from the way you speak to baseball fans and NBA fans; and maybe even across geographies, you see cultural differences, etc.
Dan: There was a strategic discussion to decide whether we just keep one account and speak to everyone through that one account or start building separate communities for each sport. And we decided on building separate communities for each sport. There were a number of reasons for this. One of the big ones was because part of our initial vision for where we saw a lot of the growth coming for MLB and NBA was the [United] States. It's a market that we really wanted to grow in any way, even on a football side. The potential for a football audience in the States is there and it's huge. We just felt that it would be easier to do that with accounts that were speaking specifically to a US audience, in US hours, and all that. Also, we saw the value of what we had built with Sorare football in terms of having microcommunities and using them to nurture and grow in the early stages.
And I think if someone was joining Sorare MLB and they saw this huge Discord where everyone's talking about football but they were paying for specific baseball reasons – especially if you want to join something small and you feel like you're early, you feel like maybe you've missed a boat and you don't know who to reach out to. So, that was our main thinking for keeping them separate. And then in terms of tone of voice, there's just a natural difference in terms of, if you follow sports networks in the States, there's just a natural difference in the way they speak with their audience.
That's an area where we're trying to find a balance between speaking to a global audience, a European audience, and a US audience. It is quite a challenge, and I think in the early stages of last year, we might have lost that identity a little bit. We used to be a little more tongue-in-cheek, we were there to shake things up a little bit. And I think we diluted it a little bit when we were moving to the US and trying to think of 'well, what's this one voice we can have that could speak to everyone'. By doing that, we ended up with something that was quite vanilla. So that's something that we are revisiting, as well as how can we bring more personality back in. In the last couple of months, we've started working on that.
Sia: Does it mean that you have a community manager, focused on the US sports, or how does it work?
Dan: In February, we hired a community manager for US sports. He's based in the New York office and he's focused purely on US and MLB.
But again, it was a lot of work. We were still launching things for a while on the US side and also on the football side for a bit because the engineering team is ramped up, the product team is ramped up, and we were just shipping a lot, lot more. A lot of stuff was getting missed by the community team, whether because it wasn't shared with us or because we just had too much going on, our calendar was full and it would go to the social media team or marketing team. And we'd bring it to market and the position would be wrong, or we might be missing some key details on why we introduced a new feature. And then that naturally leads to community frustration because they don't understand why we might've done something.
So earlier this summer, we staffed up the team, which is responsible for bringing things to market, but also making sure that we're thoughtful in our product development and that we're user-centric. And so now that falls on the product marketing team. And we all sit within the Gameplay teams for each product. So I focus on football and I oversee product marketing; and we've since moved someone who was performing really well in the support team. Now he's taken over on the community management side of a lot of the kind of operational day-to-day relationship building side, he's kind of taken over from me on that, which means we can be way more hands-on and we've also done the same model for US sports.
So we have a product manager, a product marketing manager, and a community manager – the same community manager supporting that person, which means we now have four people as opposed to one nine months ago. And it's really helped. Even now you can see in the recent MLB updates that were really thoughtful.
Our community is starting to see that we're really focused on them, and it's helping us a lot. I'm looking forward to the next few months, really.
Sia: Exciting and very keen also to hear a bit more about how you track success when it comes to your community initiatives. Are there ways to look at the ROI we get from the resources and efforts we put into the community, how you're approaching that? Are there metrics that you're looking at?
Dan: Yeah, so there are, and I think that's one of the reasons why, as you said, the community management role or even a function is relatively new.
Not really in the gaming industry, but I think in companies they have the potential to go beyond gaming. The community function is maybe sometimes a lot more connected to support or just events or something like that, but the scope is quite small.
So within Sorare, the KPIs and how we measure the ROI for the Community have changed a lot from year to year. Initially, we were big on growth and nurturing, jumping on the word-of-mouth potential. So the main ways in which we could measure the success of our work was, you know, social media, community growth. So it's like community is peer-to-peer collaboration around something that someone loves. So we want to build those channels so that they can engage with each other. We wanted to grow Twitter and also hit a certain engagement. So in the early years, it was pretty straightforward: 'let's try to hit this channel growth and maintain this level of engagement.'
It's important to have engagement because it's very easy to pump and inflate social media numbers – you just run competitions – but it's a lot harder to maintain engagement. So, that was the main one, but then ultimately community feeds into two larger teams KPIs in most company structures and kind of in Sorare as well.
Our work largely feeds into the product, but there's a growth and marketing function as well, where we can support their work too. So they would define those KPIs and we just make sure that the projects that we work feed into those and we can measure them in a certain way. And there's also the side of community work that isn't an exact science, and that's a lot more qualitative: 'how do you measure the success of your relationship with someone?' or 'how do you measure community sentiment?'. There's no real standard science for measuring community sentiment.
In all the interviews that I've ever done with people for community roles or even anything that touches the community, I always ask them, 'how would you measure community sentiment?', hoping that someone has the 'holy grail' answer, and I'm yet to have it or find it, but I'm really optimistic with AI.
On my list of things to do is to start digging through AI tools to see if anyone's built a better sentiment tool, which scrapes social media and packages things in a way in which it actually says, 'this is your community sentiment and this is why they feel that way.'
To boil it down, there's the whole qualitative side of things, which is community sentiment, which is a lot harder to measure, but we use NPS pretty much. And, before we look at the NPS surveys – we run them once a month – I kind of like have a little guess. I write down all the things that I think people will be happy and annoyed about, and I make a little prediction of what I think our score will go up or down. And if it reflects the NPS scores it means that either I have a good understanding of what's happening in our ecosystem or the NPS is also working. If they're both aligned for me, that's enough of a representation that, okay, we're measuring things accurately.
Sia: How do you strike that balance between, you know, obviously still catering to the needs of those early adopters – which in the case of Sorare might have those large galleries and are super active on social networks sharing about their Sorare journey – but also being accommodating to the new joiners and their fresh perspectives?
Dan: Initially, I was kind of dealing with all of those people, and that was tough because we were really focused on word-of-mouth. I put a lot of focus into speaking with community thought leaders or anyone who was showing really impressive and huge levels of wanting to be proactive within the community. Now we separate those across teams. So, because of our affiliate program, a lot of the people who are users who create content around Sorare or have visions for tools around Sorare, they sign up for the affiliate program – we have an affiliate manager who manages those relationships. My role with those relationships is more that if we identify opportunities, say for maybe giving tickets away, or there's a cool event or, if we're launching a cool product, I'll just go to the affiliate manager and say, 'look this is an opportunity, this is how I would package it', but they take it from there and leverage that in the best way possible. In terms of new users, we have a user research team now, and they largely focus on the analysis of new users and how they engage with our platform, what's positive, what's negative, and all that. And then there's kind of a gray area between those cores, which is people that are just active in the communities, but maybe show potential to become affiliates or influencers or show potential in any other way in which they can feed into our community and it could even just be someone who flags issues and shares feedback with them.
It's very much just being active, reactive, proactive to those. So just make sure that you're present in all your Discord channels, your Twitter, and all that so that they know that if they continue to say these things, the product will continue to improve. You don't want them feeling that there's no presence there from the company.
Sia: What is really fascinating about Sorare is that it's not only a digital experience. There is this link to the real world and over the years you've seen more and more self-organized football tournaments and you guys just enabled those experiences through giving away tickets and all that. To what extent as a community lead, were you also involved in those real-world experiences? Is there another team dealing with that or how do you work with that side of the community and what is happening on that front?
Dan: The organic stuff is our work pretty much. So what we do is we get approached by loads of community members with amazing ideas. And then, we often have the same ideas. Since day one, I've been passionate about Nico's pitch of bridging fantasy to real, and I love nurturing that loop. So every quarter something that is at the back of my mind is, how can we run new tests where we can test that loop, but also just build it as part of our brand and value proposition a little more, step by step? We often don't have the resources to be able to leverage that quite often because running events is time-consuming, and can be quite expensive.
When you're trying to be a lean and active team, it's not always the best thing to prioritize. But luckily we have loads of community members who are more than happy to run these and manage them. So for us, the main goal is just to support them in the best way we can. A lot of the Paris Sorare club, for example, they were one of the innovators of this weekly 'five-a-side' in Paris, and they got to a point where they thought there were maybe a couple of hundred people who wanted to sign up, but they had to do three games in a row. So what we did for them was I would have monthly one-hour calls with them to see what their ideas were, and we would just offer them jerseys, and tickets to games for their micro-closed-community. Then if they were running something more ambitious, like a tournament where members from the English or German community were flying in, we do our best to sort them out with nice PSG tickets for that weekend. I'd turn up to the event and we'd also pay for the booking of the pitches, as part of our community budget.
And then from there, you can see that these things are naturally growing. So they would post about it on Twitter. And then this summer we had a 'seven-a-side' competition that took place in Nottingham and now there's one happening in Falkirk Stadium in Scotland, next year. And so those things are kind of just naturally building and all we were like the flame wasn't even built by us.
They had the filet, we just gave it a little bit more fuel for it to grow like that. I can't really take that much credit for it. It's the community just being great. If we didn't take part in those things, it would be a big failure on our side. You have to really make sure that you nurture all of these positive contributions because then you just become a company with no face and people will stop.
Sia: It's awesome that, in only like three, four years, you've managed to get those initiatives, left and right, just being started by community members. Let's now take a step back. We did discuss the fact that community, in general, is a quite new function in a lot of fast-growing startups, so in the case of Sorare, clearly we understood that a community can be related to the work of the product team, or the folks that are in charge of your affiliate program do, etc. Where does it sit exactly in the org? And how does that evolve over time, where do you see it going in the org moving forward?
Dan: We had a small restructure of the company in the early summer – there were a number of reasons for this restructure, but there was this particular focus on, 'well, we're dropping the ball sometimes with how we launch things and the transparency we share' – so the idea was to staff up a little more there. So, Community now sits in the product team, with Gameplay, and Community feeds into the larger product marketing organization. So, as I mentioned before, there are four of us in that team right now, and we work very closely with product, but also closely with user research and growth and support.
It's just the nature of the work that, in my opinion, the best community managers and product marketers are people who can wear multiple hats a bit like a Swiss army knife if you like. So that's where it sits right now. And the main focus for us is to build the new product marketing functions that's understood across the company, but our main success metric – we're still to define how we measure these things. It's just that if things get launched without the community knowing, or if things get launched without the Community understanding why we're doing it, or if things get launched and we haven't squeezed as much potential out of this great feature as possible, then we haven't done our job.
So that's one of the things is how we can bring things to market. And then the other two things we're working on are our overarching storytelling. So it's, 'how can we redefine certain key aspects of the Sorare journey in a way that it's understandable to new users and existing users?,' because I think that's something where, while our brand awareness can be low in a lot of markets, it's an area that can really help grow the brand, is if you think of catchy two, three storylines that all sports fans can relate to. And where it can go, right now, within our structure, I'm happy with where it sits, but I think if we were to grow, I think the product marketing function would be its own thing that would sit between marketing and product.
Where community often starts, it's largely the community managers in early, early stages, they're responsible for support, for social media and feedback loops. They're kind of the three pillars of it. Then as you grow that changes. Often, I think what should happen is if you are experiencing a certain level of hyper-growth, and hire people from different backgrounds, those people, and it's not a criticism, but you know, they may not be familiar with the potential for community, especially if the community was key to the early stage development. A mistake we made is that we didn't allocate enough resources to the community function and we didn't make sure that new hires understood its potential and what its scope was within Sorare. I think if companies do experience rapid growth it's important to make sure that the community function is understood across; there's an alignment across the company and to ensure that the resources are given to it because the work can become overwhelming.
What often happens is if you're experiencing hyper-growth, a lot of new people are coming in, and you have to understand the product on board. And while that's happening, there's often a community manager behind the scenes, sticking their fingers and making sure there are no holes, or leaks, and keeping things running behind.
Sia: Dan, we'd love to hear a bit about what you've been the most proud of when it comes to community building at Sorare over the past few years. What's your biggest accomplishment?
Dan: Oh, I honestly don't know. There are a lot of things that I've done that I'm happy about, but, it's more things that happened behind the scenes. So it's not really public-facing. There was a period early last year when Sorare went through hyper-growth and we were hiring and growing quickly and staffing up and, a lot of people were joining in and we didn't have the proper onboarding. No company has a great onboarding when it's going through hyper-growth, but there were areas that we were lacking a bit to make sure that everyone who came in understood the key challenges of our product, and also the key frustrations of our community. And there was a while when I was finding it very difficult to highlight the importance of some of the community frustrations and how we need to change our product roadmap. So I remember there was a stage, I think it was early last year, maybe a year before where I had seen the product roadmap and had been signed off on. And in the previously I would have been in the loop and actually reviewed it and helped ideate on it. And the roadmap wasn't addressing any of the key community frustrations.
And up until then, we had been a very, very user-centric company – maybe a bit too much, maybe too reactive to the feedback, but still it was a key part of our success. But the roadmap was kind of ignoring a lot of the key frustrations. And, what I did is, I realized that the way I had been sharing community feedback wasn't resonating with the new hires, so I built actually a five, six-page report, obviously with a TLDR at the top, but quite a long, comprehensive report backed by data, backed by quotes and speaking to actual users, to show that the frustrations were valid and critical and then thanks to that report it helped shift how the new hire saw the function of community and the potential for it in Sorare. And also it helped readjust our product roadmap, so we were more thoughtful to the community. I think that moment stood out to me, as a good one, but it's not really visible to the community, it's more work behind the scenes.
Sia: Well, that makes a lot of sense. You're day-to-day, the person who is the closest to the user base, and obviously, the way you make the users feel counts, but what is also key is the way you communicate back to the product team, to Nico to other folks in the org. You mentioned before that you weren't like fully ready at some point to deal with that, hyper-growth on the community front. Is there anything you would do differently if, you were back in November 2020?
Dan: There's one lesson that I now share with a lot of people who may join the support team or be front-facing because I got to a point where I was almost obsessed with being present in the Discord and speaking with people one-on-one. I would sometimes end down these pigeonholes where for an hour and a half I was speaking to someone, about maybe feedback or trying to fix a problem they had. And, you know, in hindsight, when you're heading towards hyper-growth and you're quite a small, lean team, it's not a good way to spend maybe 10 percent of your day. So one thing I would definitely change is not to get too caught up in one-on-one interactions and also not take things personally, because that's part of it as well. The reason you end up in back and forth with someone is because you feel so passionate about the company and if they're being very critical, almost trolly about it, you see it as a chance to try to change your mind, but ultimately it's just not time well spent.
So I would have relocated the time I put into a lot of those interactions towards building infrastructure and systems, that could help so we're kind of more long-term within six to 12 months. We built our Zendesk eventually when we hired our chief of staff, Thibault – he came in around February 2021 and his first project was building the Zendesk and he managed that whole project really well, but I still think back to that – I should have built that three months sooner. And it's the same with other ones.
I still think there's a huge amount of potential for our Reddit and I have never really given that much thought and care to it. We tried it a few times, but then growing any community on a platform – right now I think we have 12, 13, 000 on our subreddit – to be able to nurture that and keep it going, it needs a certain amount of resources, which I've never given it. I still feel that's potential that we haven't tapped into considering where, especially on the football side, a lot of fantasy football people live on Reddit and I think if we build a core, and also a lot of the subreddits, it's the same model as Discord, really, it's just like these core communities who are obsessed with the product and we'll spread it with word-of-mouth and defend it to the last day. Those people live on Reddit, but we haven't really tapped into that yet. So that's another one that I would have liked to have done in the early stages.
I think if we had a Twitter-grown, Discord-grown, and Reddit-grown (community) at the same time, maybe we'd see a lot more growth and brand awareness than we have right now.
Sia: Thank you so much, Dan. You shared so many insights. I just wanted to wrap up with a slightly more personal question. You are obviously getting a lot of energy out of the interactions you have with the community. How do you manage the changes of mood in the community? Do they impact you on a personal level? How have you been dealing with that?
Dan: They used to impact me in the earlier stages and then even within my personal life – my wife grew to hate the sound of the Discord notification – but, what I've learned is that, now I don't take any of it personally. So I take a lot less to heart now when we have negative sentiment and I kind of try to approach things more as, 'well, how can we change this? Why is this happening? How can we change it?' Rather than, 'ah, they're attacking Sorare, which is like a child.' Not taking things personally, just allows me to switch off better and think more clearly.
And then also just with more resources, now that there are way more people and a lot of them more qualified than I am to think about things like, for example, referral abuse or something like that, you know, that I used to have to think about that. Now there are way more other people who think about those things, who are better equipped to find solutions to them than I am. So that gives me more time to focus on the stuff that I'm just naturally better at, like giving tickets to people.
Sia: Thank you for being so open. That was really awesome.
Dan: Thanks for having me.
Check out our growing Seedcamp Firsts Content Library.