One of the biggest strengths of the Seedcamp Nation is the huge value that comes from founders helping other founders. Although we haven't gathered in person in over a year, the impact of our community is tangible through the incredible products and services being deployed around the world and the insights and advice being shared between our founders in private.
Every day founders have questions about logistical challenges, administrative concerns, and more. Questions like how to choose the best cloud hosting platform, legal experts, or tax consultants. But one of the biggest value adds is the human connection; the open, honest conversation about leadership challenges. The pandemic further unlocked the power of our community with the unexpected upside that our founders have doubled down on our online platform – Mobilize – to strike up new points of connection, and engage in discussion. Having founders from across Europe and beyond, brilliantly varies the insights shared and one recent discussion on avoiding pandemic-related burnout was particularly insightful.
It started on a 'normal' Monday when Matt Wardle, Founder & CTO of Kasko reached out to the Seedcamp Nation for help with proven strategies for combatting this burnout when leading your team. What followed was an outpouring of useful advice, resources, and ideas from across the Seedcamp community that were far too great to keep to ourselves.
Therefore we present to you the Seedcamp Nation Burnout Prevention Guide, a collection of tools and methods to try out for yourself and with your team to ensure that you're thriving in remote settings despite the pandemic.
Special thanks to all of the Seedcamp Nation members who shared their experiences and contributed ideas.
Managing Your Team
In the UK alone, 4 in 5 (79%) workers have felt 'close to burning out' at some point in the last year and more than half (51%) of workers reported feeling guilty about taking annual leave. It's paramount to focus on high-risk individuals and pay particular attention to changing behaviours: negative thinking, loss of focus, and feelings of being overwhelmed.
Time Off – Remind your team to take their holidays. Although they may not be able to go anywhere, taking a break and removing work from the living space can do wonders. You may have to lead by example and set your out of office to give your team the confidence to do the same. Or why not give your team a Friday (or just an afternoon) off? This can recharge batteries and boost morale, helping teams return to work incentivised and ready to build the best solutions the following Monday.
Flexible Hours – It may not be possible for everyone, but asynchronous working can help maintain productivity. Making it clear within the team that it's okay to have different work schedules among colleagues will alleviate some mental pressure for those who would benefit from it. Charlotte Guzzo, COO at Sano Genetics, encourages 'people to book some time in their calendars for homeschooling or other personal commitments when needed' helping the team.
Workplace Resources – It's important to recognise burnout affecting mental health and invest in protecting the mental well-being of your team.

Calvin Benton, Founder of Spill – the mental health app – has created these intuitive guides on how to prevent employee burnout. The Spill app is a Slack integration that gives your team access to trained mental health professionals
Ben provides flexible workplace benefits that can be redeemed while working from home and serves the needs of individual team members. They're also another member of the Seedcamp Nation, and we're such big fans that we've rolled out Ben cards among the Seedcamp core team. ]
No screen meetings – Encourage colleagues to take calls away from the screen from time to time if it does not require a presentation or group discussion. Some Zooms can be regular old phone calls!
Deep work – Another one of our founders introduced 'silent office' time: deep work coupled with co-working via Google Meet, where team members meet, share goals to achieve for the session, and then get down to it in silence. It has done wonders for focus and team connectedness.
Deep Learning – Introduce lunch and learning sessions to talk about a skill/topic team members are passionate about inside or outside of day-to-day work. Doing so can be a great way to knit in new joiners and/or level up the team at the same time.
Staying Social
Finding ways to replace water cooler conversation can be tricky, and one aspect of office life that we all miss dearly is shooting the breeze about what's hot and what's not on Netflix and in the news. Our Office Manager Alexandra found that she shared a love of the Eames designer with our very own Partner, Tom Wilson.
Here's a list of other tips, activities, and apps suggested by the Seedcamp Nation to keep the team connected beyond work:
Catch-Ups – The social variant of no-screen meetings, a special spin on catch-ups has been adopted by more than one company within the Seedcamp Nation and named 'Walkie Talkies'. These 30-minute voice-only chats work with at least 3 random team members and allow people to stretch their legs, take in some fresh air catch-up beyond their projects.
Serendipity – bring back some workplace serendipity with randomly assigned virtual coffee chats to break down barriers and spur great conversations, helping team members relate as people and not just colleagues. The Donut app (Slack integration) does this really well. Don't use Slack like the Seedcamp team? Write some code to assign some chats or do it the old-fashioned way and send a calendar invite to a new starter or someone you haven't caught up with in a while!
Physical Activity – keeping active will hugely benefit the team, doing it together will strengthen the sense of community among the team. Introducing a bit of competition can go a long way to getting people engaged beyond work. The breaks and activity will improve physical and mental health, likely improving creativity too. Apps such as Strava & Just Breathe are great for this. Check out this great article on the benefits of yoga and lessons on preventing burnout.
Celebrate – it's easy to forget with so much going on but little intentions like birthday cards, anniversary gifts, socials around special occasions (celebrating wins, new joiners, product launches, calendar holidays, etc) make a big difference to team morale.
Game apps – to plan your next social
We'll be adding more resources as we come across them, so watch this space.
(Updated Mar 2021)
All product teams have experienced the frustration of not being able to build collaboratively in real-time with team members. Liveblocks is on a mission to solve this pain point. Remote collaboration is now table stakes for any productivity app, and Liveblocks makes that trivial to implement. We're excited to announce our pre-seed investment in Liveblocks, alongside Boldstart and a great group of angel investors including Moritz Plassnig (Seedcamp Entrepreneur in Residence!).
Liveblocks's vision stands in the belief that the next generation of SaaS products are all going to be collaborative in real-time, and their goal is to help companies make that transition more easily. Their first unique API offering that was released in July, is a live presence block API. Product builders can integrate the API into the product with just a few lines of code, and team members will be able to see when someone is on the same page or product, as well as everyone's cursor position, or text and content selection. Other products in the pipeline include online forms, virtual office, video editing tools, as well as a wide range of features including UI tools, 3D Design tools and presentation tools.
We were super impressed with the team's background and vision. Previously, Steven ran Easee, a web animation tool that was acquired by Invision. This led him to work on design systems and tooling at Facebook messenger, and he also runs Gifmock, a tool used by thousands of people and enterprises to create Gifs. Guillaume is also a UX enthusiast, and has previously worked as a developer at Landr audio, Breather and Invision. Steven and Guillaume started working on Liveblocks in March 2021 but the two have already been working together for several years on real-time creative-tools.
"When we met the Liveblocks team, it was love at first sight! At Seedcamp, we are big fans of API-first products and we've seen across our portfolio how painful it is for teams to build and maintain real time collaboration features in their product," Seedcamp Partner Sia Houchangnia states, "We are also convinced that Steven and Guillaume are the right founders to go after this massive opportunity. They have unique first-hand experience of the problem and are among the most talented product builders we've ever had the chance to back. It is still early days for the company but early adopters of Liveblocks are raving about the product and we are hugely excited to support the team as they launch all the lego bricks for real time collaboration over the coming months!"
Steven and Guillaume's long-time vision is to make all digital experiences collaborative. The funds will be used to grow the team and continue product development. Liveblocks' next product is a conflict-free live data storage solution that allows people to view and edit the same data in real time, so watch their space! You can check out Liveblocks here and their introductory video here.

Building an API product that will disrupt the future of work and productivity? Apply for funding here.
What HealthTech pioneers can learn from FinTech
In any industry, when a gap between supply and demand is prevalent and existing regulation fails to step in, the role of innovation for the public good is often taken up by startups. Nowhere is this more evident than in the healthcare space. Large delays in innovation linked to complex and widely different healthcare systems around the world, as well as outdated legacy software all provide the perfect foundation for wide-scale disruption. The sudden shifts in what we considered to be "normal" life through the COVID-19 pandemic shed light on the tremendous speed at which HealthTech startups are able to deploy lasting positive changes in our daily lives when given the right catalyst.
Crises as a catalyst
There are certain parallels that can be drawn between the speed at which HealthTech solutions have been deployed to meet pressing needs and the FinTech boom over the last decade. We believe that the broader healthcare industry will follow FinTech's trajectory.The 2008 financial crisis served as an inflection point; people lost trust in banking systems, which resulted in increased awareness in taking ownership over personal finances. Customers started looking for alternative, personalised and more engaging services as a consequence, coupled with the growing regulatory openings such as PSD2 on Open Banking.
For Healthtech, the COVID-19 pandemic proved to be the inflection point. As healthcare took centre stage in global discussions, individual awareness grew dramatically and an urgent need for personalised and alternative care solutions has arisen. This contributed to fast tracking deployment of services like telehealth, which now even allows for remote prescriptions under certain jurisdictions. Now more than ever, both patients and healthcare professionals (HCPs) expect healthcare to move faster and more seamlessly. The opportunity for HealthTech startups to leverage the wider FinTech stack within their products will help in facilitating global access to healthcare.
Breaking down the HealthTech value chain
At Seedcamp, we break down the HealthTech value chain by dissecting how someone would experience their personal health on a day-to-day basis. This covers four main categories: the first three capture the end-to-end patient journey – 1) getting sick, 2) receiving treatment, and 3) life after treatment. The final bucket covers the end-to-end software that HCPs engage with in their efforts to make the first three steps as seamless as possible for patients.
1. Medical Diagnosis (we get sick): Medical assessment tools, usually tech-heavy companies that may require both heavier funding and longer research/approval periods
2. Care Delivery (we get treated): Anything that involves interactions between patient and healthcare professionals
3. Quality of Life (our life after treatment): These aim to cover either the facilitation of recurring health-related issues (e.g. chronic disease treatment) or the enhancement of day-to-day life (e.g. healthier/longer life)
4. "Software as a Stethoscope" (software for HCPs): Our co-founders Bahbak and Connell from Elephant Health say it best, Software has the same effect as a Stethoscope: it bolsters HCPs' abilities to reach certain decisions while enhancing the patient journey at the same time.
We've seen some outstanding companies lead the way on the matter, across all four categories. If you're building something with the ambition to truly redefine the vertical you're tackling, please do get in touch and apply for funding here – we'd love to chat!
Some examples of companies that are already spearheading HealthTech innovation include:
• Kheiron's medical diagnosis tool Mia, supports radiologists in mammograms to ultimately better evaluate breast cancer
• Babylon's reengineering of care delivery by allowing fast, personalised and seamless access to care for patients, while easing the burden on doctors through technology. We're lucky to have Rabin Yaghoubi (ex-Babylon CCO) as an EiR at Seedcamp. He works closely with our portfolio companies on commercial topics.
•Maven's ability to better the quality of life of mothers by supporting them throughout the parental journey
•Doctolib's layering of software for HCPs in building their online booking tool (BMS), to a fully-fledged patient management system (PMS) for doctors.
Seedcamp's Healthcare Footprint
Over the years, we've made a series of bets that led to backing exceptional founders throughout the value chain mentioned above. It has been inspiring to follow the 33 different company journeys in their efforts to break down the barriers of healthcare and improve the overall human experience across the entire healthcare value chain.
One of the toughest bets to hedge within healthcare lies within the diagnosis technology realm. Ezra is one we were happy to make with Diego and Emi (a second-time Seedcamp founder!). Ezra's affordable and accessible technology provides early-stage cancer screening through AI & MRIs. From easily booking an annual screening with your physician to managing your results, Ezra ensures the end-to-end experience will be comfortable and hassle-free for patients. At the peak of the pandemic, Ezra successfully pivoted into screening for lasting lung damage for COVID patients.
We've all found ourselves scouring the internet to find a trustworthy, affordable dentist within proximity. The ToothFairy app aims to cure the toothache that comes with finding the right dentist and proper individual treatments. With their past experience in the dentistry space, we are confident that co-founders Deepak and Kian have the ability to continue making the dentistry experience less painful, less costly and more seamless. By covering everything from initial scans, to tooth alignment and even emergencies, ToothFairy are in the running to become a category defining one-stop shop for our teeth.
Hi.health is on a mission to remove payments from healthcare. By simply scanning medical bills on a mobile device, they provide instant reimbursement to patients. Through the layering of FinTech on top of their insurance aggregation product, Hi.health decreases the financial burden of healthcare, making it more accessible for all. The founders behind Hi.Health has a stellar combination of experience: Fredrik has previously built a HealthTech company (mySugr) that was later sold to Roche, while Sebastian has spent a couple of years at McKinsey.
Elephant Health is laser-focused on digitizing frontline healthcare in emerging markets. The first thing that made us excited about Elephant wasn't the mission (and it's an awesome mission!) but the founders, Bahbak and Connell. They embody a lot of the characteristics we love to see in founding teams: deep topic expertise as both are experienced A&E doctors, a relentless hunger to build (Connell, underwhelmed by the tech in his emergency room, once built his own patient system); and the ability to talk fluidly about big, meaningful ideas. We made a bet on their vision after their initial four-month pilot program deployed in mobile refugee camps in the Middle East, supporting some 40k patients with digital health passports, while empowering clinicians with infrastructure to facilitate care.
What we are looking for in companies moving forward
We're now at a time where the leaders innovating the healthcare industry have widely acknowledged that capital should also flow into health management processes rather than just deep into R&D. Many systems are broken and outdated, meaning there is still plenty of leeway for startups to innovate. We are at the point where we're moving from reactive to proactive healthcare, which has the potential to improve both individuals' health journeys and the health systems at-large. There are many more problems to be solved in the healthcare space and many founders in Europe tackling them head-on. If you are an ambitious founder who's building something groundbreaking, we'd love to hear from you! Apply for funding here — we look forward to learning more!
While we highlighted some of our companies in the post, our portfolio includes many more ambitious health-related companies, a list of which you'll find below:
Medical Diagnosis
Ezra: Developing next generation cancer screening technology using AI & MRIs
Thriva: Making it easy, convenient and quick for anybody to easily find out what's actually happening inside their body
Viz.ai: An artificial intelligence medical imaging company that helps optimize emergency treatment
Care Delivery
Quality of Life
Gaia: Making IVF accessible, affordable and personal
Habitual: A unique combination of digital therapeutics and nutritional treatment that reverses chronic disease
Hi.Health: Your personal concierge for health insurance
Humanity: Subscription platform enabling you to live a healthier, longer life
MindLabs: A live mental health platform
Parla: Revolutionising reproductive health by providing greater access to diagnostic tests and proactive support
Peppy: Employee support in moments that matter, by employers that care
Rosita: AI-based longevity coach, specifically built for seniors
Sano: Providing researchers access to valuable genetic and health data while protecting the individuals who provide it
Spill: Bringing the benefits of talking therapy to your phone
Sweatcoin: Digital currency backed by physical movement
VIV: A high end performance coach that monitors key indicative vitals in real time
Software as a Stethoscope
The financial ecosystem is a tricky one. Many different entities have to interact with tedious workflows that make transparent and data-driven decision-making difficult. Sikoia aims to solve this by acting as the unified data platform for financial services to reduce regulatory risk and enable faster decision making. Sikoia's modular enterprise platform supports various enterprises such as tech companies, lenders, advisers, and fintechs through purpose-built workflows, offering 100+ APIs to pick and choose from, as well as millions of data points to support enterprises' decision-making.
We're beyond excited to back the Sikoia team along with Earlybird and industry angels including Raffael Johnen (CEO of Auxmoney), Fabian Weseman (CFO of Wefox), and Charlie Delingpole (CEO of ComplyAdvantage).
"Thousands of APIs are opening siloed data sources globally at a rapid pace, but the explosion in the number of touchpoints has created significant complexity and it's increasingly difficult to integrate this dynamic ecosystem in existing back-end systems and processes," Alexis Rog, CEO and co-founder of Sikoia, said. "We couldn't find a comprehensive solution that didn't require complex manual configuration and lengthy integration. So we decided to build it."
With over fifty years of experience in financial technology between Alexis, Stephen, Alastair and Harry, we are convinced that this is the best team to help cut through the noise of an increasingly fragmented Fintech service provider landscape. The four founders' professional careers are a combination of experience from SoftBank's Vision Fund, JP Morgan Equities' business, Experian, and open banking consulting. "Sikoia's plug and play approach is a real game changer, allowing Fintechs to access an entire data ecosystem and automate the most critical layer of their technology stack," Reshma Sohoni, our Co-Founder and Managing Partner said. "We're delighted to share this journey with such a dynamic and skilled team and are excited about their vision"

This round will advance product development and functionality expansion, before Sikoia's public launch in late 2021. "With such a strong network of investors on board, we not only have their endorsement and confidence, but their insight and experience to support us as we head to public launch," Alexis commented. We're thrilled to back Alexis, Stephen, Alastair, Harry and the rest of the Sikoia team on this exciting journey in disrupting the future of the fintech landscape. Check out Sikoia here, and if you're looking to join one of Europe's most exciting early stage fintechs, Sikoia is also hiring.
Building a company isn't straightforward. One of the many issues for companies is financial reporting, a notoriously manual, time-consuming, and error-prone task. The co-founders of LiveFlow, combining their backgrounds from Revolut and Web Summit, have teamed up to help businesses connect real-time data from Excel, Google Sheets, banks, accounting, and revenue platforms in a matter of seconds. This is all presented in a live dashboard shareable across an organisation. We're really excited to join Y Combinator in backing the team to make financial management and transparency available for everyone. "Budgeting and understanding real-time financial data is a challenge for any business," remarks Seedcamp Partner Tom Wilson. "We're excited about the potential for Liveflow's connected spreadsheet to address this pain point. Experience gained at startups such as Revolut gives the founding team the perfect basis to attack this massive market".
One of the things that struck us about LiveFlow is the team's philosophy around maintaining a strong company culture from day one (you can find more on their culture here!).
"We focus on natural strengths because we strongly believe that the best way to achieve high performance is to enjoy work every day," Co-Founder Anita Koimur comments.
LiveFlow is currently expanding the team starting with Product Design talent. We decided to team up with them to share their recruitment process and their unusual approach.
LIVEFLOW'S INTERVIEW PROCESS:
1. Intro call
2. Design Review
3. FirstMind Talent Test
4. Career history interview
5. Final Interview
Interestingly, LiveFlow adopted a data-driven approach, using FirstMind to understand each candidate's top talents. The results allow LiveFlow to put their employees in a position to maximize their strengths and have an open forum on how to collaborate with each other. LiveFlow tailors people's talents to the job they will be doing so that person thrives and performs their best.
There are 34 talents in total attributed to a person. These natural talents are consistent patterns of thoughts and behaviours that define where a person sources their energy from and what brings them joy. By taking a deep dive into what makes them tick, LiveFlow is able to match their talents with a position that suits both parties best. For example, a person with talents such as Empathetic, Innovative and Problem-Solving would probably love a challenging role that involves talking to customers and coming up with solutions.
But how do the test results help with day-to-day work for two different people? There are two different members of the team:
Person A: Problem Solver, Targeted, Competitive
Person B: Analytical, Thinking, Contextual
This translates into a series of traits that help with finding the perfect fit for the candidate:
1. Person A is driven by having a clear goal (Targeted)
2. Person A is driven by solving new problems at all times and most likely at high speed (Problem-Solver)
3. Person A is driven by winning (Competitive)
4. Person B is driven by crunching numbers, understanding data and making thought-through decisions (Analytical & Thinking)
5. Person B is driven by the context of a situation and seeing the full picture before things are done (Contextual)
This information helps LiveFlow place both candidates in roles that work to their strengths and keep them engaged with each other. Person A might enjoy executing, solving new tasks, and get things done at lightning speed. Person B, on the flip side, will play better as the solid analytical, numbers-driven deep thinker to make an informed decision.
LiveFlow uses the test as a guiding framework but performs it during the hiring process to comprehend how the team dynamics will potentially play out.
Want to join the team? Check out their current openings here! Interact with them on their hiring process by sending an email to anita@liveflow.io or tweet @liveflow_io.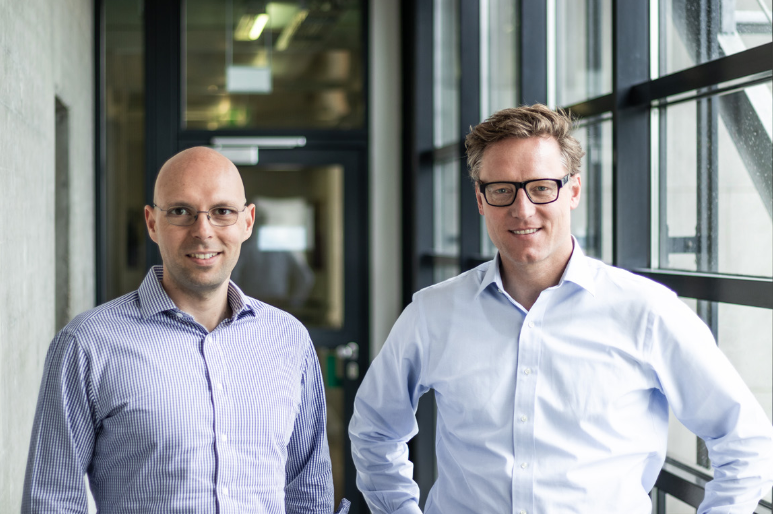 Portfolio and Pricing strategy solutions have typically been delivered via consultancy engagements and spreadsheets. Buynomics is changing that with a state-of-the-art, fully scalable, live SaaS platform. This ensures that all data inputs are current allowing for realistic market simulations in a fraction of the time that legacy solutions provide. The application of buynomics across a wide range of industry verticals really appealed to us, and the early adoption by global enterprise clients like Avira, Danone, and Fonterra is testament to the relevance of the buynomics platform. Founded in 2018 out of Germany, the company now has a team of 20+ people across the UK, Spain, and Belarus.
Buynomics' ethos stems in the belief that portfolio optimization is about understanding the customer. Buynomics' proprietary Virtual Customer technology behaves just like a real consumer, giving a >95% accurate view of customer reactions. The technology helps clients make smarter decisions and supports in optimizing their market share, revenue and profit. "Pricing has not evolved sufficiently in the past decades, and multi-million-dollar decisions are still based on gut feeling and overly simplistic legacy concepts, such as price elasticity, that come from a paper-and-pencil era," says Ingo Reinhardt, co-founder of buynomics.
"We were hugely impressed by the founders Sebastian and Ingo who are both PhDs and have significant experience as management consultants with a leading global consultancy in the field of pricing and sales. They have all the right ingredients of industry knowledge, experience and ambition and we are thrilled to be able to support the company," Dan King, our Venture Partner comments. "We look forward to seeing buynomics grow into a global powerhouse."
With this new round of funding, Buynomics plans to build more features, automate customer onboarding, and scale sales and marketing. We're delighted to have backed Sebastian, Ingo and the rest of the team from buynomics' seed round on this exciting journey. You can check out buynomics here.
In a world where client onboarding can take a week if not more, Mikkel Skarnager and Ciprian Florescu saw an opportunity. These days, the many outdated onboarding solutions are cost-intensive, and don't effectively integrate with local regulatory services in a short time. With HelloFlow, setting up a client onboarding process takes minutes, not weeks – and no coding needed. HelloFlow has now closed a $1.6m seed round led by Seedcamp and Danish VC PreSeed Ventures in an effort to tap into a rapidly growing market that is estimated to be valued at €1 billion.
We met the team back in March and are thrilled to have led the initial investment to support their vision in simplifying the digital onboarding process. From day one, Mikkel and Ciprian demonstrated their depth of knowledge for the space and their ambition for building a breakthrough company in the client onboarding space.
"Using the platform, you can set up a proper, sleek, and compliant onboarding process and share it with the clients, all inside a single day," Mikkel Skarnager comments, Co-Founder and CEO of HelloFlow. "This makes it possible to launch your service in new markets across the world within 10 minutes." Mikkel's vision to create a solution with low barriers to digitalization came from being in charge of Digital Transformation at Saxo Bank, where he built a bespoke onboarding and customer identity verification (KYC) setup and trading platform for the Danish bank.
"HelloFlow's plug and play solution is a real game-changer for client onboarding, allowing companies to set up processes quickly without the need for custom code," our partner Tom Wilson comments."We're delighted to have the opportunity to work with Mikkel and Ciprian and support them in helping companies say goodbye to slow client onboarding."
With the new raise, HelloFlow plans to focus on accelerating product development, and expand beyond the financial industry by offering solutions for the legal and accounting sectors.
We're delighted to be backing Mikkel, Ciprian and the rest of the team in this exciting journey. You can check out HelloFlow here, and even test out a free trial.
Tom Wilson, Carlos Espinal, Kate McGinn
---
Raising funds is challenging both because of expectations people have of you, but also because of the competitive circumstances you find yourself in with other companies tackling the same market as you. These days, with public markets at an all-time high and many public investors looking to get into private markets, startups valuations and round sizes have reached new heights and as a consequence have warped investors' expectations of companies. Only a short time ago, founders and VC markets could rely on traditional back-of-the-envelope metrics to help benchmark for fundraising readiness. These days, however, it increasingly feels like the traditional metric of "100k MRR" is no longer sufficiently adequate to use as guidance for your next round (in this case a Series A). Let's unpack how some companies are adapting to these changing circumstances by first understanding the macro context, and then suggesting a possible course of action to take.
Sectors
Firstly, it starts with sectors. Some sectors are being judged almost exclusively on promise, whereas others are, at best, being judged by metrics alone, and at worst, being penalized by their metrics.This may have to do with how the market is giving premiums to companies whose promise of fast growth is sufficient to generate interest, rather than the 'stability' of demonstrated, but slower growth.
In this "risk-on" world, sectors like consumer social, therefore, rise to the forefront. Companies in this sector with very early but growing metrics can attract huge amounts of investor attention in the search for the new holy grail of a breakout platform (case in point, Clubhouse). Similarly, businesses that were historically viewed as potentially challenging from a unit economics perspective and requiring large amounts of capital to scale (i.e. the on-demand grocery delivery sector) are viewed more favourably in today's context partly because more weight is given to the potentially massive market they are serving rather than the risk associated with access to future funding and/or challenges around efficiently scaling the business model.

The flip side of the coin is that those businesses that are focused more on selling to what could be viewed as a less sexy, smaller or steadier part of the market (i.e. SaaS selling to professional services) can suffer loss of investment attention as a result. This can understandably be frustrating for founders in the latter category, particularly if the metrics they are going to market with are in-line with what they set out to achieve and/or are at or exceeding expectations for a company at their stage. Regardless of whether this might be fair or not, such founders will have to show metrics that are considerably beyond those that are expected of them when they go out to market in order to really capture the attention of VCs. Unfortunately, this phenomenon further distorts the market around what progress metrics are required because certain sectors might see the bar increasing whereas for others it seems to be getting less and less!
In other words, if you are in a sector that can return billions of dollars in record time, you will be rewarded with greater leniency in your numbers and traction. If you show slower but steady growth, you might pique the interest of more committed investors, but you will likely not command the level of feeding frenzy some companies are generating.
Team Quality
Secondly, your 'team' continues to be a key factor in driving how a company is treated during a fundraise, but as more people with experience in company-building and industry-knowledge are founding startups, the expectations thrust upon them by investors to build billion-dollar outcomes is also growing in proportion. Some early "seed" rounds have gone up to 15m+ on the top end and be reported as such in Techcrunch for example because of this outsized expectation early on!
High-quality talent with stellar track records and extensive personal networks are able to command round sizes and associated company valuations for seed rounds that can exceed those of what previously would have amounted to a Series A because investors are assuming that a solid background is more 'correlated' with startup success. They are willing to pay a premium over other similar companies, even if certain fundamentals about the team are not there, for example, whether the team is full-time or not, or if the founder has founder-market-fit in this new sector.
Again, this is further adding to the confusing state of the market, making founders uncertain as to when is the right time to raise and what investors are actually looking for when raising their next Series A sized round.
Fundraising Narrative
With this distortion lens warping traditional metrics of success, and greater emphasis being placed on the 'potential' of growth early on, be it via sector or team, what's left for founders that aren't clearly in either camp? One remaining element that might help you take advantage of today's circumstances is your narrative. Ultimately, at the early stages, the right narrative ties commercial trade-offs together in a way that convincingly points towards a large outcome even if the start of the growth is not quite where it needs to be. As discussed above, in a funding environment that has a risk-on mindset, thinking about how you frame the opportunity and emphasise the disproportionately large potential upside could be key to landing your next round funding partner of choice.
While the current market is confusing and, at times it feels like there is a lot of hot air, this is still one of the best times in history to be raising funds…. it is not only lenient on you if you are not as far along as you should be relative to other companies (provided on the conditions discussed above), but it's a time when you will have the best access to capital. If you find yourself raising and are struggling, consider how you are packaging up the attributes of your company relative to those that are driving the best companies to success in these times.