Last month we announced our investment in Homie as part of their $4m seed round. The London-based PropTech company is out to save frustrated renters time, hassle and money by making the rental process seamless. We spoke to CEO and Co-founder, Alex Eid, who explains why Homie is the solution Generation Rent has been waiting for.
Alex, explain to me what Homie is and how I can use it?
Homie is a platform and service to help London renters search, view and rent homes they want in as little as three days. We have a to use platform where you enter your home search preferences and then get assigned your own Homie, a 'personal agent' that runs your home search and sends you a curated list of properties that matches your needs.
We then ask you to choose your favourites via the web-app and book viewings online at your preferred date and time. Your Homie schedules all viewings with multiple agencies into one tour. They act as your agent, accompanying you on a cab journey across London to visit your top ten properties, whilst offering unbiased advice on the area. It's your own personal concierge for your home hunt!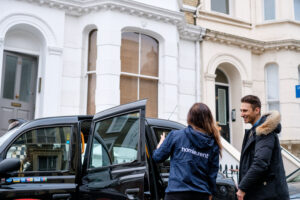 Sounds like you're taking a lot of pain out of the process. What led you to create Homie?
I was helping a friend find a new home on a tight deadline and the reality of searching through properties, booking and attending viewings, transportation and arranging the contract with the agents was nothing short of a nightmare. I quickly realised the market lacked a personalised service that could help you understand the real estate market better, find the right property for you and offer unbiased advice so that's when the Homie idea was born. I wanted everyone to have access to the best properties in the shortest amount of time, alongside a friendly, knowledgeable person, and that's what the Homie platform is allowing.
What's been the reaction to Homie so far?
Our renters have told us they were spending on average 20 hours a month searching and five hours a month attending property viewings before they used the Homie platform. They were scattered across the city at inconvenient times and they were dealing with countless different agents, so the reaction to our integrated service has been overwhelmingly positive. Our renters have told us that with Homie they feel like there's actually someone on their side, guiding them through the process, rather than what they've experienced with renting in the past.
Who's the customer?
Our typical customer tends to be young professionals who are short of time – Homie prides itself with taking care of the time-consuming tasks which professionals don't have the resources to do due to time constraints of their work and social life. Other customers include expats who aren't familiar with London and need assistance in navigating the city and finding the best deals for them. We also home a lot of students and first-time renters who don't necessarily understand London's real estate market. We expect our customer to evolve as Homie's coverage expands and we launch into new territories.
What are your plans for taking Homie outside of London?
We currently cover zones 1 and 2 of London, and our priority is to expand into zones 3 and 4 to ensure more of London is benefitting from our service. The priority right now is to solve the renting experience wherever it is needed, so as we grow we will look into offering the Homie service to other cities which need our help, whether that be in the UK or across the globe. We want to fulfil our goal here of making renting in London a transparent, affordable and friendly experience and once we've done that we can expand the platform to other cities, which could be anywhere from Paris to Hong Kong, Singapore to New York.
You've raised an impressive seed round – $4m – bringing total funding to date to $6m. What's the top priority with the new financing raised?
Now that we've closed our seed round our top priority with funding will be expanding our areas of coverage and scaling Homie's operations to meet the demand of our service. We also want to concentrate on growing the tech team, as we're a Proptech company we need the best engineers to help us scale the Homie platform!
We're obviously incredibly excited to be working with you as Homie scales. What are the benefits of having Seedcamp as an investor?
Access to seasoned mentors and consultants is undoubtedly a huge benefit of having Seedcamp as an investor. Few players invest in more seed stage companies than Seedcamp, so the perspective and advice is invaluable as we overcome challenges, and shape Homie's strategy.