When done right, strategic partnerships can be transformative for early-stage companies. Joining forces with an established player in the market brings you much-needed validation and can help you acquire new customers and generate new revenue models.
Our mentor and executive at portfolio company, Elliptic, Elsa Said-Armanet, shares how to set the ground for and implement a strategic partnership. Based on over a decade of experience building and leading partnerships at companies such as Stripe, Twitter, and Google, Elsa's insights will help you and your team successfully select a strategic partner, prepare and carry out your first negotiation, and measure the results of the collaboration.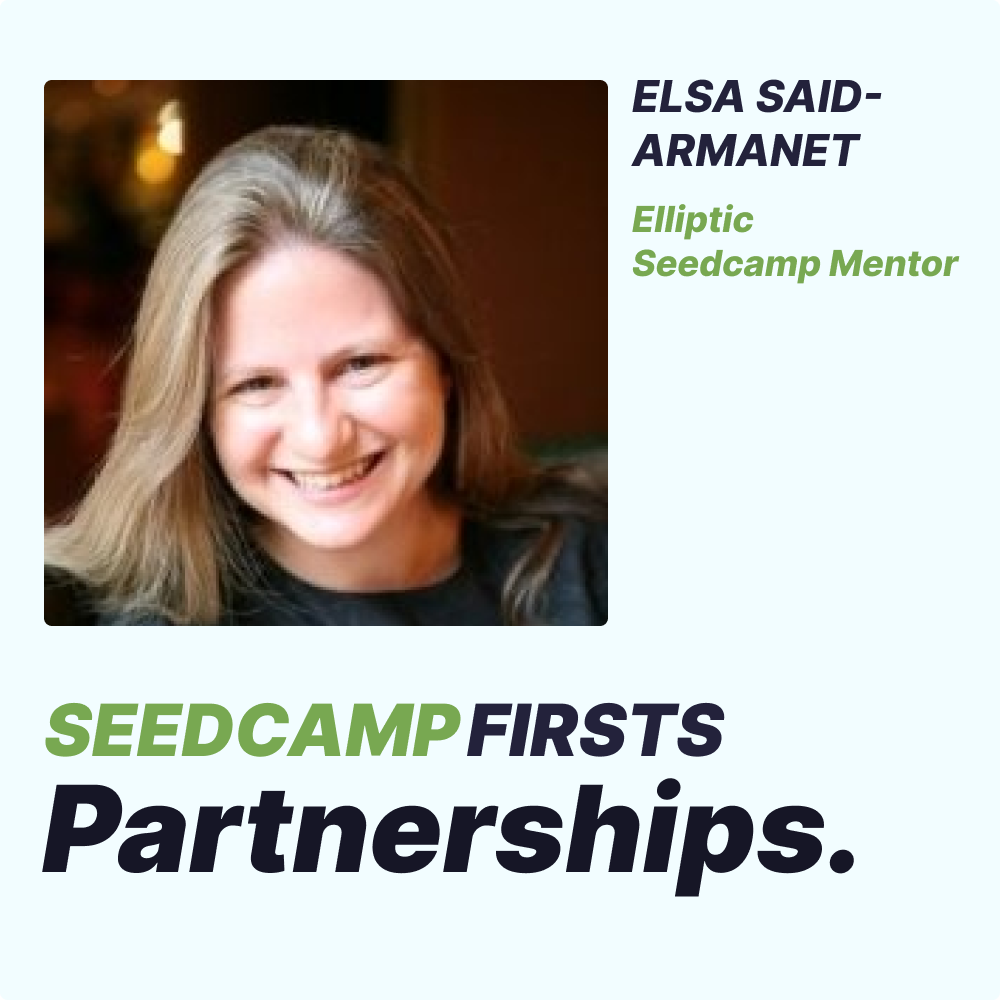 Read our deep dive interview:
1. What are the first steps in building a strategic partnership from a startup's perspective?
ESA: The first steps are internal. A Partnerships function needs to be integrated with and supported by a number of other functions within the company, typically product, sales, finance, marketing, and business intelligence. You need to define your partnerships strategy in the context of your startup's priorities and those of your other functions, most notably product, and engineering, respectively, sales and marketing. Partnerships should build an internal flywheel where they contribute to each of these functions, motivating them, in turn, to support partnerships with user research, product development, partner marketing, and go-to-market support.
2. What should founders have in mind before approaching a potential strategic partner (e.g., a corporation, an institution, etc.)?
ESA: Some of these strategic partners could be foundational partners: these are the partnerships that you might need because your product could not exist without them. For instance, if you are a Fintech startup, you may need to have a sponsor bank, making this a priority partnership for the business.
If this is not a foundational partner, avoid entering into a partnership at a too early stage, in particular, if this is a distribution partner. Your product must already have some traction in the market without the help of a partner. If this is not the case, this will put you in a very precarious situation. For a startup, partnering with a large company can be trajectory-changing, whereas, for large companies or institutions, the partnership may not even be a strong priority. If your company doesn't have product-to-market fit before entering the partnership, you will have difficulties negotiating reasonable terms from a strategic partner.
Choose your partners wisely, start small. Don't start with your favourite or largest possible partner, focus on smaller, fast-moving, tech-savvy companies which are eager to collaborate and launch a pilot with you. Measure the outcome of your pilot. This will help you refine your partnership proposition and/or approach larger partners with a much more compelling value proposition, thereby giving you a much stronger positioning in the negotiation with more strategic partners.
3. How should startups approach their first negotiation with a strategic partner?
ESA: There are many ways to approach a negotiation, and every strategic partner will have their own style. However, it is essential to master the general/basic rules of engagement:
Carefully choose whom you pitch: identify which function in the organisation is the most likely to advocate for you. When in doubt, approach the person who is the most likely to speak with you, and go for a warm introduction instead of spamming multiple stakeholders on social media, for instance
Work on your differentiation: you are likely not the first company approaching the strategic partner for a partnership. Outline how you differentiate from the competition and why they should choose you. Your message should take into account what would motivate the person to work with you: will you help them achieve their function's KPIs? For instance, if you are pitching to a sales team leader, how will you help this person grow their revenue? If the partnership can make your counterpart look good, this will provide them with great motivation to promote your company internally.
Articulate how the partnership would benefit the partner: form an idea before you engage with the partner, and iterate on your proposition (or reevaluate whether you should keep on talking to this partner as you explore a collaboration). Many partnership team members tend to reach out to partners without a compelling value proposition. If the partnership idea doesn't provide value to your target company, they won't progress the discussion at pace or at all.
4. How should founders define and prioritize the goals and outcomes of a strategic negotiation?
Be clear on your own company and functional goals, and why you decided to discuss a partnership in the first place. Are you trying to drive user acquisition by developing a delightful new user experience? Or is your goal to create a new revenue generation vertical by making your partners pay to join your marketplace?
Your goals and values should be aligned with those of the partner, and this alignment should be visible early on in the discussion. If this is not the case, or if you see that the negotiation becomes very difficult, then it is likely that there is a cultural or goal misalignment with your partner company, and it's often best to pause the discussion otherwise, even if you manage to sign a contract, the partnership is likely not going to be productive longer term
Identify must haves and nice to haves in the discussion:
How much revenue share are you able to give away without becoming unprofitable? What revenue shares are typical in your industry?
Which co-marketing activities can you offer: webinars, blog posts, events?
How many cross-functional resources can you allocate to support the partnership in terms of integration development or sales enablement?
Keep the big picture in mind: what will help drive revenue from the partnership at the end of the day? Even if you manage to negotiate a very advantageous revenue share for you, if the partnership doesn't generate revenue, this effort won't bring you much later down the line.
Typical metrics are:
Distribution partnerships, by partner:

MAUs (Monthly Active Users)
PQLs (Partner Qualified Leads)
Influenced revenue (sales deals or upsells, which your sales or account management teams could close thanks to the help or influence of a partner)
Sourced revenue (in the case of a reseller partnership, for instance, the amount of revenue paid by your partner to you after they resell your product).
[More information on metrics relevant to distribution partnerships can be found on the Crossbeam blog here]
Product partnerships: align your metrics with those of the product organization which you support. For instance, if you are working on partnerships with payment methods at a payment service provider like Stripe, your metrics could measure the adoption of each payment method by your clients (thereby validating that you integrated the best payment methods which are needed by your clients), and/or you could set yourself objectives to decrease the margins that you pay to each partner longer term.
5. How can founders deal with (inevitable) rejections?
ESA: Strategic partnerships sometimes require a multiyear timeline horizon for their execution, so it's important to keep a longer-term vision in your approach to building and investing in your partnership function.
Failure or rejection is fairly frequent in partnerships, but they are not necessarily permanent. View rejection as a "low point" in your multi-year relationship with the partner. Learn from it, and make sure to keep in touch with your partner occasionally (don't overdo it either!) in a friendly way, even if nothing is moving.
Keep in mind that you can't fully control or "de-risk" the outcome of a partnership discussion, given that, by definition, the successful execution of a partnership doesn't only depend on you but also on the partner. A strategic partner may have multiple reasons to drop a partnership conversation, such as internal reorganizations, budget cuts, changes of priorities due to market conditions, or differences in company culture between your company and that of the partner.
What matters is not that a specific partnership discussion failed but what you do instead to maintain a good relationship with the partner. Be it at Stripe or Elliptic, I have seen several partnership relationships start on the wrong foot, would pause the discussion, and rekindle it sometimes one or two years later, especially if internal stakeholders changed in the meantime. It is also important for you to reflect on what you learned from the relationship with your partner. Perhaps this is a sign that you should approach a different type of company, revisit your partnership business model, or do some user research on what your users would value from a partnership. This will help you succeed with your next partnership negotiation.
6. How can startups leverage the power of strategic partnerships as they prepare to scale?
ESA: Strategic partnerships can drive material impact on a startup in many ways, for instance:
Product partnerships or strategic vendors:

These partners are an important building block of your tech stack. For instance, at Elliptic, we work with blockchain infrastructure companies as well as digital assets, to enable our compliance products to detect financial crime activities on their blockchains.
These are critical partnerships for the existence of your business that enable your business to operate. Therefore, these are the partners which you need to address first.
As you scale, these partnerships can drive significant competitive advantage for your company. For instance, Stripe's recent ability to support Paypal as a payment method gives them a significant advantage, in particular in certain markets like Germany.

Distribution or Go-To-Market (GTM) partnerships:

Partnerships can help you grow revenue without relying on your sales team's bandwidth but by leveraging your partner's resources instead. A good example of such partnerships is Stripe's partnership with Shopify, where Shopify Merchants can create a Stripe account from the Shopify portal (thereby driving product-led growth by leveraging the partner's online resource).
Partnerships teams are small, high-impact teams that shouldn't be compensated on sales targets but instead tasked with identifying industry-first models and piloting them. Once you've identified a series of replicable business models, you then pick and choose the most impactful models and prepare to scale them by educating your sales team members on how to negotiate these new types of contracts with smaller partners, going beyond the most strategic ones.
Build a marketing strategy around the most strategic partners in your pipeline. While contract negotiation with them can take a long time, leverage your partners for quick wins by working with them on thought leadership pieces, blog posts, or webinars, for instance. This will help raise the attention of potential common customers who will want to pilot the partner.

Platform partnerships

Platform partnerships are when you're building a suite of APIs, and you want other businesses to integrate their product with those APIs so as to create additional product value for their customers.
Initially, you will build these partnerships through 1:1 interactions with strategic partners, and longer term, you may want to make these APIs and their documentation available publicly and deploy a partnership program allowing third-party companies to integrate your APIs with minimal oversight from you.
For example, at Elliptic, our partnership with the no-code case management software solution with Unit21 helps us offer case management functionalities to our clients without having to develop these features in-house.
Conclusions and key takeaways:
Before entering into discussions with potential strategic partners, clearly define your company and functional goals. Also, make sure you align your goals and values with those of your partner. To ensure the long-term success of the collaboration, focus on what will help drive revenue from the partnership.