Our 10-year anniversary and £41M first close seed fund backed by big business, global investors and fund of funds to invest in 100 new startups across Europe
Seedcamp has been innovating the early-stage investment offer for founders since 2007 and we are doubling down as THE partner of choice for European founders with global ambition with our first close £41M fourth fund to invest in 100 new startups from across the continent.
At first close, our £41M fourth fund is already over 2x larger than our last (€20M raised in 2014) and is backed by 60 leading corporates, venture capitalists and fund of funds from across the world including: Investec, Unilever Ventures, Thomas Cook Money, MassMutual Ventures, ADV, Draper Esprit, Index Ventures, Atomico, Idinvest Partners, Underscore Ventures, Speedinvest, Korelya, LocalGlobe, HenQ and British Business Investments, the commercial arm of the UK-government backed British Business Bank.
Over the past decade our footprint across Europe, and the world has increased exponentially and our ambition, alongside that of our founders, has grown dramatically. We're privileged to have been a part of so many ground-breaking ideas, met so many inspirational people, invested alongside and helped our companies raise from top investors and injected capital and support into hundreds of startups (250 to be precise) who've gone on to create products and services that are used by millions of people worldwide.
We've witnessed a real maturation of the European startup landscape and played a pivotal role in supporting burgeoning ecosystems across the continent. From investments in Estonia (Teleport); France (Stupeflix); Portugal (Codacy); Slovenia (Zemanta); Germany (Grover); Romania (UiPath); Denmark (Pleo); Austria (Codeship); Switzerland (wefox); Ireland (Pointy); Sweden (Fishbrain); UK (Revolut); Spain (Traity) – and many, many more, – we truly are pan-European in our reach and will continue our travels across the continent with Fund IV to seek out world-class entrepreneurial talent.
Alongside the evolution of the ecosystem, we are innovating our own offering. With Seedcamp Fund IV – our biggest and boldest fund to date – we plan to invest in up to 100 startups from across Europe by leading pre-seed rounds, co-investing in syndicated seed rounds and supporting with all that falls in between. Our focus is to get you off-the-ground and all the way up to a great Series A, and beyond. We also reserve a significant amount of capital to be able to follow-on in rounds up to Series B. With Fund IV, we also have approval to invest in crypto tokens making us one of the first, if not the first, LP/GP funds to receive this.
In tune with where the market is today and the increased level of investment needed to get a startup off the ground, we will be increasing the amount of capital we invest into startups across both pre-seed and seed stages.  At pre-seed we will lead your round with £100k and can anchor up to £250k by bringing in our network of angels and high networths. At seed we will invest up to £400k in rounds of up to £2M where there's already a lead investor on board. 
On top of our investment, we remain laser-focused on delivering a platform of support to our founders that matches their needs. Our platform is built on an infrastructure of the best community and network and puts our founders in the driver's seat to control their trajectory, versus being at the mercy of the market. 
We fully understand the pain points that come with the fundraising process and how protracted it can be. Speed to closing is a critical part of our Fund IV offer to founders and we want to be fully transparent regarding our internal review process which we've broken down in more detail here.
Continuing the theme of transparency, we wanted to share the deck we used to help raise this fund. We understand first hand just how tough the fundraising process can be and it's not just startups who go through it.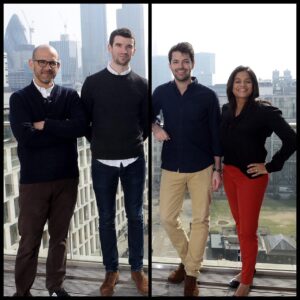 The Seedcamp team is a critical component to our startup's success. Seedcamp is led by co-Managing Partners, Reshma Sohoni and Carlos Eduardo Espinal, two of the most influential voices in the European tech scene. Reshma and Carlos have 40+ years combined experience working at the bleeding edge of technology and investment. The Investment team also includes Partners Tom Wilson and Sia Houchangnia and is supported by analyst, Kyran Schmidt.
Our in-house operational team, made up of marketers, technologists, financiers and experts-in-residence across everything from product and sales to growth and design work closely with our founders to support their growth. With Fund IV, we will be bolstering our in-house team and looking for exceptional individuals to join the Seedcamp nation.
While our investment approach and offering has evolved, the core of what Seedcamp stands for remains the same with our founders and our global community at the centre of everything we do. With our new fund, we look forward to continuing to back the most ambitious, globally-minded talent and connecting the European ecosystem to help them achieve outsized outcomes.