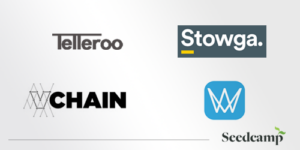 As 2017 begins, we are delighted to welcome four fantastic new teams into the Seedcamp family and look forward to supporting them through our lifelong platform as they develop their businesses. 
Spanning FinTech, Retail, PropTech and Blockchain, the companies bring the total number of Seedcamp portfolio companies to over 240. Each of the new teams is tackling verticals in which there is significant room for innovation, and we're proud to back such an ambitious collection of founders creating solutions in vibrant markets. 
The newest companies in the Seedcamp portfolio include:
Telleroo –  The API for bank transfers, providing the simplest means for the disbursement and withdrawal of client funds
Vchain – A platform for digital identity, and its verification within Blockchain
Wevat – Digitising tax free shopping by allowing non-EU travellers to claim back Value Added Tax
Stowga – Pay-as-you-go warehousing. Letting users find, book and manage warehouse space through one easy-to-use platform
Carlos Eduardo Espinal, Seedcamp Partner, commented, "We continue to be impressed by the calibre of founders and quality of ideas we see coming through our pre-seed applications and referrals from our fantastic network. The most recent companies we've backed plan to unlock significant value in sectors that still have a way to go when it comes to providing the most cost and time effective solution for customers across myriad sectors and we're excited to work with them as they develop, refine and grow their businesses."
Reshma Sohoni, Founding Partner, added, "2017 is already off to an incredibly strong start for us following our investments in Monese and Fraugster  and we're incredibly excited to add Telleroo, Vchain, Stowga and Wevat to our portfolio that now stands at over 240 companies from across the world. The impact Seedcamp backed companies make across people's lives on a daily basis is amazing to see and we can't wait for what else 2017 has in store."
Fabian Flatz, CEO at  Telleroo, commented, "We are thrilled to be part of Seedcamp and to leverage the incredible community that comes with it. Seedcamp truly does feel like a family and provides the perfect support network for a small business to grow into something significant."
Applications for pre-seed funding from Seedcamp are now open. Get yours in before 19 Feb. Apply here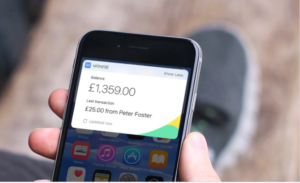 We are incredibly proud to announce multi-award winning 100% mobile banking service, Monese, who we first backed at seed stage in spring 2015, has gone on to close an impressive $10M Series A from a suite of world-wide investors in a bid to expand its offering into mainland Europe and become the service of choice for expats, migrants and those seeking an alternative to traditional banks.
We have followed on in this heavily oversubscribed round and are delighted to invest alongside other high calibre backers including Fin Tech investors, Anthemis, and Korea Investment Partners.
Monese's recent Series A round brings the total amount of funding raised by the company to an impressive $15.8 million.
Norris Koppel, CEO of Monese, commented: "We are incredibly excited to close a heavily oversubscribed funding round with a suite of top investors at our side.
"The money raised will be key in helping us launch Euro current accounts to become available to customers in other European markets, as well as a host of new features like direct debit and credit services to ensure customers have everything they need to stay in complete control of their finances," he added.
Once installed, Monese enables non-natives to open a bank account in the UK, simply by taking a selfie and a picture of their local passport or national identity. The Monese current account can be used to receive a salary, shop, make bank transfers and send money abroad, and also provides users with a contactless card which can be used like a regular debit card.
Monese has signed up over 40,000 customers from over 179 different countries who have collectively made over 1.8 million transactions, moving over £150 million, since September 2015. Towards the end of 2016 over 90% of Monese customer acquisition was organic, driven by word of mouth referrals from existing customers.
Since its launch in September 2015 Monese has maintained a steadfast focus on operating as its customers main banking account, shipping a full suite of features to their current account product throughout 2016, gaining them international recognition as the leader in 'instant banking' services across Europe, as well as multiple awards including Best Challenger Bank at The European Fintech Awards, the Horizon 2020 Award for Research and Innovation and Best Consumer Payments Programme at the Emerging Payments Awards 2016.
For more information visit: http://www.monese.com