Our 10-year anniversary and £41M first close seed fund backed by big business, global investors and fund of funds to invest in 100 new startups across Europe
Seedcamp has been innovating the early-stage investment offer for founders since 2007 and we are doubling down as THE partner of choice for European founders with global ambition with our first close £41M fourth fund to invest in 100 new startups from across the continent.
At first close, our £41M fourth fund is already over 2x larger than our last (€20M raised in 2014) and is backed by 60 leading corporates, venture capitalists and fund of funds from across the world including: Investec, Unilever Ventures, Thomas Cook Money, MassMutual Ventures, ADV, Draper Esprit, Index Ventures, Atomico, Idinvest Partners, Underscore Ventures, Speedinvest, Korelya, LocalGlobe, HenQ and British Business Investments, the commercial arm of the UK-government backed British Business Bank.
Over the past decade our footprint across Europe, and the world has increased exponentially and our ambition, alongside that of our founders, has grown dramatically. We're privileged to have been a part of so many ground-breaking ideas, met so many inspirational people, invested alongside and helped our companies raise from top investors and injected capital and support into hundreds of startups (250 to be precise) who've gone on to create products and services that are used by millions of people worldwide.
We've witnessed a real maturation of the European startup landscape and played a pivotal role in supporting burgeoning ecosystems across the continent. From investments in Estonia (Teleport); France (Stupeflix); Portugal (Codacy); Slovenia (Zemanta); Germany (Grover); Romania (UiPath); Denmark (Pleo); Austria (Codeship); Switzerland (wefox); Ireland (Pointy); Sweden (Fishbrain); UK (Revolut); Spain (Traity) – and many, many more, – we truly are pan-European in our reach and will continue our travels across the continent with Fund IV to seek out world-class entrepreneurial talent.
Alongside the evolution of the ecosystem, we are innovating our own offering. With Seedcamp Fund IV – our biggest and boldest fund to date – we plan to invest in up to 100 startups from across Europe by leading pre-seed rounds, co-investing in syndicated seed rounds and supporting with all that falls in between. Our focus is to get you off-the-ground and all the way up to a great Series A, and beyond. We also reserve a significant amount of capital to be able to follow-on in rounds up to Series B. With Fund IV, we also have approval to invest in crypto tokens making us one of the first, if not the first, LP/GP funds to receive this.
In tune with where the market is today and the increased level of investment needed to get a startup off the ground, we will be increasing the amount of capital we invest into startups across both pre-seed and seed stages.  At pre-seed we will lead your round with £100k and can anchor up to £250k by bringing in our network of angels and high networths. At seed we will invest up to £400k in rounds of up to £2M where there's already a lead investor on board. 
On top of our investment, we remain laser-focused on delivering a platform of support to our founders that matches their needs. Our platform is built on an infrastructure of the best community and network and puts our founders in the driver's seat to control their trajectory, versus being at the mercy of the market. 
We fully understand the pain points that come with the fundraising process and how protracted it can be. Speed to closing is a critical part of our Fund IV offer to founders and we want to be fully transparent regarding our internal review process which we've broken down in more detail here.
Continuing the theme of transparency, we wanted to share the deck we used to help raise this fund. We understand first hand just how tough the fundraising process can be and it's not just startups who go through it.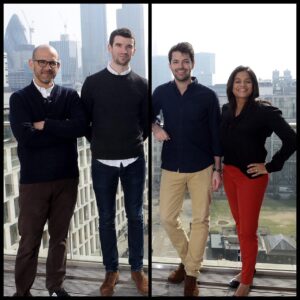 The Seedcamp team is a critical component to our startup's success. Seedcamp is led by co-Managing Partners, Reshma Sohoni and Carlos Eduardo Espinal, two of the most influential voices in the European tech scene. Reshma and Carlos have 40+ years combined experience working at the bleeding edge of technology and investment. The Investment team also includes Partners Tom Wilson and Sia Houchangnia and is supported by analyst, Kyran Schmidt.
Our in-house operational team, made up of marketers, technologists, financiers and experts-in-residence across everything from product and sales to growth and design work closely with our founders to support their growth. With Fund IV, we will be bolstering our in-house team and looking for exceptional individuals to join the Seedcamp nation.
While our investment approach and offering has evolved, the core of what Seedcamp stands for remains the same with our founders and our global community at the centre of everything we do. With our new fund, we look forward to continuing to back the most ambitious, globally-minded talent and connecting the European ecosystem to help them achieve outsized outcomes.
By Reshma Sohoni, Seedcamp co-founder and managing partner
If you are an outsider to venture capital then the rise of startups from ideation to unicorns is a wondrous and awe-inspiring journey to watch. But it is just that and the vast majority only ever get to watch from the outside. It is generally impossible to get in on the action unless you are a UHNW (ultra high net worth) or a VC yourself. The closest you get to invest in a startup is when they no longer are one and they file for an IPO. And even then you can't get in on the IPO price. You get sliced in only once all the insiders have already made their claims.
"It is generally impossible to get in on the action unless you are a Ultra High Net Worth or a VC"
This classist system worked ok when you had the likes of Microsoft, Apple, Google and even Facebook and Amazon rising many fold from their IPO prices. The retail investor could still do really well in the public markets. But that world is unrecognizable today. Today it is more the norm that companies stay private for longer and most of the real gains to be made happen before they IPO. In today's climate we are seeing fewer IPOs that have staying power to grow many multiples over the following decades.
As both a retail investor who wishes that I, as a customer of their products, had been able to get in on the early private shares of a Google or Apple and an insider VC who did get into Transferwise as the first VC investor, I have my foot in both camps. Equity crowdfunding is one of the rare ways where retail investors and VCs actually go toe-to-toe. In the case of Revolut, it is now possible for the retail investor to even get a leg up on a VC.
"Equity crowdfunding is one of the rare ways retail investors and VCs actually go toe-to-toe"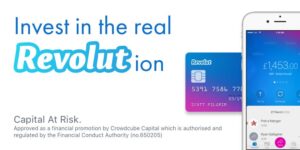 For example, Revolut (disclosure, we were the first VC investor in the business) recently raised two rounds, one on Crowdcube and one on Seedrs. They used these platforms to raise from the consumer and, smartly, from their biggest and most vocal customers. In that most recent raise, not only was their crowd campaign oversubscribed but several VCs were locked out of the round. Sources have it that several tried to see if they could get a stake in the business through the crowd platform itself.
Stories like this obviously have David vs Goliath cheer to them and I think they are just the start. We are big fans of companies raising on equity crowdfunding platforms. Why should UHNWs and VCs have the early access to the next great companies? The customer or retail investor has just as much, if not more, right to be there.
Not all our companies take us up on our encouragement but we really hope that more of our companies that are clear unicorn potential, will indeed follow the path of Revolut. I should add, not all the companies you find on the likes of Seedrs and Crowdcube are potential big businesses. Some will never be able to raise VC and yet are still great investments. And, to be honest, some are absolute duds. As in any type of investment, you have to do your own research thoroughly first.
But one thing is for sure. In a world where the few are getting wealthier at the expense of the many, equity crowdfunding bucks this trend and champions all of us wannabe's and gives us the chance to own a part of what might just be the next big thing.
To get involved with crowdfunding, either as an investor or as a startup looking to raise, there are multiple options available on the market including Crowdcube and Seedrs referenced in this piece. Remember your capital is at risk if you do decide to invest via any crowdfunding platform so be sure to do your research thoroughly.
We recently hosted a legal tech roundtable together with our friends at Draper Esprit to discuss some of the big topics related to the sector. It was a lively discussion between founders, investors and industry experts and it got me thinking to the size of the market opportunity in legal tech and why more VC money hasn't been invested in the space. This was also a topic that came up a lot at the recent excellent Legal Geek conference in London so I thought I'd dive in to take a bit more of a look.
Big numbers are often thrown around regarding the size of the legal tech market. I've seen pitch decks with numbers ranging from over £26bn for the UK market to $400bn for the US. However, as indicated by the chart above, investment in the legal tech sector isn't anything to write home about. Total VC funding globally for 2016 was less than $250m, which given the size of the global VC market is not a huge number. 2017 seems to be tracking at a similar rate and the spike for 2015 was largely driven by two large financings (Relativity and Avvo).
To add to this, the recent legal tech report produced by Legal Geek and Thomson Reuters (Movers and Shakers: UK Lawtech Start-ups, 2017) had the amount invested into UK Seed stage startups (those who had raised <$5m) for 2017 (to June) at a mere £6.7m.
This poses the question, why isn't more VC funding flowing into Legal Tech? I wanted to unpack 3 of the headline reasons I often hear and explain why I remain very bullish on the potential for the sector.
"The market isn't actually that big"
Whilst the headline numbers are impressive (£26bn, $400bn etc.), when you actually look at the market size for some of the legal tech solutions the addressable market could be seen as much smaller. For example, ML contract review is an exciting space that many legal tech startups are focussed on (Beagle, Luminance, Kira to name some of the more established players). However, on the face of it, the universe of potential purchasers of such solutions is a lot smaller than the large market numbers would suggest. Such startups that sell into law firms (to note, not all are focused on this segment) are only likely to find appetite amongst the larger more technologically savvy firms who, whilst significant, represent a smaller sub-set of the overall market.
Whilst the market size concern is valid and I'm not a fan of startups solely pitching the massive headline numbers. I believe it's short sighted to see this as a substantial issue. There's no doubt that the legal services market is becoming more sophisticated and technology adopted at the more tech forward law firms will filter down to the smaller firms (or arguably such smaller firms will cease to exist). We just have to look at the adoption of tech solutions across the larger firms and even the steps by certain large firms to set up accelerators (MDR Labs), investment arms (Next Law Labs), work spaces (Fuse) etc. as evidence of an increased appetite.
Also, law firms themselves are only one aspect of the market. Selling into the in-house legal, business or compliance teams is another lucrative market segment (Juro, Legit and Libryo are some examples from our portfolio of startups addressing such respective segments). Such in-house teams are often more astute purchasers of software and as such a potentially better route to market.
Additionally, one could argue, there is an untapped latent legal market that could present an even larger market opportunity. For example, we've only began to scratch the surface of democratising access on a B2C level to legal services (e.g. Willing, Farewill, DoNotPay, CrowdJustice, Absolute Barrister). p.s. I'd love to meet founders building Legal Tech companies focusing on the B2C space – I think there's some big opportunities here!
2. "The incentives aren't aligned"
Law is an odd industry where many law firms (not all) still bill clients by the hour. Therefore tech solutions that make them more efficient may not be positively received and hard for legal tech startups to sell in.
Whilst this has traditionally been an issue, I think the market is finally turning on this point. For one, a large proportion of the consumers of legal services are themselves sophisticated users and purchasers of software across different business areas (Accounting, CRM etc.). Therefore, there is an expectation that their legal service providers utilise tech solutions to provide the best service. Clients / consumers expect more transparency around how much they are paying and startups are helping provide more transparency here (Apperio, SeedLegals and Lexoo are some taking advantage of this trend). Furthermore, the emergence of startups such as Atrium is further evidence that startups are seeing the move away from the billable hour as an opportunity to provide tech to leverage efficiency gains across the market.
We're also seeing law firms look to tech solutions as a way to differentiate versus competitive firms. Adopting the latest advancements in technology ahead of their competitors such as smart contract technology (Clause are a startup in our portfolio doing some exciting stuff in this space) or ML contract review (see companies listed above) is an additional way for firms to stand out in a crowded market.
To add to this, as per above, law firms is only one potential customer segment and for other segments (e.g. in-house etc.) the incentives to keep legal cost and time spent down are very much aligned.
3. "The sales cycle is too long"
Lawyers and law firms are notoriously tough to sell to. Law firms are usually structured as partnerships requiring multiple sign offs to get to a sale. Add this to the inherent risk averse nature of the industry and you have a bit of a perfect storm.
I think this one is potentially here to stay for a while but there are signs things are improving. Larger law firms are putting tech on the exec team (partnership board) agenda and we're even seeing CTOs start to be appointed. All promising signs. Furthermore, looking outside of law firms and more towards in house teams or non-legal businesses and the sales cycle point begins to fall away.
Whether selling in-house, private practice (law firms) or otherwise, the key thing for startups to do is to try to identify the key decision makers to expedite the process. As the spotlight on legal tech increases this should help raise awareness of its potential and reduce the sales cycle.
The future of the funding landscape
I firmly believe there are huge opportunities for startups in the legal tech space. It feels like the sector is at a real tipping point and I see the emergence of major startup success stories as an inevitability. I think we're going to see more VC funding looking to back the standout startups scaling up. I'm excited about seeing what talented founders build to tackle some of the biggest problems and take advantage of such massive opportunities.