Gaming is cool again – Sandbox games like Roblox have shown that more than ever, people are excited to immerse themselves in a virtual world with limitless possibilities. Gaming is a medium that allows for a unique method of storytelling, exploration and entertainment. There is a genre of game for everyone and at Seedcamp, we're particularly passionate about a growing category of games that marry various elements of media, both in the virtual and real worlds – hybrid games. Ready to release your inner gamer? Step in PortalOne, the Norway-based company is on a mission to launch a whole new category of entertainment that seamlessly mixes games with live shows which are embedded directly inside the games.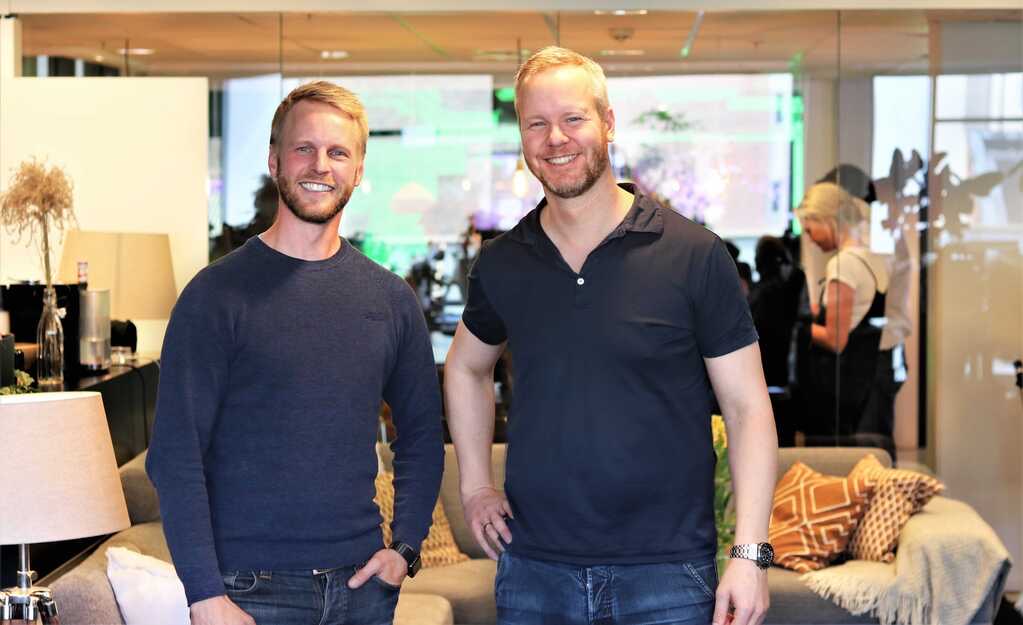 We're thrilled to back Bård Anders Kasin and Stig Olav Kasin in a $15m seed round with participation from Founders Fund, TQ Ventures, Coatue Management, Signia Venture Partners, Talis Capital, SNÖ Ventures, Rogue Ventures, Atari and ARRI. A few amazing angels in the round include the founders of Twitch, Blizzard and Riot Games.
"To get such strong backing from so many industry innovators at such an early stage of this journey is something you can only dream of."

Bård Anders Kasin, Co-Founder and CEO
"We are incredibly fortunate to have been joined by a number of true icons and visionaries who immediately grasped the unique potential of PortalOne," Co-Founder and CEO Bard notes. "To get such strong backing from so many industry innovators at such an early stage of this journey is something you can only dream of. All of our investors bring tremendous value to the table and we are grateful for all of their support."
For the launch of the platform, the first available format is PortalOne Arcade, a retro-inspired universe that immerses the show's guests inside original PortalOne games, as well as contemporary and "super-sized" classic games. These enable users to compete directly against these guests right from their mobile phones. Delivering something that blends the optimistic, magical feel of the 1980's with modern and futuristic elements inspires visions of virtual worlds to come. PortalOne is also building its own proprietary technology to enable third-party creators to create content on the PortalOne platform.
We're lucky enough to have tried out the platform while in beta and are over the moon by what the team are building.
"We're incredibly excited by the potential for PortalOne's hybrid games platform," comments Seedcamp Partner Tom Wilson. "They have the opportunity to define an entirely new form of entertainment blending gaming, pop culture and media. As a fortunate early beta user, I can't wait for more people to get to experience the platform as part of their wider launch"
Armed with this raise they plan to scale and launch in the US. Sign up for their beta here (only available in the US and Norway).
Not all journeys have quite the trajectory of UiPath. Today, as the Romanian-founded company rings the bell to open the New York Stock Exchange, it is known as one of the fastest-growing software startups in history and marks the first Seedcamp portfolio company to go public. We could not be more in awe of what Daniel, Marius and the team have built over the last six years of our relationship together.
At moments like these, it's easy to start at the end and just view success, but UiPath's journey never followed a traditional path. In 2015, when we first invested, UiPath was a little-known services business with 10 employees, fighting to galvanise investors to raise its $500k seed round and break into the software market. Now with $580m ARR, growing 65% year-on-year, 3,000+ employees around the world and one of the strongest debuts on the NYSE for a European-tech company, it will go down in history as one of Europe's great success stories. Join us as we take a look back at how we first met Daniel, some of our early thoughts – and even concerns – and the valuable role the UiPath team has played across the Seedcamp Nation.
Humble Beginnings
One of the real privileges at Seedcamp is that we back the best of European founders from the very early days, at least – most of the time. Now with UiPath, that wasn't quite the story. While 2015 was a real turning point for the business, UiPath began life in 2005, in Bucharest, as a services business named DeskOver. Back then, the company, founded by Daniel Dines and Marius Tirca, was a team of 10 people. 10 years later they'd grown to 50 people and now, UiPath is operating 60 offices with over 3,000 employees around the world, with 35,000 people trained in RPA.
Part of this dramatic shift can be attributed to an investment day hosted by our friends at Credo Ventures in Prague where our Managing Partner, Reshma, was an advisor on companies Credo was considering investing in. A softly spoken Daniel Dines took to the stage to pitch. Now, like with many relationships, it wasn't an obvious match at the very start. Reshma, while wanting to support Credo in their investment decisions, and thinking UiPath could very well be onto something, also had lots of questions for Daniel; about whether RPA was going to take business process automation to the next level; sales strategy, and if this was a SaaS business or not.
Many founders could feel threatened being asked hard questions. But, not Daniel. One of the core values at UiPath is humility and that has been expressed from the top-down throughout the company's existence. Rather than take umbrage at being pushed, Daniel came up to Reshma after a fireside that evening and thanked her for her useful comments and said they were "all things for him to start think about and be great to bring into the Seedcamp." A follow-up meeting with Reshma and Carlos led to UiPath closing their seed round and presenting at Seedcamp Week. This was the beginning of an accelerated journey.
Journeying Together
"If you are constantly trying to be the smartest guy in the room, you're likely not to want to hear when you're wrong." Daniel Dines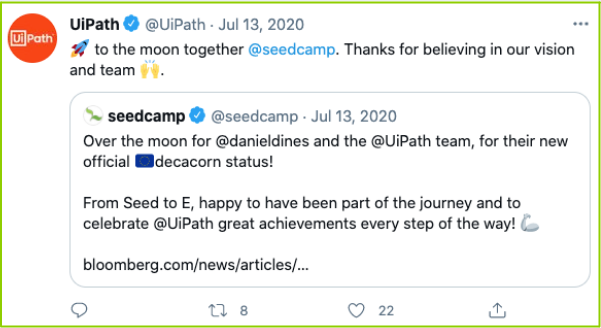 Daniel's actions back in 2015 underpin the UiPath culture today, where humility is their cornerstone value. Combining this attitude with action saw UiPath named Romania's first unicorn in 2018, and then Europe's first cloud-based decacorn in the midst of a global pandemic. Their growth trajectory and net dollar retention of 145% can be attributed to a commitment to listening to advisors, but more importantly, their customers and their willingness to take action and deliver on what is asked of them.
UiPath's purpose to "accelerate human achievement" is notable not only in the software they provide but the contributions they continue to make to the Seedcamp Nation. When we back founders, we back them all the way, providing support across the board. Since meeting Daniel and Marius in 2015, we've seen them engage heavily with the Seedcamp Nation, connecting them with the key hires who have become core team members – like Guy Kirkwood – as well as putting them in contact with other founders, operators and investors who helped with those early opportunities that accelerated their growth journey. The legend of Daniel pitching to our friends in the US alongside Nik Storonsky, Founder of Revolut in 2015 is true, it ended with keen interest from Luciana at Accel, and the rest on the UiPath story, (at least) is history!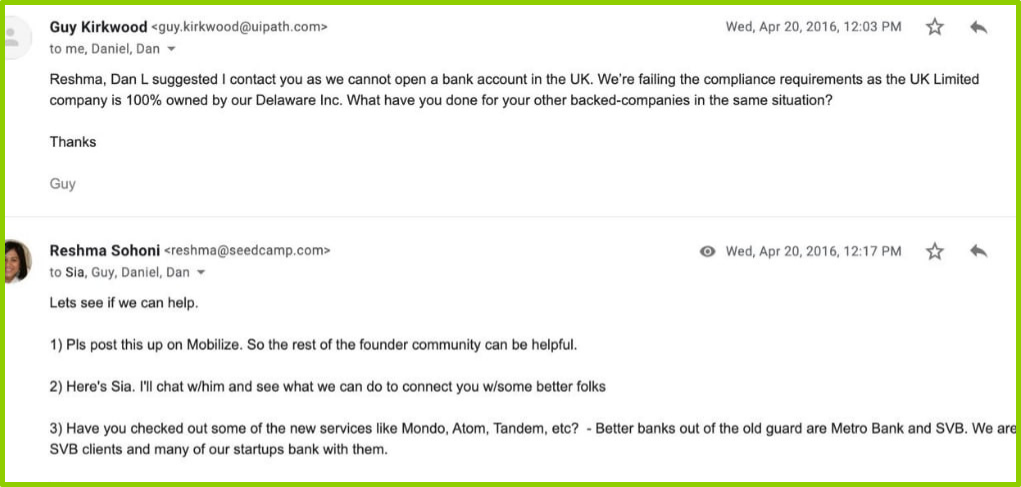 The thing we've loved most about being on this journey with UiPath is that they have also given back to the Seedcamp Nation. Our community of over 1,000+ founders are all at different stages of a very tough journey. Having the team from the early growth stage of the UiPath journey give back their time and expertise to the founders and operators within has had a huge impact on the community. Not only have UiPath helped humans and robots collaborate to solve hard problems, Daniel and his team have also done this with the Seedcamp Nation. We know the vision for UiPath is far from having been realised, and we can't wait to see what comes next on this monumental journey.