One of the very first questions we get from founders after they raise capital is how to spend it, with talent and customer acquisition generally the biggest focus of our founders' time, and budgets.
In this post, Carlos chats with Natasha Lytton from our team about her experiences as a CMO and covers some of the typical questions we see asked (or those that sometimes people are too embarrassed to ask) around all things Marketing and when, and how, to hire a marketer for your startup.
What is the most misunderstood part of 'the marketing function' within a startup?
That growth belongs exclusively within the marketing department
That one person can cover the whole stack of 'marketing' – ie performance and brand
That short-term tactics are the Holy Grail and that customer acquisition costs (CAC) you achieve today will last forever (spoiler alert, they won't!)
When you should be doing marketing vs. someone else?
I think this really depends on you as a founder and the mix of your founding team; your skillset, where you feel most comfortable, and what's going to be the most impactful use of your time. If you have zero marketing experience and know this is going to be a core function in order for your business to grow, I'd be looking to bring someone on to run it asap. I think, as founders, it's essential you take an active interest in the story of the business, which is essential when it comes to shaping your narrative. Early-stage companies are driven pretty exclusively by the founder so, while you may not necessarily be buying Facebook ads or creating content to help drive SEO, you should be inputting on the story behind the business, defining what sort of legacy you want to leave in the world and thinking about how best to bring that to life.
What should be your first hire, a junior person or a senior person?
I've personally always been a fan of hiring people who can grow into roles. However, I think with the market we're currently in, that's changing a lot. You used to hire people with relatively little experience (maybe 3-5 years) but who had loads of energy, intellectual curiosity, and passion to contribute and learn and grow alongside the business. In the current market, with everyone raising so much more money and expected to grow 100x faster than before, the need for people who've 'been there and done that' tends to dominate. If this is the route you're going down, I'd be asking:
Will this be a challenge this person will be 'excited to do?' as that will likely determine how willing they are to stick around. I've found senior people are more likely to take on roles in very early companies if it's a different sector/experience for them whereas companies always tend to want to hire people who've churned out from competitor businesses, Here I'd add, it's not essential that someone has direct experience in the sector you're in for them to be valuable.
Is this person a 'doer' and someone who is willing to get their hands dirty?
Is this person – be it senior or more junior – someone you feel you'd be able to trust and who can help take you on a journey ?
What is a CMO?
To me, the CMO is the person who is ultimately responsible for and sets the direction for the entire marketing function in your organisation. This is the person who should be updating the founder on what marketing is delivering, setting the marketing strategy, working with the CFO to define budgets, and reporting (as and when necessary) to key stakeholders – ie investors – on impact.
When should you hire a CMO?
This really depends on the stage of your business. If you're hiring a CMO and it's a marketing team of one, you're not really hiring a CMO. I think a lot of this comes down to titles and how this sits within your organisation as a whole. People are increasingly less willing to give out C-level titles pre-Series A (which I think is right). A 'proper' CMO should signify someone who is going to come in and own a substantial budget and run a decent sized team. I'd also be looking at bringing someone on when you have significant marketing targets you need the business to hit to help you achieve your core goals.
How should you judge a CMO?
CMOs are notoriously one of the quickest roles to churn out of companies as everyone wants to grow, and they want it to have happened yesterday. I think a lot of this comes down to setting clear expectations right at the start. With early-stage businesses, a lot will be unknown and so while goals are important, the requirements of the organisation and the individuals within them to flex, as the company likely will, is also important. I would personally judge a CMO by:
Leadership quality
Founder trust and relationship
Ability to quickly course correct if something isn't working
Ability to create a balance of short and long term strategies and tactics to drive growth while future proofing the brand in the long run
What kind of budget should you discuss with your CMO?
The traditional rule of thumb in consumer marketing is 10% of funding should be spent on marketing. This should then come down as the company scales and as next rounds get bigger.
To read more of Natasha's content on all things marketing check out her Medium here.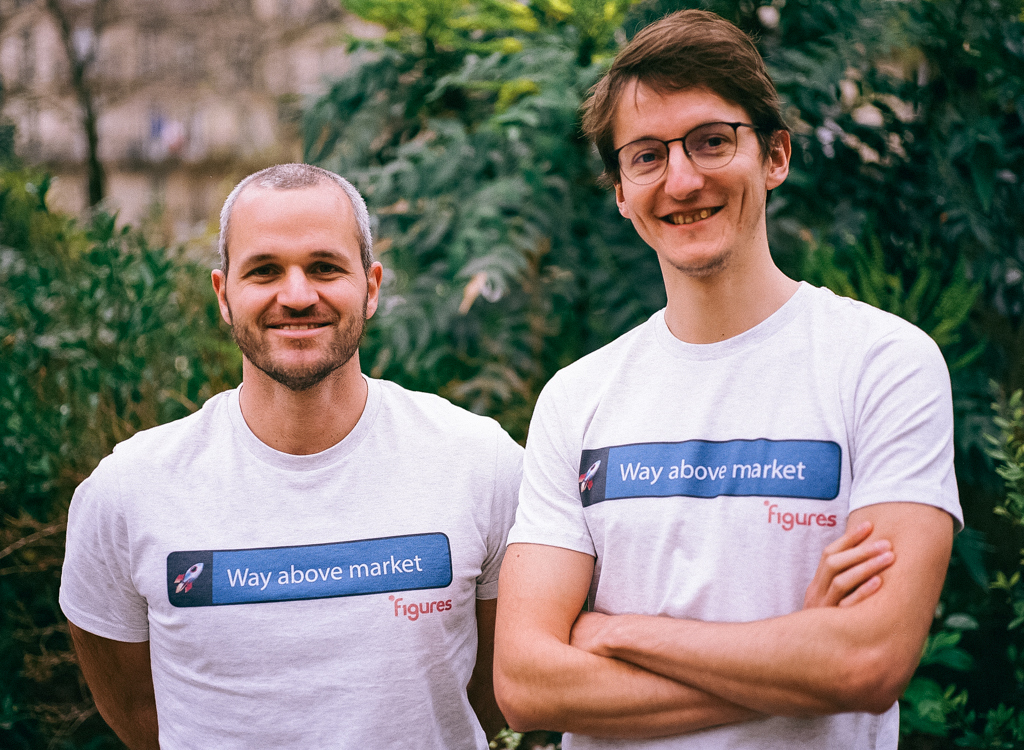 One of the most frequent questions we get from our founders at Seedcamp is 'how much should I be paying for xx role?' Until now, navigating startup salaries across Europe has been a total black box, with companies constantly struggling to get cohesive benchmarking data and understand how to position themselves to be competitive in the market, without bankrupting themselves in the process.
To help solve this massive problem, we are delighted to lead investment into Virgile and Bastien, co-founders of Figures, as they set out to help startups manage their salary policy as they scale their compensation platform across multiple European countries. We are impressed by what the team has built in just a year, with 20 customers already in France and Germany including the likes of Qonto, PayFit, BackMarket, and JobTeaser who rely on the Figures platform to define their salary policy. Given the success of its solution, Figures has announced an acceleration of its development in Europe (Germany, United Kingdom, Spain, Benelux, Scandinavian countries) and aims to have 700 European customers within a year.
In a market under high tension, in which compensation is a key component to attracting and retaining the best talents, Figures' solution has already helped more than 220 start-ups to review their salary policy. Figures is currently the only platform providing access to real salary levels in the start-up market, with data filterable by company size, industry, funding, role, and location.
With a strong need for transparency and fairness in the labor market, Figures helps startup decision markers in instilling equality in their salary policies. Based on an analysis of internal and market data, managers and executives can now make decisions on an objective basis.
At a time when employees are speaking out, Figures provides an unprecedented response in the fight against wage inequalities, particularly in regards to the gender pay gap. Mastering pay equity has become a priority issue for companies, especially the newer ones. In the age of transparency, refusing to address this subject puts your reputation at risk. Figures enables its clients to conduct a complete audit of their internal and external pay equity, which is an essential step before effectively reducing unjustified pay gaps.
In 2022, Figures will progressively allow its client companies to manage their entire compensation policy directly on its platform. From the creation of a salary grid adapted to their challenges to the opening of access to compensation data to managers and employees, Figures intends to become the first complete compensation management solution on the European market.
Virgile Rainegeard, CEO of Figures, comments:

"I was able to create the tool that I always dreamed of having when I was a HR director and was looking for a way out of a salary navigation system that was not clear,. At that time, I kept seeing the same issues: lack of reliable compensation data and tedious management of salary issues, using manual spreadsheets that were very often filled with errors. The start-up and scale-up sector was waiting for a platform capable of delivering market data. To save time, to position themselves objectively and to detect the priority actions to be taken in the fight against salary inequalities, especially between men and women."
For more information and to see how you could leverage Figures' platform for your business visit figures.fr
The digital lives we've built for ourselves are proving to be more vulnerable to cyber attacks than ever before. Tech, media, and, yes, even beef corporations are being infiltrated by sophisticated hacker groups which current cyber solutions seemingly can't defend against. Gone are the days of exclusively feeling nervous about physical break-ins — today's main security concerns are digital. At Seedcamp, we have been backing a variety of companies looking to keep people's personal and professional lives safe. One example is Zamna, which is focused on traveler health verification at airports (talk about a timely problem to solve!). Another is Cyscale, one of our most recent additions to the Seedcamp Nation, which maps, secures, and monitors cloud assets for companies. Whether in a professional or personal setting, we are passionate about digital security due to its ever-increasing importance to make our world a safer place.
Today, two big trends are putting strain on our old ways of securing data, infrastructure, and applications. These are 1) the COVID-induced move to a remote workforce and 2) a shift to open-source and web3.
Let's dig in.
From work-bound to house-bound.
First of all, and as no news to anyone, COVID has made the work-bound, house-bound. Our remote workforce comes with a myriad of dangers as today's employees rely on home networks, which oftentimes aren't secured. When workers are decentralised and operate from multiple different locations, one hack on a personal network can lead to the entire organisation being at risk. In short, the number of open doors hackers can walk through to infiltrate a company has dramatically increased. Furthermore, WFH has blurred the lines between personal devices and work devices. How often do you turn on your personal laptop to check work emails? How frequently do you use your personal mobile device to do a two-factor authentication or log into a Zoom meeting? Every time this line blurs further, cyber risks become greater.
From Web2 to Web3.
Second of all, we are experiencing the rise of Web3 across the digital world. If you're reading this, then you are a participant of Web2, our interactive social web. What differentiates Web2 and Web3 is the decentralised nature of Web3. Developers building on this new iteration of the web don't deploy applications that run on single servers. Rather, applications run on blockchains, decentralised networks of many peer-to-peer nodes, making Web3 verifiable, trustless, self-governing, and permissionless. Emre Baran, the co-founder of Seedcamp portfolio company Cerbos and our in-house wizard about all things security, thinks that the future of cyber will operate under a zero-trust security model. Web3 is the lever but also an enabler of this future. It exposes everything that was traditionally under the hood.
Web3 is almost entirely open-source. At Seedcamp, we believe strongly that open-source is here to stay; from a fundamental lever, it simply doesn't make sense for businesses to spend a ton of money to develop something that is free and open to use. That said, open-source also creates cybersecurity concerns that are being severely underlooked. Given that no one owns what is open-source, there is no custodian for it. No one protects it. Additionally, because businesses are stacking one open-source solution onto another when building their products, hackers tampering one layer results in the insecurity of the entire stack. Adam Nygate, the founder and CEO of Seedcamp portfolio company 418sec occupies himself with just this issue. In a recent interview, we asked him about the cyber threats of the shift to open-source:
Breaking down cyber.
Work from home and Web3 represent two seismic shifts in cybersecurity and we are excited to see what's next for this massive market. At Seedcamp, we break down the cybersecurity space into two large segments, namely security focused on 1) software and 2) user information
Software Security
Software security protects against malicious attacks and other hacker risks that may prevent software from functioning correctly. Software security is innately proactive — in other words, it defines everything an engineer would do pre-deployment in order to ensure safety from cyber attacks. This includes secure software design, user authentication, user session management, validation of third-party software, and secure coding guidelines.
One subset of software security is application security, which is the layer that is most vulnerable to cyber-attacks. Just as software security deals with cybersecurity pre-deployment, application security is focused on maintaining security post-deployment. This includes monitoring of programmes and malicious code detection, to name just two. When a cyberthreat wreaks havoc on a system, engineers can tap into the application layer to detect the source, patch the problem, and upgrade to a new system. Software is more static; once something is deployed, it is very costly to cyber-proof oneself by re-rigging the software rather than the application.
The second subset of software security is data security. Data security deals with the process of protecting data, in use and in motion, from data corruption and unauthorized entities. Encrypting or tokenizing data are two common ways to protect data, whether in a data lake, in the cloud, on a mobile device, or on hardware. Data security transcends the entire OSI stack of a company, from the presentation layer (where encryption occurs) all the way down to the transport layer and data link layer.
User Information Security
While data security deals with data moving through the OSI stack, user information security deals with what we like to call the '8th layer of the OSI". The 8th layer is the human one; it deals with the people operating in your company. Let's take one step back. Hackers can hack in a variety of ways. One approach is physically walking through your company's doors and cutting a cable. Another is hacking into your network or application. But what happens when the hacker works at your company or is a customer of yours? How do you protect the human layer of your company's security stack? This is where user information security comes into play. Likely the most imperfect security layer of them all, user information security attempts to ensure your hires, partners, and customers are who they say they are via background checks and employment data verification. Companies do their very best to defend against internal threats but it's impossible to get 100% assurance. Companies protect the 7 layers of the OSI and hope to protect the 8th.
Seedcamp founder Ali Hamriti knows a thing or two about user information. He is the co-founder and CEO of Rollee, a platform for employment data. Rollee lets brokers and fintechs verify their customers' employment and income data and, as a result, prevent fraud and make better decisions. We asked Ali about his views on the future of cybersecurity:
What we are looking for in the next breakthrough cyber company.
We are entering an era of zero-trust cybersecurity. Given the decentralised nature of the future web and our increasing dependence on digital identities, companies are realising that nothing in the cyber world can be left up to chance. We've been fortunate enough to have backed some exceptional founders leading the way in the cybersecurity vertical (and if you're building something with the ambition to truly redefine cyber, please get in touch and apply for funding here!). But, of course, our search for Europe's breakthrough cybersecurity companies doesn't stop with this list. We are excited to see how entrepreneurs think about protecting a future which is more dependent on digital identities, via Web3 and WFH. Whether on the user information or software security side of things, we are excited for what's in store.
The Seedcamp Cybersecurity Portfolio
If you're working on something interesting in cybersecurity, apply here or email us at funding@seedcamp.com. Additionally, if you're looking for opportunities to work in this exciting space, feel free to check out our portfolio job board here.
Seedcamp's Cybersecurity Footprint (so far…)
Alternative investments and being able to own a piece of something you love is very much at the forefront of conversation and yet, the ability to understand – or access – them still feels off-limits for the majority of people. That's why we're delighted to back Iris, Richard, and Ben as they launch Koia, on a mission to make alternative assets accessible to anyone via fractional ownership.
Koia allows users to invest in assets they understand and are truly passionate about, breaking down existing barriers to entry and enabling more than the wealthiest 1% to own a piece of an iconic asset; be it a watch, fine wine, or a Pokemon Card. In time, their vision is to be able to fractionalise any kind of physical or digital asset so we can all own a piece of something we love.
Our investment in Koia comes at a time when interest in collectibles is at an all-time high, with 2021 seeing record-breaking sales across everything from sneakers to trading cards and whisky. Auction houses tripled their sales in the first half of the year while companies selling physical collectibles, such as a StockX, reached multi-billion valuations and NFTs surpassed $40Bn in sales.
Koia co-founders Iris ten Teije, Richard Draper and Ben Riazy have spent their careers across traditional financial services and fintechs. The team believes that the democratization of financial services has only just begun and that by leveraging blockchain and DeFi, there will be opportunities to provide access to new, engaging, and financially rewarding asset classes. Iris comments:
"We want to enable a fractional economy and open up access to opportunities previously only accessible to the ultra-wealthy. We want to make buying and selling a fraction of a Rolex, as fast and frictionless as buying a fractional share in your favorite company."
To realise its vision, not only will Koia's minimum investment amounts make alternative assets more accessible; storage, insurance, and authentication will also be taken care of. This means investors won't face any of the hurdles they would typically encounter when attempting to invest in alternatives.
Our Partner, Tom Wilson, adds:
"We're thrilled to partner with the Koia team on their journey to create the leading fractional marketplace. We're seeing a new wave of collectors who are increasingly investing in what they're passionate about – be that NFTs, basketball collectibles or luxury watches – with a booming alternative asset market as a result. Koia is perfectly placed to further democratise this market by better serving users looking to get access to unique collectibles and we're excited to see how they will change the alternative asset landscape."
The Koia App is available on the App Store. Visit joinkoia.com to check out the next drops.