People's desire to connect, collaborate, and create online, boomed during the pandemic and led to the rise of a new generation of tools for community builders. Yet people aren't satisfied with current platforms and personalization – one of the features communities and builders value most — is often missing.
This is why we are excited to back Outverse, a next-generation community platform, on a mission to unlock new creative possibilities for how communities build, connect and collaborate online.
The startup founded by our very own investment team alumnus, Kyran Schmidt, and Tab Travel early employees Ollie Steadman and Jeylani Jeylani gives communities and groups the building blocks to create their own spaces online.
Far more customisable than existing community platforms, Outverse empowers communities to set up more personalized spaces, including beautifully designed forums and live video spaces. The platform also lets users add advanced functional blocks, which enable real-time collaboration, content embedding and more.
To foster meaningful conversations, Outverse's forums are designed to avoid the noise and notification fatigue that's so rife on other platforms that are more focused on live chat. The startup aims to be the solution of choice for forward-thinking communities looking to foster really high-quality discussion and interaction.
Kyran Schmidt, cofounder says: "We think it's a generational moment for community tools. We're aiming for Outverse to become the rails powering the online communities which are built over the next decade. By giving people the building blocks to customise their spaces, we're unlocking new creative possibilities for how communities connect & collaborate online.
We're delighted to be supported by an incredible set of investors who bring such elite community-building expertise."
Ollie Steadman, cofounder adds: "Ultimately, we're massively upgrading the user experience for community builders and members.
Community platforms and tools are lagging behind in terms of the powerful, responsive, collaborative software we've seen emerge over the past 5 years. We're changing that at Outverse."
Currently, in closed beta, Outverse has several hundred community builders on its fast-growing early-access waitlist. The closed beta has been shaped in close collaboration with many communities over the past months – including designer and builder communities, communities of shared passion and interests, and solopreneur-run communities.
We are excited to lead Outverse's £1M pre-seed round, joined by Connect Ventures, and an exceptional group of angel investors who bring an incredibly rich community-building expertise, including Nicolas Julia, founder and CEO at Seedcamp portfolio company, Sorare, as well as founders and executives from the likes of Songkick, Grabyo, Revolut, Dropbox, Airbnb, Lyst and more.
On why we invested, our Partner Tom Wilson comments:
"We've seen the power of community across some of the fastest growing companies in our portfolio. However, the tools that currently exist are not designed for the specific needs and requirements of community builders. Communities small and large will benefit from Outverse's tools to unlock their magic and drive more meaningful collaboration and connections. We feel fortunate to partner with Kyran, Ollie and Jeylani at this exciting stage of their growth."
The team plans to use the funding to scale access to the closed beta and onboard more communities and users onto the platform, aiming to further open up access to the platform later this year.
To learn more and sign up for early access, visit Outverse. You can also read more in the team's own words here!
Cloud technologies enable companies to scale rapidly and efficiently. Alongside these benefits also comes an increased vulnerability and exposure to cybersecurity threats. For every company adopting a cloud-native tech stack, protecting their applications and data in the cloud, and also understanding their cybersecurity risks in context is essential, in today's world more than ever.
This is why we are excited to back Cyscale and their mission to protect the applications and data of companies that choose cloud technology and help them become more competitive through digitization.
Founded by Manuela Țicudean, Ovidiu Cical, and Andrei Milaș, the Romanian-based startup develops protection software solutions for information stored in the cloud. Cyscale's flagship product Security Knowledge Graph™ provides in-depth contextual analysis for cloud assets, reducing false positives, and prioritizing high-risk items. It uncovers risks or misconfigurations and allows security teams to prioritize the remediation of high-risk issues. Cyscale has also built a powerful compliance module that helps security leaders track gaps between the policies they've defined and their technical implementations in the cloud.
Manuela Țicudean, Co-Founder and COO of Cyscale, explains, "The cybersecurity industry needs to shift toward understanding cyber risk in context. Only then will we be able to fight the increasingly sophisticated and advanced threats targeting our organizations and our lives."
"Most cloud security tools analyze cloud infrastructures by running through sets of configuration best practices and verifying them against each cloud resource," she continues. "This approach can be useful, but the problem is the rate of false positives. Looked at in isolation, a resource may be misconfigured, but there are other contextual factors that determine the actual danger for a business. False positives create noise and keep security engineers from focusing on the highest-risk issues. As a result, businesses waste valuable time and risk becoming the victims of cyber-attacks."
Cyscale Co-Founder and CEO, Ovidiu Cical, adds, "Security risks aren't limited to an organization's cloud infrastructure. Adjacent components such as third-party software packages used in applications, software development practices, and code repositories are all examples of risk areas in modern tech ecosystems. Most of the time, companies assess risk in each of these areas in isolation, based on skillsets in the team or available resources. The result is a fragmented security function, with no clear understanding where weaknesses lie and what their impact truly is."
On why we invested, our Managing Partner Carlos Espinal comments:
"We are thrilled to back Manuela, Ovidiu, and Andrei on their mission to help companies manage their cloud assets securely and efficiently. Cyscale's technology, multi-cloud interoperability, and data compliance governance are best in class and essential in today's decentralized business world. With such exceptional founders and an experienced team, we are confident Cyscale will not only become an industry leader but also transform the way we think about cybersecurity."
We are excited to participate in Cyscale's $3m round led by Notion Capital, with participation from GapMinder, Micha Hernandez van Leuffen, founder of Fiberplane and NP-Hard Ventures; and David Mytton, Seedcamp EiR and founder of Console.dev and Server Density. The funding will be used to grow the team and enable international expansion.
The ubiquity of B2B software solutions has rightly increased customers' expectations of their vendors. In the absence of modern and dedicated tools to deliver fast, scalable support – without losing the human and personal touch needed for a positive customer experience – many SaaS companies struggle to stand out from the crowd and retain and expand their customer base.
This is why we are excited to participate in Fullview's seed round, six months after we invested in their pre-seed. Fullview's mission is to enable every company to easily deliver faster and more personalized customer support, while bridging the data and knowledge gap between product teams and support teams to improve their products at lighting speed.
To deliver on the mission, the Copenhagen-based startup founded by Daniel Bakh and Dorin Tarau, is building an API that plugs into existing web applications and allows customer support agents to instantly see their user's screen and initiate in-app video calls and multiplayer screen control.
"When customers experience problems in a product and need guidance, they expect fluid, personalized support — not long wait times and constant back-and-forth communication. SaaS companies struggle to deliver customer support that is personalized, fast and scalable at the same time," says CEO & Co-Founder Daniel Bakh.
In addition to improving the customer experience, Fullview's solution also increases the productivity of engineering and product teams. Developers can watch recordings of user sessions to also get an instant overview of technical bugs and automatically create bug reports to quickly solve technical support issues together with customer support agents.
Another key value-add and differentiation of Fullview are GDPR and privacy protection of user data. Fullview eliminates the need to log into user accounts entirely and enables agents to still easily control a user's account via multiplayer screen control where the end-user always gives explicit consent first.
Fullview has been developing its product together with a community of over 100 customer support leaders from global companies like Personio, Github, Brella, and many more.
We are thrilled to be part of the seed round led by our friends at Lightspeed Venture Partners with participation from Cherry Ventures and stellar founders and executives from top tech companies in Europe and Silicon Valley including: Coinbase, Shopify, Unity, Square, Pleo, Zapp, DoorDash, among many others.
The fresh funds will go towards accelerating the product roadmap and building new growth and design teams, all with the mission to better bridge the knowledge and workflow gaps between product and support teams using Fullview. Specifically, the team plans to build an end-to-end platform for all technical customer support data and workflows to debug and help customers in one single platform.
For more information, visit fullview.so
The European startup ecosystem needs access to world-class tech talent, remote and onsite, to sustain its exponential growth. In light of remote-working opportunities and increased efforts to hire diverse candidates, tech companies are actively looking to the MENA region for talent. But the hiring process is not always easy, as companies are still relatively unfamiliar with the region. And even if they make that effort, most of the talent pool isn't equipped with how to work at these companies.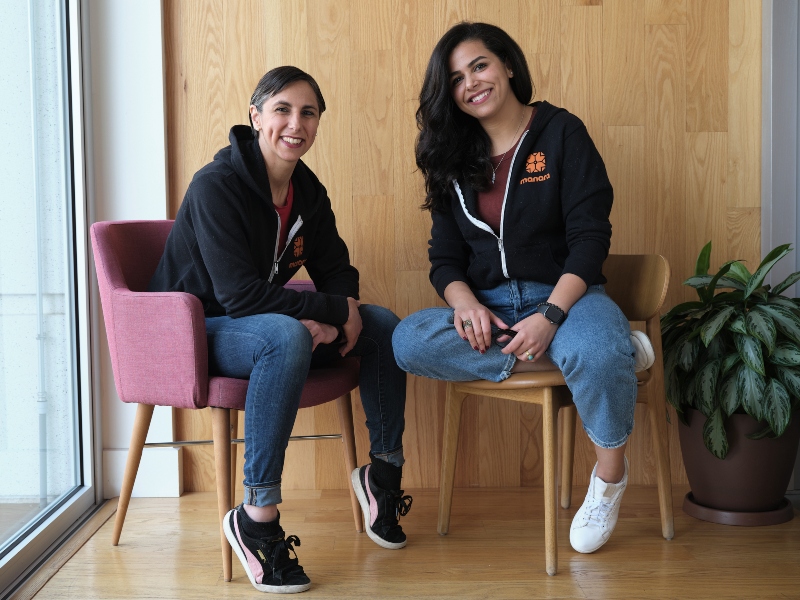 We are excited to back Manara's mission to build a community committed to diversifying the global tech sector while uplifting the economies of the Middle East and North Africa. The San Francisco-based social impact startup bridges the gap between tech companies and top talent. 
Manara enables cohort-based learning for software engineers and computer scientists and connects them to permanent, meaningful remote, and onsite jobs with world-class employers – including Google, Facebook, Amazon, Zalando, Relational.Ai, Repl.it and more.
Founders Iliana Montauk and Laila Abudahi have ample tech experiences and strong ties in the Arab region, which uniquely positions them to help software engineers, particularly women, land their dream jobs at global companies and accelerate the MENA region's progress in becoming a globally-recognized tech talent hub.
"I grew up in Palestine and realized quickly that to become a world-class engineer I needed to work on highly scaled products with experienced teams," says Laila Abudahi, co-founder and CTO. "After I reached my dream through lots of trial and error, I wanted to make it easier for people back home to do the same. Ultimately, these engineers will become the CTOs and senior developers that the region needs in order to accelerate the growing success of its own tech ecosystem."
The community-based approach and digital training experience allow Manara to scale rapidly across the region. Leading tech professionals provide mentorship and networks to help engineers land top jobs. When they join the program, students earn $10-20k per year. Their salaries increase, on average, 300% in around eight months, with some getting salaries above $100k.
"Communities can be extremely powerful if you are smart about how to curate and connect them – the trick is knowing when one hour of a Google engineer's time has the highest leverage," says Iliana Montauk, co-founder and CEO.
On why we invested, our Managing Partner Carlos Espinal comments:
"Europe's tech sector is growing quickly. There's a massive need for new solutions to access talent, whether remote or onsite. The Middle East and North Africa is an obvious fit because of proximity and time zones. We're very excited to back the first startup bridging these two markets – and are particularly excited about the founders' commitment to women engineers."
We are delighted to participate in Manara's $3M pre-seed round led by Stripe, together with top investors, including Reid Hoffman (founder of LinkedIn), Paul Graham (founder of Y Combinator), Eric Ries (founder of Lean Startup), and Mudassir Sheikha (Founder & CEO of Careem).
Manara plans to use the new funds to scale its existing cohort-based solution from 60 to 6,000 engineers per year. In addition, the team is developing a self-service product for interview practice, networking, and mentorship that can reach millions of software engineers. Manara aims to build a community of high-calibre software engineers and become the go-to platform for highly-qualified talent from emerging markets.
For more information, visit manara.tech.