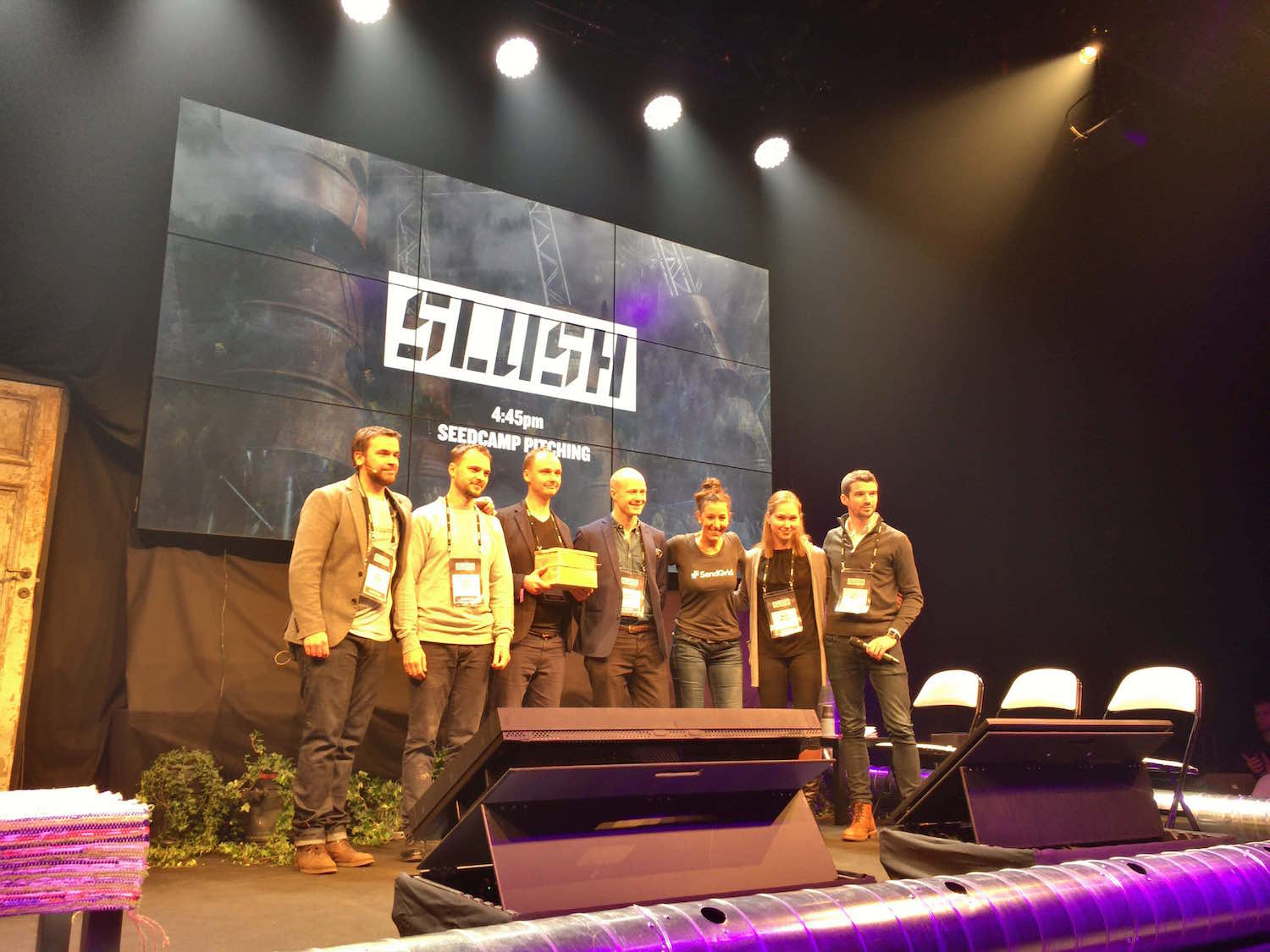 Winning teams from this year's Slush 2016 live pitching event with Dave Haynes & Tom Wilson from Seedcamp
Slush is over for another year and 2016 was bigger and better than ever.  The great and the good of the tech world flocked to a beautifully wintery Helsinki for the two day event packed full of incredible speakers and startup pitches.
Established to help the next generation of great, world-conquering startups, Slush has grown exponentially since launch in 2008 and we're incredibly impressed by the talent it continues to attract. I'd go as far as to say it's the best conference we've been to this year. Slush has built an incredible network and awareness in the Nordics and it's a great opportunity to come and leverage that and also meet with some of the exceptional startups emerging from the ecosystem that's been steadily cultivated here.
The Nordics is a real focus area for us in 2017. We consistently find the quality of founders to be very high and there's a great flow of talent coming out of established ecosystem companies, such as Klarna, Supercell and King (to name but a few). That's one of the great things about Slush; it attracts talent from these regions and gives us great insight into how the ecosystem is evolving and the companies to look out for.
At last years Slush, we were so impressed by the startups at the live pitching event we hosted that we went on to invest in one of the finalists, Estonian based Greenhouse.  For this years event we had an amazing 400 startups apply from which we narrowed down to a select group of seven companies to pitch on stage to a panel of judges including Anna Bofill Bert from Sendgrid, Marili Merendi at Karma Ventures and myself flying the flag for Seedcamp.
The companies, predominately originating from the Baltics & Nordics, covered a wide range of sectors including AI, logistics, robotics, VR and mobile and pitched to a packed out room on the Engine Stage on Day 1 of the conference. The quality, not just in the business ideas but in the overall presentation style and appreciation for  design in their early product was great to see. The quality of startups was so high the judges ended up selecting three winners from the seven, all with unique and compelling solutions to major pain points in key sectors.
Nordigen, from Latvia, impressed us by the early traction they've already managed to gain in a hot area: credit scoring for  lenders. They were selected as the overall winners with the judges particularly taken with the in-house tech they've built to categorise transactions that drives their credit checking engine. The founder did a great job presenting what could be quite a technical product and we think they're on to something really interesting here.
Another compelling founder came from Swedish company Shipwallet. Targeting one of the biggest outstanding pain points for e-commerce providers – logistics and shipping – they've created a logistics solution that plugs into the checkout process enabling merchants to provide a greater choice of shipping options. Last mile delivery is still a huge pain point and the judges were impressed with Shipwallet's good early traction in Sweden and their impressive partnerships with large brands in the region.
The last finalist we selected, Gleechi – also from Sweden – has created a state of the art software solution to create realistic hand movement and interaction for artificial hands. The software is based on 8 years of robotics research and solves a fundamental problem for both virtual reality and robotics, arguably two of the most important technology areas of the future. The judges were impressed with their approach of starting with VR and gaming enabling the machine learning algorithms to run on large amounts of data and improve over time.
Thank you to everyone at Slush for organising such a fantastic event, to our fellow judges and to all of the startups who presented. We're incredibly excited to see the talent that continues to emerge from the region in 2017 and, of course, for next year's event!
Tom Wilson, Investment Manager
Fund 1 ranks in top quartile as "tsunami" of exits and money raised by Seedcamp companies in 2016 contributes to our most successful year
As the pioneers of early-stage investment in Europe and the first fund of its kind when we launched in 2007, we want to break the taboo on publication of early-stage investor returns by revealing details of our performance for the first time, as 2016 is set to become our most successful year.
Seedcamp companies have raised and exited for more than $250m in the first nine months of 2016 alone. Thanks to 8 successful exits in its Fund 1, we've returned cash of almost twice the capital raised to our limited partners. One of the standout exits of the year was the multi-million dollar sale of Stupeflix, the video editing software start-up to GoPro, the Nasdaq-listed camcorder technology company.
We're very proud that our achievements this year put us in the top quartile of funds started in 2007, with an internal rate of return of 14.3%, according to data from Cambridge Associates.
Seedcamp was started in 2007 with 22 original investments. From the original portfolio there have now been 8 successful exits, 6 shut-downs, and eight businesses that continue to grow profitably. It is important to note that this data is as of 9 years for the 2007 vintage. We expect there will be further solid returns from the 8 remaining companies. We envision potentially reaching a 8x-10x return on money invested.
In another significant milestone, companies in which we have invested have since gone on to raise $500 million in further funding.
In 2016 alone, we've backed a total of 26 innovative new businesses which have set out to disrupt some of the fastest growing sectors including; insurtech, healthtech, legaltech, proptech and fintech.
Founding Partner, Reshma Sohoni said: "People often think tech businesses just become an overnight success but this couldn't be further from the truth. Things can, however, happen in a 'moment' and that's definitely what we're experiencing right now. The moment where nine years of investing leads to a tsunami of maturation and therefore large growth rounds and exits."
"We're starting to see the real success of some of our investments come to fruition. This year alone we've had four significant exits and achieved an incredible acceleration in the amount our companies have gone on to raise, hitting the half a billion dollar mark. We returned 60 times our original investment on Stupefix, acquired by GoPro earlier this year, and have now fully returned our first fund. We are well and truly established as the leading first round fund in Europe and our results are launching us into the US too. Seedcamp is now the only European fund invested in US deals for groundbreaking new companies including viz.ai and the waveVR."
Carlos Espinal, partner, added: "Aside from backing the best founders, we are constantly looking at growing sectors to identify future investment opportunities. The fact we've now returned our investment from our first fund puts us in a strong position to continue to be the most proactive early-stage fund in Europe and attracting the best talent to Seedcamp. If you look back through the investments Seedcamp has made over the last nine years, you can see how the state of startups and funding in Europe is changing and for the better."
Seedcamp has backed over 230 startups since launch in 2007 and continues to enjoy an unrivalled network that provides businesses backed by the fund with access to industry leaders, world-class advisors and investors to help them scale.
Seedcamp continues to be one of the most active investors in fintech with portfolio companies in this space achieving phenomenal results and raising significant rounds. These include:
$10m for UK-based Revolut, backed at pre-seed in 2015

$26m Series D by Transferwise

$28m Series A by FinanceFox, the largest of its kind in Europe in the insurtech space.

$4m for retail app commerce platform, Poq

$7m raised by Codeship, provider of hosted continuous integration (CI) solutions

$6m Series A by Try.com
Seedcamp-backed companies also continue to achieve successful exits, with four in 2016 alone. 
The four 2016 exits were:
Adtech company Brainient (2009), acquired by French rival Teads.

SME bank Holvi (2011) sold to banking giant BBVA

Acquisition of Stupeflix (2008) by GoPro

Farmeron (2011) sale to Virtus Nutrition
Read more in the press: FT ,   Business Insider, Tech.eu
Applications for the next round of pre-seed investment are now open. Apply here before 13th November 
We're excited to announce our investment in TheWaveVR, our second investment in the VR/AR space in recent months. TheWaveVR is the world's first social VR music platform and will launch to the public later this year. The $2.5m seed round includes investors KPCB Edge, Presence Capital, Rothenberg Ventures, RRE Ventures, The VR Fund, and angels including Mike Fischer (ex-CEO Square Enix North America) and Joe Kraus (of GV, formerly Google Ventures).
At Seedcamp, we're always looking for ambitious teams solving valuable problems and addressing customer needs through cutting edge technologies. The VR/AR space is a fast-emerging sector where we see a lot of valuable companies being built, whether that's for the enterprise, education and health, or for consumers. TheWaveVR is firmly in the latter category, not just simply taking music into the VR medium, but re-imagining how both fans and musicians can experience and perform it.
TheWaveVR creates a VR venue where artists can perform live music by simply importing their tracks, customizing the visuals of the venue, and sharing virtual shows. Fans can attend via most major VR head mounted displays, interact with performers, socialize with friends, dance, paint and more.
"We were blown away the first time we experienced TheWaveVR on an HTC Vive. It's difficult to describe the possibilities, you just have to try it", says Dave Haynes from the Seedcamp investment team. "We can't wait to see what more this talented team can build as TheWaveVR emerges as a leading name in music and VR."
If you're a company working on VR, AR or the future of 360° video we'd love to hear from you. Applications for pre-seed will open again soon please subscribe to our newsletter to find out when. For seed investment please get an intro into the Seedcamp Investment team.
If you've been around the Seedcamp office lately you'll have noticed more than a few new faces joining us. Over the past few months we've tripled our team in a commitment to provide the best expertise and support to our growing portfolio. This is part of our lifelong Seedcamp Platform as the go to First Round Fund for ambitious Founders.
As one of Europe's most active investors of the year* investing in pre-seed and seed startups we constantly see Founders face challenges primarily in seeking investment, reaching product-market fit, scaling their businesses and recruiting the right talent. Though we have an extensive network of experts we wanted to deliver senior level guidance in all these areas, on-tap, via the Seedcamp Expert-in-Residence (EIR) programme.
Seedcamp has welcomed Keith Wallington (Growth), Scott Sage (B2B), and Taylor Wescoatt (Product) to the family. Keith brings exceptional growth expertise from his operations experience at Mimecast which he helped take from 0 to Unicorn. Scott, previously at VC firm Draper Esprit, is one of the most recognised investors in Europe. He greatly adds to the Seedcamp guidance on fundraising and growing B2B SaaS/Enterprise companies. Taylor is well known as a Product Guru and focuses on optimising product experience with his 20 years of experience at places like Time Out, Ebay, and Seatwave. The EIR's are here to support everyone within the Seedcamp family.
Alongside our new EIR's we have also brought on two new full-time members to the team. We now have an in-house Head of Talent, Jamahl McMurran, who is here to help our companies find the very best talent as they continue to scale. Cathy White has also joined the team as Communications and Marketing Manager, coming from a PR agency background and specialising in working with startups, she will act as an advisor to our portfolio.
Reshma Sohoni, Partner and Co-Founder, commented: "One of the biggest barriers startups can come up against is having immediate access to an expert mentor. We're incredibly fortunate to have a network of thousands of industry specialists, but realised we needed to provide our companies with an on-tap resource, in-house, that is specifically there to help support them. Keith, Taylor and Scott, as our Experts-in-Residence, have already made a great impact on our portfolio, and with Jamahl and Cathy now actively helping to support them, we're providing our companies with the senior advice they need to scale."
Keith Wallington has led strategy and execution in tech businesses since the 1990's. Most recently at Mimecast as COO amongst other roles spanning most of the business from Marketing to Customer Experience to Technical Operations as he championed scalable, efficient growth. Keith is focussed on supporting Seedcamp teams with scaling through focussing on the customer journey.
Scott Sage brings with him over ten years of experience in research, marketing and angel and VC investing. He was most recently a partner at Draper Esprit where he invested and worked with enterprise software and consumer companies including Bitbar, Conversocial, Datahug, Lyst, SportPursuit and Trustpilot.
Taylor Wescoatt has focused on Product for 20 years across a range of startups (CitySearch and Seatwave) and bigger organisations (eBay, AOL, and TimeOut). He brings his passion for users to the Seedcamp portfolio, helping Founders critically understand how to build their business around the customer experience from day one.
Jamahl McMurran works with our Founders to refine their hiring piece and attract the best talent. Jamahl brings five years of experience from working with London's leading digital recruitment agency, ECOM, where clients included VICE, Crowd2Fund, Ticketmaster, Blackwells and Thomson Reuters, to help startups on hiring, business and product development.
Cathy White has specialised in PR for early-stage startups and organisations that support them since starting with Sparkpr over four years ago. While at Albion Drive, Cathy was recognised as a Rising Star of the industry by PR Week and worked with clients that included Transferwise, Klarna, Nominet Trust, Draper Esprit and Index Ventures. A firm believer in not using agencies till you need them, Cathy will advise our portfolio on how to build their own marketing strategies and connect them to the right people when ready.
*Tech.Eu Report, Most Active Investors H1 2015
At Seedcamp we focus on enabling our founders. One of the ways we do this is through our Academy program which delivers great mentors and speakers across all areas of business, from product to marketing to operations. This month we organized our inaugural CTO Summit, the first in a series of deep dive events focused on specific functional areas of a startup, and part of our ongoing efforts in supporting the technical side of our founders' needs.
We were thrilled to have the event hosted by our long-standing partners Amazon, at the Amazon Development Center in London — what a great space. The day consisted of a full program of interactive workshops and informal talks about multiple tech-related startup challenges. Mainly focused on technical issues and best practices, our CTO's had the chance to learn and exchange ideas on topics like: new trends, security, hiring and keeping your team motivated, microservices and auto scaling.
There were some good lessons learned. For example on the technical side our teams gained some great insights on new trends and best practices, not only when it comes to web services but also on how Amazon manages AWS projects internally. The Amazon team shared with us how they organize their teams in "Two Pizza teams" structure – meaning that they are small autonomous teams which own their roadmap and have decoupled launch schedules – making these small teams both independent and fast.
Despite being a very technical agenda, the biggest takeaway from the summit was that it's often the decidedly non-technical topics that our CTO's appreciate hearing about the most. One of the highlights of the talks was the hiring panel, which is such a critical issue for any startup. Hiring and keeping talent is hard work. There were great discussions on how to find and motivate people. We'll definitely be doing more to support this specific need at Seedcamp in the future.
The other key takeaway was that a lot of the value of an event like this is not just about the details of the talks themselves but also about the connections forged between the people in the room. Most attendees were facing similar issues and one of the great benefits of being a Seedcamp coming is the network support you get when you join the family. As Matthew Wardle (CTO at Kasko.io) commented: "The unexpected value of the day turned out to be the networking with the fellow CTO's. Some great discussions were had and it was good to learn that a lot of people were having similar problems."
We look forward to further engineering focused events at Seedcamp Academy. By building these sorts of support programs Seedcamp can help minimise the time our CTO's have to spend re-inventing the wheel and allows them more time to focus on the unique problems core to their business.
Finally we'd like to thank Amazon for making it possible and send a special thank you for all the Amazon team members that were present – we really appreciate it.
2013 has been an exciting year so far, we've hosted Mini Seedcamps in 15 cities across Europe, alongside 3 Seedcamp Weeks and 2 USA roadtrips. Besides this huge schedule, we launched Seedcamp Academy and published our results from recent years. We still have a lot of exciting things planned before the end of the year and are already planning for an action packed 2014. The Seedcamp Family is over 100 startups strong and we look forward to welcoming new teams to the family in Berlin next month. If you want to be a part of the dynamic Seedcamp team make sure to read on!
We are now looking for two interns to join us as soon as possible. Interns have always played a crucial role to support our day to day activities, help organise our events, and make life easier for our companies. In the past, our interns have run the Seedhack events, were a major part in the organisation and operations of Seedcamp weeks, helped us build our new application and CRM systems, redesigned our website, set a content strategy, forged partnerships for our Founders Pack, and worked on exciting initiatives like Seedsummit, our AngelList cooperation, and much more.
Who are we looking for? Our ideal match are graduates from interesting programs, individuals who have worked in startups or other projects, but we are also intrigued by people who are experts in their fields and have some prior work experience. Self starters and independently working individuals are most welcome, and you will get a lot of freedom to do the things in your own style. Running on all cylinders as we are, new hires need to be ready to plunge in and get going – we will provide you with all the opportunity for a great time, but ultimately, you make your own success while at Seedcamp.
What can you achieve? Previous interns have gone on to start their own businesses, joined VC firms, enrolled in some of the most prestigious graduate programs in Europe, or are working for some of the best technology companies in Europe and the world. Read their blogs for a snapshot of the experience Ahmad, David, and John had. If you are resourceful and a self-starter, don't think twice about the unique opportunity to intern at Seedcamp. You will find the freedom in your work and a passionate environment that makes it the most rewarding of experiences. Being at the midst of Europe's technology scene, and being able to interact with the best startups, investors, and founders will be a great stepping stone to build your own startup, join a technology company, or investment firm.
The Responsibilities include:
SUPPORTING THE SEEDCAMP TEAM • Assisting the Seedcamp team and companies in various tasks • Working closely on new project with individual team members • Help with the setup of new Seedcamp initiatives and respective web properties
OUTREACH – tell and spread the word • Support and contribution to communications and social media • Getting the word out about Seedcamp and our events • Finding and onboarding new Founder Sponsors • Update & maintain content on our website
TECHNOLOGY – maintaining and building • Update & maintain (or even build) the systems we use – our website, application system, blog • Develop services and applications to improve work and communications for team and portfolio
EVENTS ORGANISATION • Help manage prepare Seedcamp Week London in early 2014 • Help prepare more than 10 Mini Seedcamps across all of Europe • Assist in the organization of Seedcamp Academy events at Campus
Requirements: We're looking for people who are: • Passionate about disruptive start-ups, entrepreneurship, and internet technology • Excellent multi-taskers who can work both independently and with a team • Personable and enthusiastic,great communicators with excellent English language skills • A super smart graduate or student from a top university, ideally with work experience in start-ups • Bonus: Literate in web technologies and able to build and develop websites and simple applications – the more the better (HTML, CSS, PHP, Javascript, Photoshop) Benefits
Application Details: • The position is based at Google Campus in East London. • We are looking for two people to join us full time for 6 months. • The ideal start date for the internship is 6 January • The internship is paid
Apply here before the 1 December 2013.
We love hosting Mini Seedcamp events in great cities across Europe, and Seedcamp Ljubljana was a full success last week. However, we're always excited to hold our (now biannual) Seedcamp London – after all this is home for us and many of our investors and mentors.
The upcoming Mini Seedcamp London on August 11 will be the last opportunity for companies to become a fully-fledged member of the Seedcamp family and as a result, participate in Seedcamp Week 2011. The preparations for Seedcamp Week have started and we excited already for the largest Seedcamp event ever.
If further excitement is required, it definitely comes from looking at a spectacular list of mentors who are geared up and ready to spend the day with the selected top teams. Here is a small teaser of who will be present:
Best Tech Companies
Leading Investors
Top Mentors
If you have what it takes and want to be part of the action – applications are open until midnight Sunday 24th July. Make sure you let us know about your company, the current progress and status and your awesome team.
Apply here until Sunday night!