38 new companies, UiPath's Daniel Dines becomes the first bot billionaire, wefox emerges as Europe's leading Insurtech company and Reshma and Carlos make the Midas List, again!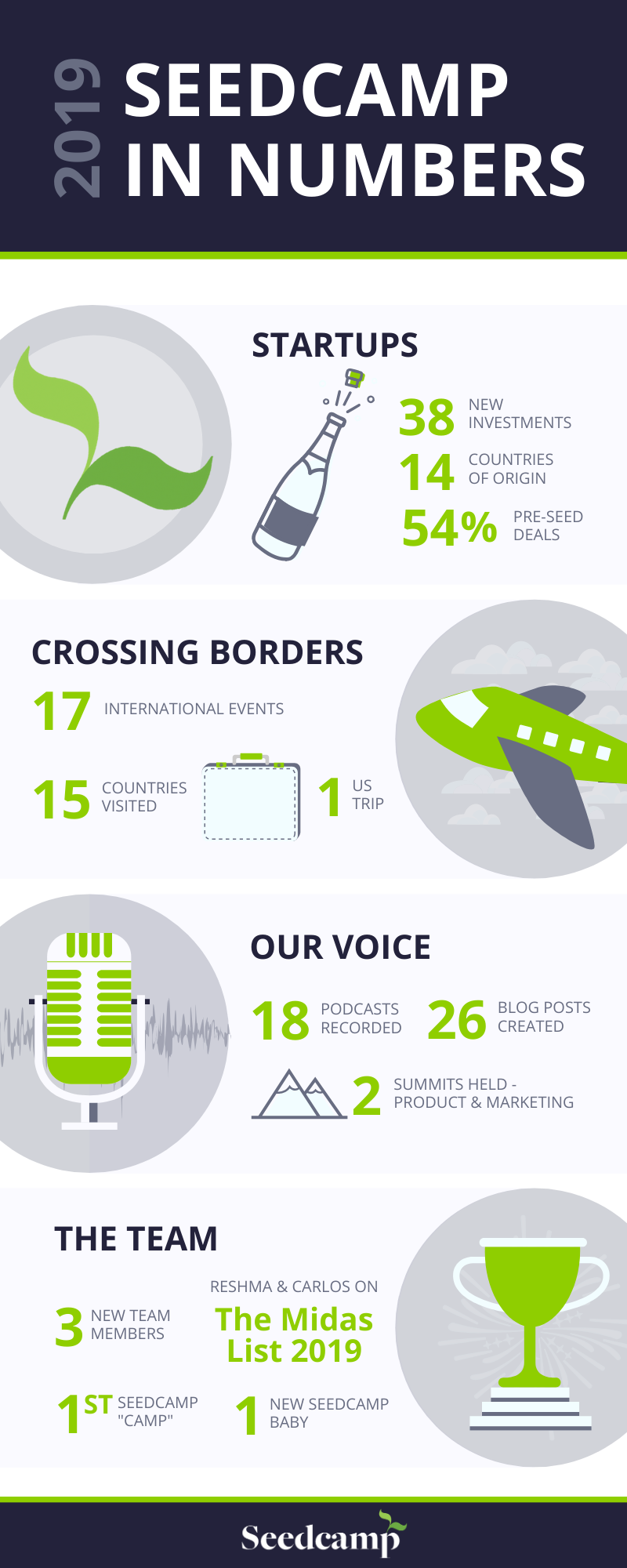 As 2019 and the decade draws to a close, we wanted to take a couple of minutes to reflect on some of our highlights over the last year. As ever, we've been busy sourcing and backing some of the most exciting early-stage companies from across Europe, welcoming 38 new additions to the Seedcamp Nation this year. We've seen our core team grow, visited 15 different geographies, hosted nearly 50 events, launched our Series A focussed 'Breakthrough', seen over 4000 fundraising decks, devoured 96 bars of Lindt sea-salt chocolate (blame the Swiss amongst us) and hosted the first Seedcamp camp.
Join us as we take a dive into some of our highlights for 2019.

2019 in Numbers:
38 new investments:
$3bn+ total now raised by our companies in follow-on funding
65+ Office Hour sessions with leading mentors and later-stage investors
1 Seedcamp baby – congratulations Antonia and welcome baby Zelie
14 geographies – companies have been sourced from
1655 flat whites consumed
4,000 early-stage companies reviewed
1 Seedcamp 'Camp'
18 episodes of This Much I Know
1 US trip with portfolio companies
Portfolio Highlights
New to the portfolio in 2019
Content
The Podcast
The Seedcamp This Much I Know podcast goes from strength-to-strength as Carlos interviews some of the leading voices from across the tech ecosystem. From Accel partner, Luciana Lixandru, to Founding Editor-in-chief of WIRED UK, David Rowan. Here are some of the most listened to podcasts from 2019:
As ever, none of this would be possible without the support of the huge amount of incredible people who contribute their precious time, energy and brains to support us and our companies. A huge thank you to everyone who has been involved not just in 2019 but over the last 13 years. We look forward to seeing you in 2020 and, from our Seedcamp family to yours, we wish you a very Happy Holidays!