38 new companies, UiPath's Daniel Dines becomes the first bot billionaire, wefox emerges as Europe's leading Insurtech company and Reshma and Carlos make the Midas List, again!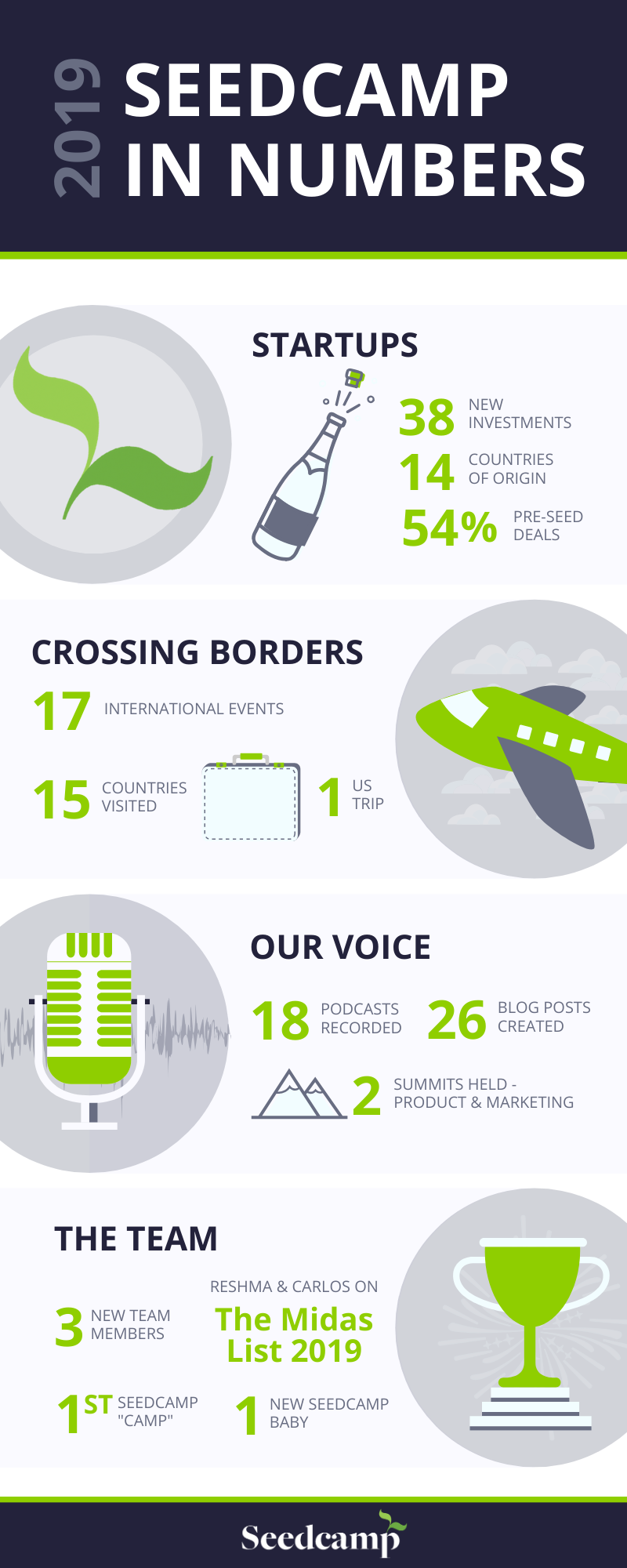 As 2019 and the decade draws to a close, we wanted to take a couple of minutes to reflect on some of our highlights over the last year. As ever, we've been busy sourcing and backing some of the most exciting early-stage companies from across Europe, welcoming 38 new additions to the Seedcamp Nation this year. We've seen our core team grow, visited 15 different geographies, hosted nearly 50 events, launched our Series A focussed 'Breakthrough', seen over 4000 fundraising decks, devoured 96 bars of Lindt sea-salt chocolate (blame the Swiss amongst us) and hosted the first Seedcamp camp.
Join us as we take a dive into some of our highlights for 2019.

2019 in Numbers:
38 new investments:
$3bn+ total now raised by our companies in follow-on funding
65+ Office Hour sessions with leading mentors and later-stage investors
1 Seedcamp baby – congratulations Antonia and welcome baby Zelie
14 geographies – companies have been sourced from
1655 flat whites consumed
4,000 early-stage companies reviewed
1 Seedcamp 'Camp'
18 episodes of This Much I Know
1 US trip with portfolio companies
Portfolio Highlights
New to the portfolio in 2019
Content
The Podcast
The Seedcamp This Much I Know podcast goes from strength-to-strength as Carlos interviews some of the leading voices from across the tech ecosystem. From Accel partner, Luciana Lixandru, to Founding Editor-in-chief of WIRED UK, David Rowan. Here are some of the most listened to podcasts from 2019:
As ever, none of this would be possible without the support of the huge amount of incredible people who contribute their precious time, energy and brains to support us and our companies. A huge thank you to everyone who has been involved not just in 2019 but over the last 13 years. We look forward to seeing you in 2020 and, from our Seedcamp family to yours, we wish you a very Happy Holidays!
The stellar team behind Uniplaces – the largest student housing platform in Europe who raised over $30m from the likes of Atomico and Octopus – is back with their newest venture, StudentFinance.
With lessons learned from building Uniplaces and targeting the student market, cofounders Mariano, Marta, Sergio and Miguel are moving into the financial services space with StudentFinance to help solve the skills gap, while transforming the trillion-dollar education industry.
We're thrilled to invest in their seed round alongside MustardSeed Impact Fund and some of Europe's most successful entrepreneurs including Jose Neves (founder & CEO of Farfetch), Rolf Schromgens (founder & CEO of Trivago), Nuno Sebastiao (founder & CEO of Feedzai), Juan Urdiales and Felipe Navio (co-founders & co-CEOs of Jobandtalent).
There are over 1m unfilled vacancies for technology roles in the USA alone, with another 700k in Europe, making the need for training people for these jobs more important than ever. StudentFinance partners with education providers focused on high-demanded skills, to finance their students' education through Income-Share-Agreements ("ISAs"), a model through which students don't pay anything upfront to access an education programme, and pay a percentage of their income after getting a job and earning above a minimum amount. The company also works with a large network of employers to map the talent needs in the market and further de-risk the model by ensuring high placement rates.
The company's predictive model technology creates an intelligence layer between talent, education programmes and employers, to bring transparency and maximize employment outcomes. The model analyses in real-time job market data and defines the priority fields of study and skills. StudentFinance then analyses and selects programs teaching those skills by the quality of the curriculum and employability outcomes. Students, in turn, are assessed based on their future potential, and not based on past income or employment history, without the need for a co-signer or guarantor.
Mariano Kostelec, co-founder & CEO of StudentFinance, comments: "We are proud and incredibly excited to have secured such a high calibre of investors, who believe in our mission of making education affordable and accessible while moving to an outcomes-based model. It's an honour to be working with them to scale Income Share Agreements across Europe".
On the investment our Partner, Sia Houchangnia, comments: "At Seedcamp, we've been closely following the emergence of ISAs as a mechanism to facilitate access to education while aligning all parties' interests. With StudentFinance, we believe we've now found the right team to build the European category leader in this space. Mariano, Marta, Sergio and Miguel bring a lot of entrepreneurial experience as well as highly complementary skill sets and we are extremely excited to back them on their mission to enable millions of Europeans to fulfil their full potential."
The funding will be used to build the technology and data infrastructure to provide partner schools the Management and Servicing Platform to offer Income Share Agreements to their students.
For more information visit studentfinance.com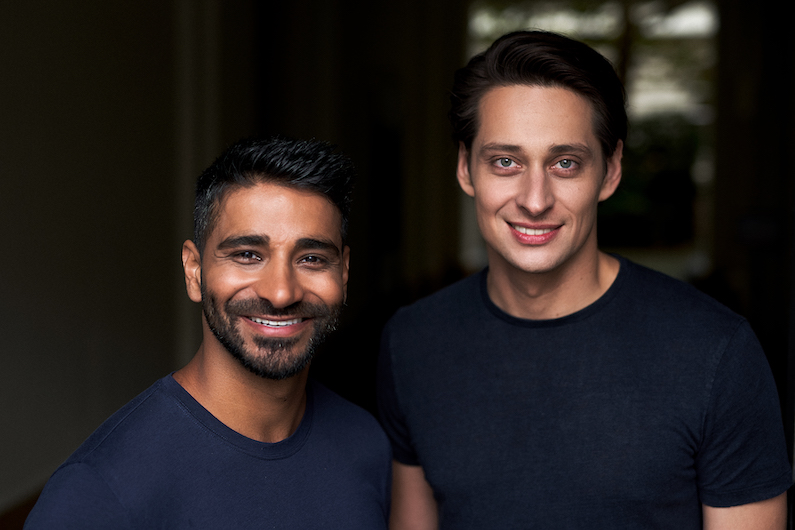 A huge welcome to Uncapped, spearheaded by co-founders Asher Ismail and Piotr Pisarz, on a mission to help European founders raise working capital without giving up control of their business.
We're excited to invest alongside Global Founders Capital and White Star Capital as part of Uncapped's £10m raise to provide growth finance without credit checks, personal guarantees, warrants, equity, or interest.
Headquartered in London with offices in Warsaw, Uncapped is pioneering a new approach to business finance, allowing founders to raise crucial working capital between £10k and £1m at a flat fee of 6%.
Business revenues can fluctuate from month to month, particularly during early and growth stages. To help manage this, Uncapped has a revenue-based finance model where businesses only repay when they generate sales, so if the market slows down or sales are lower than projected, the company and founders won't be caught out.
Uncapped doesn't require founders to provide a traditional business plan and pitch deck. Instead, its technology connects to the companies' existing marketing and sales accounts such as Google Ads and Stripe to make fast, data-driven decisions. Unlike legacy banks or more traditional sources of funding, Uncapped's model allows businesses to access funds within days. The terms and conditions are all written in plain language, prioritising transparency and fairness.
Uncapped is available from today to European businesses who take online payments and have at least nine months of trading history. It is particularly relevant for companies in sectors including e-commerce, SaaS, direct-to-consumer, gaming and app development.
The company was founded by serial entrepreneur, Asher Ismail, and venture capital investor, Piotr Pisarz, who were frustrated by the limited funding options available to European entrepreneurs.
Asher Ismail, co-founder commented: "As a founder, I've raised money from angel investors, VCs, crowdfunding and banks, but was struck by the lack of a revenue-based solution in Europe. At Uncapped, we want to bring fundraising into the modern age with the easiest and fastest way to get funded. I don't want another founder to have to pay compounding interest, risk losing their home, or give up more equity in their company than they should. Europe's entrepreneurs need access to more innovative funding models and we're committed to helping founders win by pioneering a fair and transparent approach at Uncapped."
Piotr Pisarz, co-founder adds, "Having spent a lot of my career in venture capital, I've always been shocked at just how little equity founders end up with. Current statistics show that at exit the founder will likely own less than 15% of their business. Equity is the most expensive way to fund a company's growth, it takes a long time to raise, and can mean founders end up losing control of their companies. With European companies monetising sooner than ever, we know that founders deserve a more creative and affordable solution."
On the investment, our Managing Partner, Reshma Sohoni, comments: "We've seen huge success and innovation over the years across financial services and we love the way Asher and Piotr are thinking about disrupting growth financing. Their first-hand experience as entrepreneurs and investors puts them in the perfect position to truly understand the many barriers founders face while raising funds and we believe they are perfectly placed to fulfil the huge demand for alternative financing founders are calling out for."
Uncapped's new funding comes to market just in time for many entrepreneurs. December is typically the most challenging time for business cash-flow, especially in e-commerce, where inventory and marketing costs are at a peak but Christmas sales have not yet come through.
For more information about how Uncapped can support your business visit weareuncapped.com