"The most aspirational high-level line is if you built a community, your community and users feel like they belong to the product. And so that combination of ingredients really built an ecosystem where our users were just empowered to build and innovate around Sorare." – Dan O'Kelly, Sorare
In a new Seedcamp Firsts podcast episode, our Partner Sia Houchangnia chats with Dan O'Kelly, an early Community Lead at Seedcamp-backed fantasy sports unicorn Sorare. They cover all things community building, including:
the importance of community in building a fast-growing startup;
founders' key role in setting up the vision and building the foundations of an authentic community;
the early tactics Sorare used to build their community;
how to kickstart and nurture your community;
how to nurture organic initiatives by community members;
why it is important to put resources into community building;
mistakes and lessons learned in scaling community in the hyper-growth phase.
Key takeaways:
Identify and integrate yourself in micro-communities you believe your value proposition will resonate with;
Empower early adopters to start their own initiatives and leverage word-of-mouth;
Build relationships with key people in the community;
While in the early days community members have patience and more understanding, as you scale and develop your product, their expectations rise;
Adapt your messaging to the different audiences you want to reach;
While there is no real standard science for measuring community sentiment, find ways to measure the ROI of your community;
As the company grows, make sure that the community function is well understood, especially by new hires, and that resources are allocated to community building and nurturing.
Listen to the full episode or read the conversation below:
Sia: Can you tell us about those early days and how you kick-started the community-building effort?  
When I joined in November 2020, there was already a very, very engaged core community that lived on Discord and was starting to grow and live on Twitter. So what Nico, one of Sorare's co-founders, had done from day one pretty much, is he knew he had this really interesting value proposition with what Soare was.
He knew it was really new and innovative and he just started from there and started to integrate himself into very, very niche micro-communities in which he believed that new value proposition would resonate. So he searched for that niche crossover between crypto fans and diehard sports fans and collectors, and, if I'm right, there was one that existed already with MLB, something that was quite similar and within there, he was finding people that might be curious about a football game.
He used and nurtured these relationships to also help with product development. And from there, having this kind of core group of people who were very curious about what he and his co-founder Adrien were building, he really focused on Discord and grew from there.
Brian, who, like me has done a large number of jobs at Sorare, but was kind of our 'growth guru' in the early days, had also tapped into the potential of what Nico had already started building. We had a really cool core community and there was a huge potential with word-of-mouth. People were excited about what we were building, so when I joined, Brian had already started putting the tools in place for the community to grow and engage with each other. There was an ambassador program and a referral program that had just been set up and an affiliate program was in its early stages of ideation. So that's everything that was in place when I joined.
Sia: And so the point of touch you had with the community where they're mostly over Discord and Twitter, or were you using any other tools?
Dan: There was Telegram and Discord. They were the two big ones.
Telegram largely because that's where a lot of the crypto audience lives; Discord because there was a nice crossover between gamers and crypto live there as well. But we found there was a grown interest from really, really diehard fantasy players who were way more native to Twitter or well, X formerly known as Twitter, but they were actually learning and migrating to Discord just because that's where our community was living. That's where we were present. So when I joined, Discord was growing and super active, but still, you could go in there and scroll the general chat and there wouldn't be such a high-level activity where it was impossible to follow. You could really chat with people in the morning and you kind of knew everyone that was part of it. So it was still the size where everyone knew everyone.
When I joined, Nico shared with me the adjacent user theory. He said, 'Look, this is where we are right now. We're pretty strong with this crossover of crypto and sports audience, but it's a small market and our product is pretty good for them, but it's not great for all these fantasy players.'
We had the best of blockchain technology, but we also had the frustrations and the worst of it, like fluctuating gas prices. That means nothing to a football fan who is just ready to collect cards. So my first challenge was to see how could we start making easy, quick tweaks to the product and also how we communicate so that it resonates more with our next target market, which was really diehard football fans who are either big collectors or big, big fantasy players.
Sia: On the role of those early adopters, really interesting to hear how Nico very intentionally went after microcommunities he had identified that foot could be the first one to resonate with what Sorare was doing. Can you share a bit more about how you were also interacting with those folks who are very early in the community? Did you really work on giving them more tools and content, so that they could start evangelizing others about the platform, or how did the relationship with those early adopters work?
Dan: We have these three community pillars, which are pillars that you use across, in my opinion, the full journey of a company, from small to big. You have to listen to them and make sure that they know that they're being heard.
And you make sure they know they're being heard by engaging with them. So that's being proactive, but also reactive to what you're seeing and listening. And then you also have to empower them. So, when I joined, a lot of the early adopters had also taken it upon themselves to say, 'well, look, it's up to us to help grow this.'
And honestly, for me, it was extremely exciting coming in as a community manager, because one of the hardest things to do as a community manager is to make our users proactive enough to first engage with our content and give feedback, but then also to build their own tools and ecosystems around it.
So we were lucky in that the inherent nature of blockchain technology and Adrien's vision from the tech side of Sorare that it would be an open world where you have access to the APIs and all that stuff; and also, Nico's very proactive approach in being transparent, and available to users, making sure that they feel that they belong to the product.
The most aspirational high-level line is if you built a community, your community and users feel like they belong to the product. And so that combination of ingredients really built an ecosystem where our users were just empowered to build and innovate around Sorare. For example, Sorare Data was kind of built in the really early stages.
When I joined, Nico had a list of 15 people and said 'You have to speak to these, just build relationships with them and understand and they'll be key to your understanding of what Sorare is'. So that's what I did. The first two or three months, I just really ingrained myself with all these amazing projects that people were building, trying to understand a little more about it, because I was new to NFTs and blockchain.
Adrien and Nico put the ingredients in place for users to be proactive, and then from there, when I came in, it was just to make sure that we continue to build on that momentum. So really my job was just to keep the momentum going and be a more visible and human presence that the lads had previously hadn't had the time to commit to.
Sia: Yeah, that's critical, right? Also doing those things that won't really scale, but early on will build the trust and also bring some authenticity to the community. It feels like that is often something we hear about when it comes to early community building. And I remember you were the soul of that Discord, you were everywhere replying in DMs, every day, posting updates, etc. To what extent were you just being yourself or were you actually very intentional about the people you would interact with on a daily basis, about the posts you would make on the channels?
Dan: Initially, it was a lot easier to be myself and to be quite transparent and human and all that, because obviously it's not that the stakes are lower, but you're with a smaller group, you kind of understand everyone, and also when you're a certain size, there's more acceptance and patience on the community side as well.
"Look, they're starting off, they're a small team." And, with that, you can just afford to be a lot more casual as well with how you engage with users and, or the community, so I really was myself. I used to make a lot of jokes, and if I saw that people were making jokes in the Discord, I would just take part.
Also, in my case, it was a lot easier to relate to the community – I didn't have a crypto background, but I am a big football fan, and also a big gamer, and I came from the gaming industry. A lot of them were kind of similar age to me, anywhere from late twenties to late thirties, forties, so it was really easy to connect and relate to them. And it was really motivating, but like you said, it's not something that can really scale. So that was an area where if we want to go into the mistakes, that's an area that if I look back, I would have liked to have done a better job there.
In the early days, it was obviously really important to be present on Discord and be there all the time. I was there pretty much, you know, not 24/7, but I was there at the weekends making sure that users saw that we cared and that we were going above and beyond, like the call of our duty.
You want the early community to feel that this is a team of hard workers and people who care about what they're building. I really do, and I really did at the time. It's obviously not something that can scale, and I think where we maybe lacked a bit was that when we did grow quickly as a team and staff up, we were slow to put the right resources in place on a community side so that we could still have that active presence in Discord.
And I think I could have done a much better job at balancing who I interact with in Discord and when; and also how can I build foundations and put new systems in place in which we can also scale and speak with a much wider community, not just the core community, even if it's through support. When I joined, I was also managing our support and we were getting maybe 30 tickets a day, which is really, really manageable. But in February 2021 there was the big spike, the big boom. And then because there were loads of things that we hadn't improved on a product side, within a day, we were getting 2000-3000 tickets, every two to three days and it became impossible to manage. And then, because no one really knew that boom was coming and because I hadn't really scaled the support side enough – as I was quite focused on Discord and one-on-one interactions – it put us in a bit of a tricky situation where we had potential for huge growth, but a lot of users were churning because we didn't have a very good support system in place. That's just an example of some of the challenges between scaling, but also being very approachable.
Sia: Yeah, we'll get more into some of the challenges and learnings, from the last few years, but just to cover a bit more the way things have evolved because obviously, Sorare went multi-sport, you increasingly have a global audience. How has that impacted the way you think about the community? I guess the way you speak to football fans might be different from the way you speak to baseball fans and NBA fans; and maybe even across geographies, you see cultural differences, etc.
Dan: There was a strategic discussion to decide whether we just keep one account and speak to everyone through that one account or start building separate communities for each sport. And we decided on building separate communities for each sport. There were a number of reasons for this. One of the big ones was because part of our initial vision for where we saw a lot of the growth coming for MLB and NBA was the [United] States. It's a market that we really wanted to grow in any way, even on a football side. The potential for a football audience in the States is there and it's huge. We just felt that it would be easier to do that with accounts that were speaking specifically to a US audience, in US hours, and all that. Also, we saw the value of what we had built with Sorare football in terms of having microcommunities and using them to nurture and grow in the early stages.
And I think if someone was joining Sorare MLB and they saw this huge Discord where everyone's talking about football but they were paying for specific baseball reasons – especially if you want to join something small and you feel like you're early, you feel like maybe you've missed a boat and you don't know who to reach out to. So, that was our main thinking for keeping them separate. And then in terms of tone of voice, there's just a natural difference in terms of, if you follow sports networks in the States, there's just a natural difference in the way they speak with their audience.
That's an area where we're trying to find a balance between speaking to a global audience, a European audience, and a US audience. It is quite a challenge, and I think in the early stages of last year, we might have lost that identity a little bit. We used to be a little more tongue-in-cheek, we were there to shake things up a little bit. And I think we diluted it a little bit when we were moving to the US and trying to think of 'well, what's this one voice we can have that could speak to everyone'. By doing that, we ended up with something that was quite vanilla. So that's something that we are revisiting, as well as how can we bring more personality back in. In the last couple of months, we've started working on that.
Sia: Does it mean that you have a community manager, focused on the US sports, or how does it work?
Dan: In February, we hired a community manager for US sports. He's based in the New York office and he's focused purely on US and MLB.
But again, it was a lot of work. We were still launching things for a while on the US side and also on the football side for a bit because the engineering team is ramped up, the product team is ramped up, and we were just shipping a lot, lot more. A lot of stuff was getting missed by the community team, whether because it wasn't shared with us or because we just had too much going on, our calendar was full and it would go to the social media team or marketing team. And we'd bring it to market and the position would be wrong, or we might be missing some key details on why we introduced a new feature. And then that naturally leads to community frustration because they don't understand why we might've done something.
So earlier this summer, we staffed up the team, which is responsible for bringing things to market, but also making sure that we're thoughtful in our product development and that we're user-centric. And so now that falls on the product marketing team. And we all sit within the Gameplay teams for each product. So I focus on football and I oversee product marketing; and we've since moved someone who was performing really well in the support team. Now he's taken over on the community management side of a lot of the kind of operational day-to-day relationship building side, he's kind of taken over from me on that, which means we can be way more hands-on and we've also done the same model for US sports.
So we have a product manager, a product marketing manager, and a community manager – the same community manager supporting that person, which means we now have four people as opposed to one nine months ago. And it's really helped. Even now you can see in the recent MLB updates that were really thoughtful.
Our community is starting to see that we're really focused on them, and it's helping us a lot. I'm looking forward to the next few months, really.
Sia: Exciting and very keen also to hear a bit more about how you track success when it comes to your community initiatives. Are there ways to look at the ROI we get from the resources and efforts we put into the community, how you're approaching that? Are there metrics that you're looking at?
Dan: Yeah, so there are, and I think that's one of the reasons why, as you said, the community management role or even a function is relatively new.
Not really in the gaming industry, but I think in companies they have the potential to go beyond gaming. The community function is maybe sometimes a lot more connected to support or just events or something like that, but the scope is quite small.
So within Sorare, the KPIs and how we measure the ROI for the Community have changed a lot from year to year. Initially, we were big on growth and nurturing, jumping on the word-of-mouth potential. So the main ways in which we could measure the success of our work was, you know, social media, community growth. So it's like community is peer-to-peer collaboration around something that someone loves. So we want to build those channels so that they can engage with each other. We wanted to grow Twitter and also hit a certain engagement. So in the early years, it was pretty straightforward: 'let's try to hit this channel growth and maintain this level of engagement.'
It's important to have engagement because it's very easy to pump and inflate social media numbers – you just run competitions – but it's a lot harder to maintain engagement. So, that was the main one, but then ultimately community feeds into two larger teams KPIs in most company structures and kind of in Sorare as well.
Our work largely feeds into the product, but there's a growth and marketing function as well, where we can support their work too. So they would define those KPIs and we just make sure that the projects that we work feed into those and we can measure them in a certain way. And there's also the side of community work that isn't an exact science, and that's a lot more qualitative: 'how do you measure the success of your relationship with someone?' or 'how do you measure community sentiment?'. There's no real standard science for measuring community sentiment.
In all the interviews that I've ever done with people for community roles or even anything that touches the community, I always ask them, 'how would you measure community sentiment?', hoping that someone has the 'holy grail' answer, and I'm yet to have it or find it, but I'm really optimistic with AI.
On my list of things to do is to start digging through AI tools to see if anyone's built a better sentiment tool, which scrapes social media and packages things in a way in which it actually says, 'this is your community sentiment and this is why they feel that way.'
To boil it down, there's the whole qualitative side of things, which is community sentiment, which is a lot harder to measure, but we use NPS pretty much. And, before we look at the NPS surveys – we run them once a month – I kind of like have a little guess. I write down all the things that I think people will be happy and annoyed about, and I make a little prediction of what I think our score will go up or down. And if it reflects the NPS scores it means that either I have a good understanding of what's happening in our ecosystem or the NPS is also working. If they're both aligned for me, that's enough of a representation that, okay, we're measuring things accurately.
Sia: How do you strike that balance between, you know, obviously still catering to the needs of those early adopters – which in the case of Sorare might have those large galleries and are super active on social networks sharing about their Sorare journey – but also being accommodating to the new joiners and their fresh perspectives?
Dan: Initially, I was kind of dealing with all of those people, and that was tough because we were really focused on word-of-mouth. I put a lot of focus into speaking with community thought leaders or anyone who was showing really impressive and huge levels of wanting to be proactive within the community. Now we separate those across teams. So, because of our affiliate program, a lot of the people who are users who create content around Sorare or have visions for tools around Sorare, they sign up for the affiliate program – we have an affiliate manager who manages those relationships. My role with those relationships is more that if we identify opportunities, say for maybe giving tickets away, or there's a cool event or, if we're launching a cool product, I'll just go to the affiliate manager and say, 'look this is an opportunity, this is how I would package it', but they take it from there and leverage that in the best way possible. In terms of new users, we have a user research team now, and they largely focus on the analysis of new users and how they engage with our platform, what's positive, what's negative, and all that. And then there's kind of a gray area between those cores, which is people that are just active in the communities, but maybe show potential to become affiliates or influencers or show potential in any other way in which they can feed into our community and it could even just be someone who flags issues and shares feedback with them.
It's very much just being active, reactive, proactive to those. So just make sure that you're present in all your Discord channels, your Twitter, and all that so that they know that if they continue to say these things, the product will continue to improve. You don't want them feeling that there's no presence there from the company.
Sia: What is really fascinating about Sorare is that it's not only a digital experience. There is this link to the real world and over the years you've seen more and more self-organized football tournaments and you guys just enabled those experiences through giving away tickets and all that. To what extent as a community lead, were you also involved in those real-world experiences? Is there another team dealing with that or how do you work with that side of the community and what is happening on that front?
Dan: The organic stuff is our work pretty much. So what we do is we get approached by loads of community members with amazing ideas. And then, we often have the same ideas. Since day one, I've been passionate about Nico's pitch of bridging fantasy to real, and I love nurturing that loop. So every quarter something that is at the back of my mind is, how can we run new tests where we can test that loop, but also just build it as part of our brand and value proposition a little more, step by step? We often don't have the resources to be able to leverage that quite often because running events is time-consuming, and can be quite expensive.
When you're trying to be a lean and active team, it's not always the best thing to prioritize. But luckily we have loads of community members who are more than happy to run these and manage them. So for us, the main goal is just to support them in the best way we can. A lot of the Paris Sorare club, for example, they were one of the innovators of this weekly 'five-a-side' in Paris, and they got to a point where they thought there were maybe a couple of hundred people who wanted to sign up, but they had to do three games in a row. So what we did for them was I would have monthly one-hour calls with them to see what their ideas were, and we would just offer them jerseys, and tickets to games for their micro-closed-community. Then if they were running something more ambitious, like a tournament where members from the English or German community were flying in, we do our best to sort them out with nice PSG tickets for that weekend. I'd turn up to the event and we'd also pay for the booking of the pitches, as part of our community budget.
And then from there, you can see that these things are naturally growing. So they would post about it on Twitter. And then this summer we had a 'seven-a-side' competition that took place in Nottingham and now there's one happening in Falkirk Stadium in Scotland, next year. And so those things are kind of just naturally building and all we were like the flame wasn't even built by us.
They had the filet, we just gave it a little bit more fuel for it to grow like that. I can't really take that much credit for it. It's the community just being great. If we didn't take part in those things, it would be a big failure on our side. You have to really make sure that you nurture all of these positive contributions because then you just become a company with no face and people will stop.
Sia: It's awesome that, in only like three, four years, you've managed to get those initiatives, left and right, just being started by community members. Let's now take a step back. We did discuss the fact that community, in general, is a quite new function in a lot of fast-growing startups, so in the case of Sorare, clearly we understood that a community can be related to the work of the product team, or the folks that are in charge of your affiliate program do, etc. Where does it sit exactly in the org? And how does that evolve over time, where do you see it going in the org moving forward?
Dan: We had a small restructure of the company in the early summer – there were a number of reasons for this restructure, but there was this particular focus on, 'well, we're dropping the ball sometimes with how we launch things and the transparency we share' – so the idea was to staff up a little more there. So, Community now sits in the product team, with Gameplay, and Community feeds into the larger product marketing organization. So, as I mentioned before, there are four of us in that team right now, and we work very closely with product, but also closely with user research and growth and support.
It's just the nature of the work that, in my opinion, the best community managers and product marketers are people who can wear multiple hats a bit like a Swiss army knife if you like. So that's where it sits right now. And the main focus for us is to build the new product marketing functions that's understood across the company, but our main success metric – we're still to define how we measure these things. It's just that if things get launched without the community knowing, or if things get launched without the Community understanding why we're doing it, or if things get launched and we haven't squeezed as much potential out of this great feature as possible, then we haven't done our job.
So that's one of the things is how we can bring things to market. And then the other two things we're working on are our overarching storytelling. So it's, 'how can we redefine certain key aspects of the Sorare journey in a way that it's understandable to new users and existing users?,' because I think that's something where, while our brand awareness can be low in a lot of markets, it's an area that can really help grow the brand, is if you think of catchy two, three storylines that all sports fans can relate to. And where it can go, right now, within our structure, I'm happy with where it sits, but I think if we were to grow, I think the product marketing function would be its own thing that would sit between marketing and product.
Where community often starts, it's largely the community managers in early, early stages, they're responsible for support, for social media and feedback loops. They're kind of the three pillars of it. Then as you grow that changes. Often, I think what should happen is if you are experiencing a certain level of hyper-growth, and hire people from different backgrounds, those people, and it's not a criticism, but you know, they may not be familiar with the potential for community, especially if the community was key to the early stage development. A mistake we made is that we didn't allocate enough resources to the community function and we didn't make sure that new hires understood its potential and what its scope was within Sorare. I think if companies do experience rapid growth it's important to make sure that the community function is understood across; there's an alignment across the company and to ensure that the resources are given to it because the work can become overwhelming.
What often happens is if you're experiencing hyper-growth, a lot of new people are coming in, and you have to understand the product on board. And while that's happening, there's often a community manager behind the scenes, sticking their fingers and making sure there are no holes, or leaks, and keeping things running behind.
Sia: Dan, we'd love to hear a bit about what you've been the most proud of when it comes to community building at Sorare over the past few years. What's your biggest accomplishment?
Dan: Oh, I honestly don't know. There are a lot of things that I've done that I'm happy about, but, it's more things that happened behind the scenes. So it's not really public-facing. There was a period early last year when Sorare went through hyper-growth and we were hiring and growing quickly and staffing up and, a lot of people were joining in and we didn't have the proper onboarding. No company has a great onboarding when it's going through hyper-growth, but there were areas that we were lacking a bit to make sure that everyone who came in understood the key challenges of our product, and also the key frustrations of our community. And there was a while when I was finding it very difficult to highlight the importance of some of the community frustrations and how we need to change our product roadmap. So I remember there was a stage, I think it was early last year, maybe a year before where I had seen the product roadmap and had been signed off on. And in the previously I would have been in the loop and actually reviewed it and helped ideate on it. And the roadmap wasn't addressing any of the key community frustrations.
And up until then, we had been a very, very user-centric company – maybe a bit too much, maybe too reactive to the feedback, but still it was a key part of our success. But the roadmap was kind of ignoring a lot of the key frustrations. And, what I did is, I realized that the way I had been sharing community feedback wasn't resonating with the new hires, so I built actually a five, six-page report, obviously with a TLDR at the top, but quite a long, comprehensive report backed by data, backed by quotes and speaking to actual users, to show that the frustrations were valid and critical and then thanks to that report it helped shift how the new hire saw the function of community and the potential for it in Sorare. And also it helped readjust our product roadmap, so we were more thoughtful to the community. I think that moment stood out to me, as a good one, but it's not really visible to the community, it's more work behind the scenes.
Sia: Well, that makes a lot of sense. You're day-to-day, the person who is the closest to the user base, and obviously, the way you make the users feel counts, but what is also key is the way you communicate back to the product team, to Nico to other folks in the org. You mentioned before that you weren't like fully ready at some point to deal with that, hyper-growth on the community front. Is there anything you would do differently if, you were back in November 2020?
Dan: There's one lesson that I now share with a lot of people who may join the support team or be front-facing because I got to a point where I was almost obsessed with being present in the Discord and speaking with people one-on-one. I would sometimes end down these pigeonholes where for an hour and a half I was speaking to someone, about maybe feedback or trying to fix a problem they had. And, you know, in hindsight, when you're heading towards hyper-growth and you're quite a small, lean team, it's not a good way to spend maybe 10 percent of your day. So one thing I would definitely change is not to get too caught up in one-on-one interactions and also not take things personally, because that's part of it as well. The reason you end up in back and forth with someone is because you feel so passionate about the company and if they're being very critical, almost trolly about it, you see it as a chance to try to change your mind, but ultimately it's just not time well spent.
So I would have relocated the time I put into a lot of those interactions towards building infrastructure and systems, that could help so we're kind of more long-term within six to 12 months. We built our Zendesk eventually when we hired our chief of staff, Thibault – he came in around February 2021 and his first project was building the Zendesk and he managed that whole project really well, but I still think back to that – I should have built that three months sooner. And it's the same with other ones.
I still think there's a huge amount of potential for our Reddit and I have never really given that much thought and care to it. We tried it a few times, but then growing any community on a platform – right now I think we have 12, 13, 000 on our subreddit – to be able to nurture that and keep it going, it needs a certain amount of resources, which I've never given it. I still feel that's potential that we haven't tapped into considering where, especially on the football side, a lot of fantasy football people live on Reddit and I think if we build a core, and also a lot of the subreddits, it's the same model as Discord, really, it's just like these core communities who are obsessed with the product and we'll spread it with word-of-mouth and defend it to the last day. Those people live on Reddit, but we haven't really tapped into that yet. So that's another one that I would have liked to have done in the early stages.
I think if we had a Twitter-grown, Discord-grown, and Reddit-grown (community) at the same time, maybe we'd see a lot more growth and brand awareness than we have right now.
Sia: Thank you so much, Dan. You shared so many insights. I just wanted to wrap up with a slightly more personal question. You are obviously getting a lot of energy out of the interactions you have with the community. How do you manage the changes of mood in the community? Do they impact you on a personal level? How have you been dealing with that?
Dan: They used to impact me in the earlier stages and then even within my personal life – my wife grew to hate the sound of the Discord notification – but, what I've learned is that, now I don't take any of it personally. So I take a lot less to heart now when we have negative sentiment and I kind of try to approach things more as, 'well, how can we change this? Why is this happening? How can we change it?' Rather than, 'ah, they're attacking Sorare, which is like a child.' Not taking things personally, just allows me to switch off better and think more clearly.
And then also just with more resources, now that there are way more people and a lot of them more qualified than I am to think about things like, for example, referral abuse or something like that, you know, that I used to have to think about that. Now there are way more other people who think about those things, who are better equipped to find solutions to them than I am. So that gives me more time to focus on the stuff that I'm just naturally better at, like giving tickets to people.
Sia: Thank you for being so open. That was really awesome.
Dan: Thanks for having me.
Check out our growing Seedcamp Firsts Content Library.
We're excited to introduce Seedcamp Firsts, the definitive guide to the all-important first steps in company building brought to you through first-hand experiences and lessons learned from the brightest minds across the Seedcamp Nation.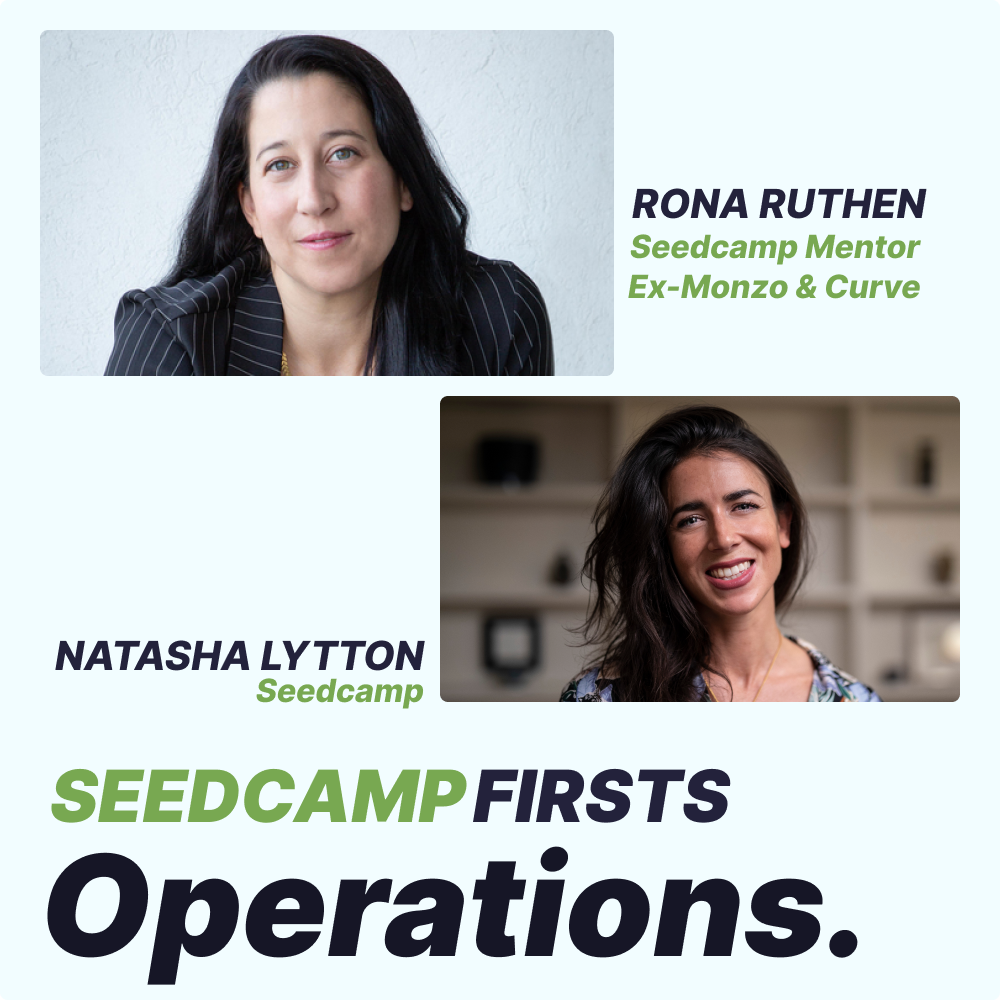 The power of the Seedcamp Nation comes from the incredible breadth of experience that's been lived across it. We want to open up this hard-won knowledge and insights from the exceptional founders we've backed to our Experts Collective, Venture partners, and our core team.
Our ultimate goal with Seedcamp Firsts is to help support the next generation of exceptional entrepreneurs navigate those critical first steps in building a business.
Check out our growing, multi-media Seedcamp Firsts content library:
1. 🎙️ The founding story of Maze. How to test, explore and validate your first product ideas as an early-stage startup: The first edition of Seedcamp Firsts features Jonathan Widawski, co-founder and CEO of Maze, a Seedcamp-backed growth-stage company on a mission to democratize product research. In conversation with our Venture Partner Devin Hunt, Jo explores everything from prioritising what to build, and when, to how to evaluate customer input in product development decisions.
2. 🎙️ How to first kickstart your content strategy and its power as a key differentiator: Learn all things content from Raphael Allstadt, Co-founder and CEO of tl;dv, and Tom Bangay, Senior Director of Content & Community at Juro – the masterminds behind the companies' content strategies – from why content was first determined to be an essential part of the business and shaping the early strategy to execution measurement and key learnings for early-stage founders. hosted by Natasha Lytton, Head of Brand and Network at Seedcamp.
3. 🎙️ How to set up customer support and operations as an early-stage startup: Our Head of Brand and Network, Natasha Lytton, speaks with one of our fantastic mentors, Rona Ruthen, about setting up customer support and operations in early-stage startups. Rona is one of the best people to learn from on this topic following her experience scaling Fintech unicorn Monzo among other well-known startups, including Curve, a Seedcamp portfolio company.
4. 🎙️ Scaling Customer Operations: Change is the only constant: In Part II of our Seedcamp Firsts series on customer operations, Rona Ruthen and Natasha Lytton delve into the hyper-growth stage of company building. Rona shares her lessons and experiences scaling operations across various roles, including VP of customer operations at Monzo, where she helped the company grow from 1 million to six million customers. Learn why communication, clear goals, and single-threaded leadership are essential and how to get buy-in from people across the company.
5. 🎙️ Making big bets as a DeepTech startup with Victor Riparbelli, Co-founder & CEO of Synthesia: Victor Riparbelli, co-founder of our portfolio company, Synthesia, speaks with our Venture Partner, Devin Hunt, about making big bets, how to get comfortable with long-term product decisions, and learning from mistakes.
6. How to Lay the Foundation For and Implement Your First Strategic Partnership: Our mentor and executive at portfolio company, Elliptic, Elsa Said-Armanet shares her best insights on how to select a strategic partner, prepare and carry out your first negotiation, and measure the results of the collaboration.
7. How to Build Your Early Engineering Team. Part I: Sourcing Engineering Talent: Our Expert in Residence, David Mytton, shares his hard-won insights on how to build your early engineering team. In Part I, David focuses on sourcing engineering talent, from writing a compelling job ad to defining your selection criteria and identifying the right channels to reach out to potential candidates.
8. How to Build Your Early Engineering Team. Part II: Selecting Engineers: In Part II of his piece on building your early engineering team, our Expert in Residence, David Mytton, walks you through the five stages of selecting engineers.
9. How to set up a fully remote and distributed team. Lessons from Maze and Gitlab – April Hoffbauer, VP of People at our portfolio company Maze, shares her insights on how to think about and build a remote, fully-distributed, and asynchronous team from day one. Tune in or read more here.
10. How to create and scale an iconic community. Lessons from Sorare – Our Partner Sia Houchangnia chats with Dan O'Kelly, an early Community Lead at Seedcamp-backed fantasy sports unicorn Sorare. They cover all things community building, including: the importance of community in building a fast-growing startup; founders' key role in setting up the vision and building the foundations of an authentic community; the early tactics Sorare used to build their community, and more.
Stay tuned for our next editions!
In a post-pandemic world, early-stage founders have multiple options for building their teams and choosing their ideal work mode(s). However, the decision between on-site, hybrid, and remote can be a complex one, involving multiple factors, such as access to talent, legislation, and people operations.
While remote work became the default at the height of Covid-19, post-pandemic life has seen many organisations revert to old behaviours, pulling people back to offices and causing a fair deal of controversy in the process.
April Hoffbauer, Vice President of People at Maze, Seedcamp-backed global and fully distributed startup Maze, still believes that remote and fully distributed offers an excellent opportunity for early-stage startups to tap into the global talent pool from day one.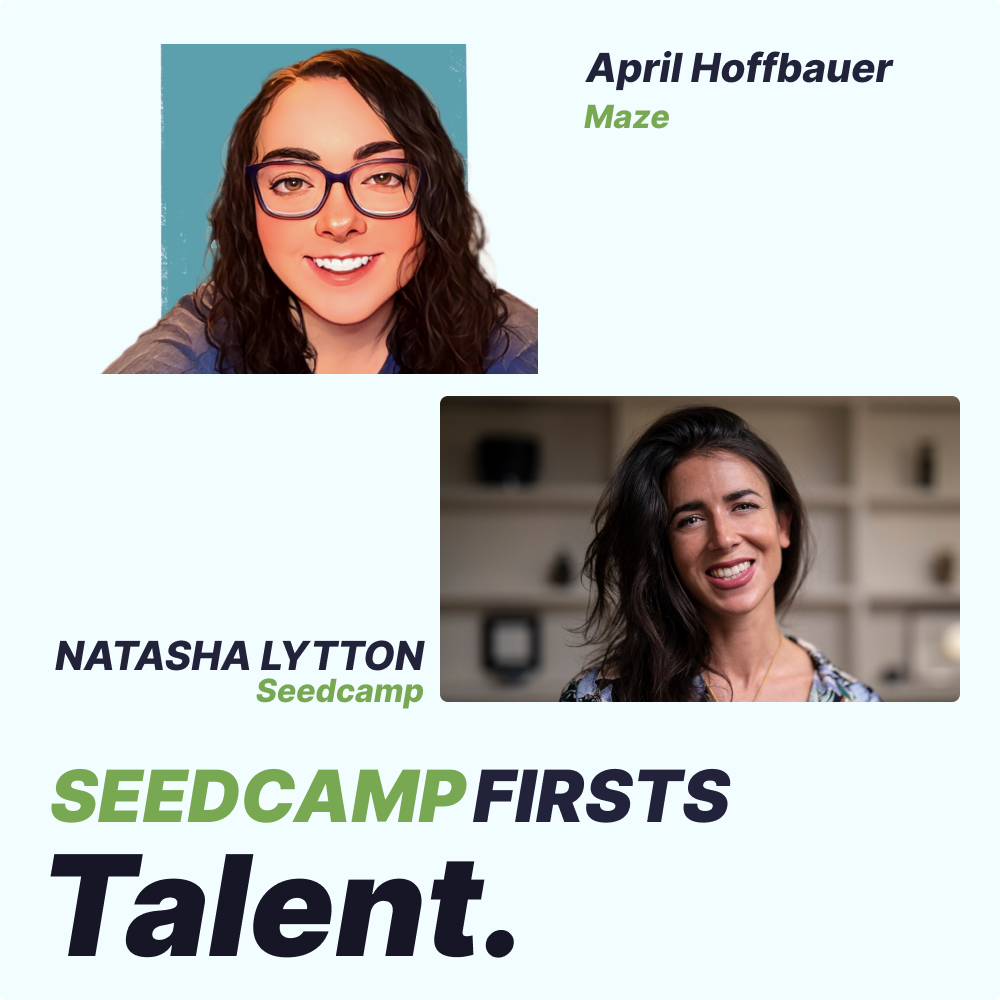 Passionate about scaling thoughtfully and empowering great teams for long-term success, April is one of the rare people in the tech ecosystem who has been living and breathing all things remote since pre-pandemic life, and before words like hybrid working or fully remote were common language. Her experience as a Senior Manager Recruiting Operations and Insights at all remote tech unicorn, GitLab, where she supported and optimized the people team, equipped her with a set of best practices and tools to help build and scale fully-distributed teams.
In her current role, April leads an agile people function focused on designing and implementing organizational development strategies that reinforce the company's values, build a world-class culture, and enable greater effectiveness and scalability.
In conversation with our Director, Natasha Lytton, April shares her insights on everything that goes into how to think about and set up building a remote, fully-distributed, and asynchronous team. Tune in or read more below:
N: If you were to wind back into the early days and thinking about guidance for startup founders, what do you think startups should consider when thinking fully remote as an option when they first start to build out the team?
A: Fully remote, first of all, is inclusive, and it invites folks with new perspectives and experiences to be a part of creating something brilliant. When you distribute your workforce, you empower creativity and focus, and especially when leaders build with transparency and trust their teams to work asynchronously, you create magic – people are able to work when it's best for them and thus produce awesome work. If you want passionate people who are empowered to pursue their passions, both personally and professionally, it's just smart business to diversify your workforce across the world if you can.
The beauty of that is you're democratizing tech. Tech can often be skewed towards centers of privilege and discount amazing talent that may not have the ability to uproot their lives to move to a tech hub or may not have the access to do so.
If you are able to spread out your workforce, you're better set up to begin with. It's a lot easier to start out as remote than to adopt new ways of working. We saw that a lot during the pandemic when companies tried to replicate office experiences or didn't have the tools or the processes set up for a foundation of remote.
It's very intentional work that you have to create. Once your company has that culture, it will evolve with you, and your people will be invested in making sure that it's successful. If you start with that at the beginning, you're already one step ahead.
N: What do you think are some of the critical factors that a company should consider when they're assessing Who are we and what do we wanna be? Should we be onsite? Should we be remote versus hybrid? How do you think through and advise people to determine those early parts and steps?
A: My opinion will be biased because, obviously, I'm a firm believer in remote. I often joke that you could not pay me enough to go back into an office setting, I am fully bought in. I am not going back.
I will say not what's right or wrong for you. You and your founders and your early team really need to figure that out for yourself. Each one has pros and cons, but from my experience, remote is the best when done right.
The first thing to think about is how hard hybrid can be. There's always going to be this imbalance of how your team members are treated based on their physical proximity to the office, their ability to come into the office, or if they're fully remote. And just a small example of that is the pre or post-meeting talk.
If you remember any kind of meeting that you went to in a conference room, you're always chatting before and especially after. And sometimes, that chatter after can completely change what was discussed in the meeting. If you have people who were virtually dialing in, they missed all of that.
How do you communicate that to them and, more importantly, the why behind what the new decision might be or the new direction might be? I think hybrid is just hard. Onsite can be fun, but it's expensive, not only in terms of the overhead and office costs that you have but also just the energy that your team has to expend to get to the office or to get ready for the day to go to the office.
The small talk chatter that happens can be draining for some personality types. So when you're in the office, you have a lot more of an energy drain than just work. Also, the proximity of having friends from the office can be energizing, but again, you're set within that time zone or that city limit, so you're limiting yourself in that way.
The pool of talent is much smaller. And again, there's a real risk of not diversifying your knowledge and, therefore, your product, and then onsite is all about having that physical presence, but it doesn't always translate to productivity or output.
While remote requires a great deal of forethought and planning, it opens up a whole new world of talent that you don't have otherwise if you're stuck to a proximal location.
You have to be intentional about documenting what you're doing, how you do it, and why you do it, not just for today, but also for the future in that historical look-back aspect of it.
People think remote work is easy, but it's probably 10 times harder to build because you have to be so intentional about it, and you can't just show up and do your thing and then leave. But, again, it will probably produce a hundred times the outcome because you're working in a way that best serves your people and your team, diversifying your knowledge base and your team members.
N: Do you think from your experience that there are certain types of business that are better suited to these different styles of working?
My experience has been very tech, and knowledge-based. I'm not really familiar with e-commerce-type businesses. I do know that there are some that are remote and have been successful at that. But it's also a matter of if you have your knowledge-based workers or your corporate workers remote, can you also have that in production and then shipping and receiving and things like that?
So I think e-commerce would be interesting, but I am definitely not an expert in that area to talk to that.
N: Are you seeing there's a competitive advantage for you as a remote-first organization, and have you seen a shift more broadly back to more traditional ways of working post-pandemic?
A: Pre-pandemic at GitLab, we had a Head of Remote who our CEO wanted to champion remote work, or the CEO of GitLab is a very firm believer in remote work and an asynchronous org. The head of remote's primary purpose was to evangelize the need for remote work and how to do it, and how to do it right.
Then you had the pandemic, where companies were scrambling to try to figure this out. How do we continue people being productive when we're not allowed to go into the office? What was interesting at that time to me was you had companies who weren't getting it right. They just couldn't figure it out or weren't invested in it, or weren't open to new ways of working. I think those are the ones who have articles about how remote workers are unproductive and how they need to return to the office so they're not playing video games during the day or something like that. So if it was done wrong, you have this big swing to go back into the office, that the office is the only way for you to be productive and to have a successful workforce.
But if people were open to new ways of working and invested in people to make sure remote was done right, invested in tools, which is a big thing to ensure that it was done right and evolved with it to make it successful, I think those are the ones that have converted and are like, I get it.
For us, at Maze, the competitive advantage was we were able to scale quite rapidly at a time when talent was really hard to come by and the market was super competitive.
I think it also informs our product much better. Our product is aimed at making sure product teams can research and do unmoderated testing. We're able to do that when we're remote and work asynchronously to a large degree as well at Maze. So it's been huge for our success, huge for our growth, and also our culture.
N: What are some of the best practices you recommend founders adopt based on your experiences from both Maze and GitLab?
A: A lot of my foundation of ways of working comes from GitLab. They were very prescriptive in many of the working styles at that time, which I think, again, is sometimes necessary in a remote world.
One thing about GitLab that we've truly adopted at Maze is working asynchronously as much as possible. I often say that we aren't remote first. I had a whole conversation about why I don't believe remote first is a way to describe a company like Maze, where we're fully distributed.
We're async first, and we default to asynchronous ways of working as opposed to making sure everybody is on at the same time because we're spread out across the world, and you can't have everybody on at the same time.
It's important to document everything and to use meeting agendas not only so that you're making good use of your synchronous time but also the documentation for historical decisions is super important, especially in startup worlds where you sometimes are struggling to remember what happened yesterday.
And then you try to think back to why did we make this decision a year and a half ago and what are we doing? If you have that historical documentation, it's right there for you. Also, if you have a meeting and it's to discuss things or to make a decision, I always call those a working session so that people know what the purpose of the time together is. Is it to brainstorm and to try to figure out something together? Is it trying to solve a problem quickly, and you need that synchronous time? Call it what it is. Don't just have a meeting, just for the sake of meeting.
Developing processes is very important. Providing training on those processes early and often and making sure that you're evolving and if it's a living, breathing process that you're doing because processes do change.
Investing in tools is super important, especially in supporting fellow tech companies. They're out there trying to solve these real problems that we have, let's invest in them. I also love investing in tools from startups because they're open to feedback and they're open to helping us solve our problems because we are, hopefully, the future, and they want their tool to be successful for future employees.
One of the things we sometimes forget is the individual is responsible to set the boundaries for themselves, to set them early, and to stick to them. For me personally, this is sometimes the hardest thing to do. When you have internet anywhere you go, and you can jump on your hotspot anywhere you go, it's sometimes very hard to disconnect, and you need to make sure that you're taking that time away for yourself and not just talk about the productivity that can increase as a part of remote work. But remember, there's a human there too. And don't forget those human elements.
N: How do you balance boundary setting in this world where you perhaps wouldn't have as much information naturally about people and their lives, and what they're doing? Are there any tips or processes you have in place to help encourage that, as well as any opportunities or things you encourage for more human interactions day to day that aren't with a set purpose in mind?
Yeah, I think those are two very different points. The human element to it, so it's not just like a transactional thing, is something that will be unique to every company, and that's why investing in a people team early helps because you can set an intention behind some of those moments and having creativity and having fun times together that aren't just a virtual happy hour or something like that, I think is important and then creating boundaries for yourself. You need to figure out what works best for you. And one of the terms that GitLab coined, at least I think it's from them, is a manager of one, where I need to manage my day.
I need to manage my priorities and rearrange my to-do list in a way that makes sense for me. And then, my manager, my CEO doesn't know what time I log off for the day. They don't know how many hours I'm working, so I have to be accountable for myself, and everybody has their own way of doing it.
I personally try to bookend my days with meditation, with walking the dog or something that gets me physically away from the computer, away from the office, and as much as possible, trying to walk away from that. The only company tool I have on my phone is the calendar because if I didn't have that, I would always be late. Other than that, I don't have Slack, I don't have email, I don't have anything else on my phone because it's just too easy to check in for a minute, or I'm just going to go clear out my email.
You really have to be responsible for yourself in those regards and find ways that work for you. Because we work asynchronously first, nobody is required to work a nine-to-five or something like that.
It's really about how you're successful in your day. So if you need to work at night, because that's when you're more productive, or that's when your house is quiet, or your caregiver, and that's when your partner is able to be the primary caregiver, that's great. Do what works best for you. I don't expect you to be on at specific times.
N: Are there any leadership styles that are particularly well adapted for running either remote or async first global companies?
The manager of one again is self-management. I think that's really important. But if you're talking about people leaders within a company, empathetic leadership is very important. You have to recognize that the line between work and personal life is more blurred than ever in a remote work environment. You have to care for the human as much as you do for the employee. Recognizing that at any moment of the day, that line can get crossed and blurred, and that's okay, but you have to recognize that as a people manager.
Servant leadership is another style that is very important. And continuing to get more of a spotlight where you're empowering others to thrive. You're supporting and guiding them without needing to micromanage or without needing to dictate how or when the work gets done, and also, you no longer need to be the loudest voice.
Stereotypically, the people in power are the loudest voice in the room, and they're more of dictating what is getting done and how it's getting done and standing over your shoulder to a degree to ensure it's getting done, where hopefully, with servant leadership that's not the case and that's no longer happening.
N: What are some of the biggest mistakes you think founders make when building distributed teams?
First, remote has been seen as just simply working from home, and that's not really the case. You can work from coffee shops or in a car.
Making sure that people are set up for success with tools to work from wherever they're most productive and that connections have to be intentional and have to be built specifically for virtual engagement. And it's not just 'not in the office,' it's elevating the trust you have in your employees, and that trust and communication go hand in hand, where you as a leadership team are not making decisions in a vacuum or without transparency.
You are setting a foundation of communication documentation that earns the trust of your employees and that your employees feel trusted and empowered.
I also think mental health can be an afterthought in remote work, but ensuring people have psychological safety and are supported emotionally and professionally are more important than ever when you remove that proximity to their coworkers. Again, not investing in the team that runs your remote business.
For us, it's the people team. I believe that the people team is generally, historically, the most understaffed, and when you add the complexities of remote work, it's worth investing in an amazing people team early in the company's history to ensure that you have that set foundation to build and scale off of.
And then the last thing I'll say on this topic is the ops of remote and global companies can get super complex. As the VP of people, I've also been over legal and IT ops and, until very recently, finance. We have team members in 36 different countries, and you can't imagine how complex that can get.
Things that I think about on a daily basis are typically outside of the people realm where we're issuing stock options or getting laptops to people in all corners of the world, or ensuring global compliance, which our world does not set up for remote work to be easy but most importantly, it's to keep everyone engaged and thriving.
My CEO and I joke all the time that everything we know, Legal or stock admin is something we know against our will because some situation has cropped up that we didn't encounter before, and we had to figure it out together, but it was never something that we were like, oh, today I wanna learn how to issue stock to somebody in the Philippines.
You're always on the same side of the table when you're working together. That can be really fun, but sometimes, again, you find out stuff that you're like, I never wanted to know any of this information, but now I know it.
Key takeaways:
You have to invest in remote early and be intentional in how you think about it;
You need to set your people up for success with the right tools and products for them to be able to use that;
It requires a transparent decision-making process from the leadership;
Documentation is more important than ever;
There are all these other things that come into it from an ops perspective or compliance perspective that you may not have been thinking about;
It's not necessarily the easiest default to be distributed first, but the benefits that it can have from a democratisation and inclusivity perspective are massive;
There is no playbook that you can go and replicate from company to company. You have to figure out what makes sense for you and your team and the culture that you want to cultivate and build;
Be open to trying new things and doing things that might fail.
Our Expert in Residence, David Mytton, shares his hard-won insights on how to build your early engineering team. Previously, as the CEO at Server Density, a SaaS cloud monitoring product (acquired by StackPath in 2018), he ran product engineering in a team of around 300 people before leaving in 2019. In January 2021, he launched console.dev, a free weekly newsletter for experienced engineers to find the best devtools and jobs.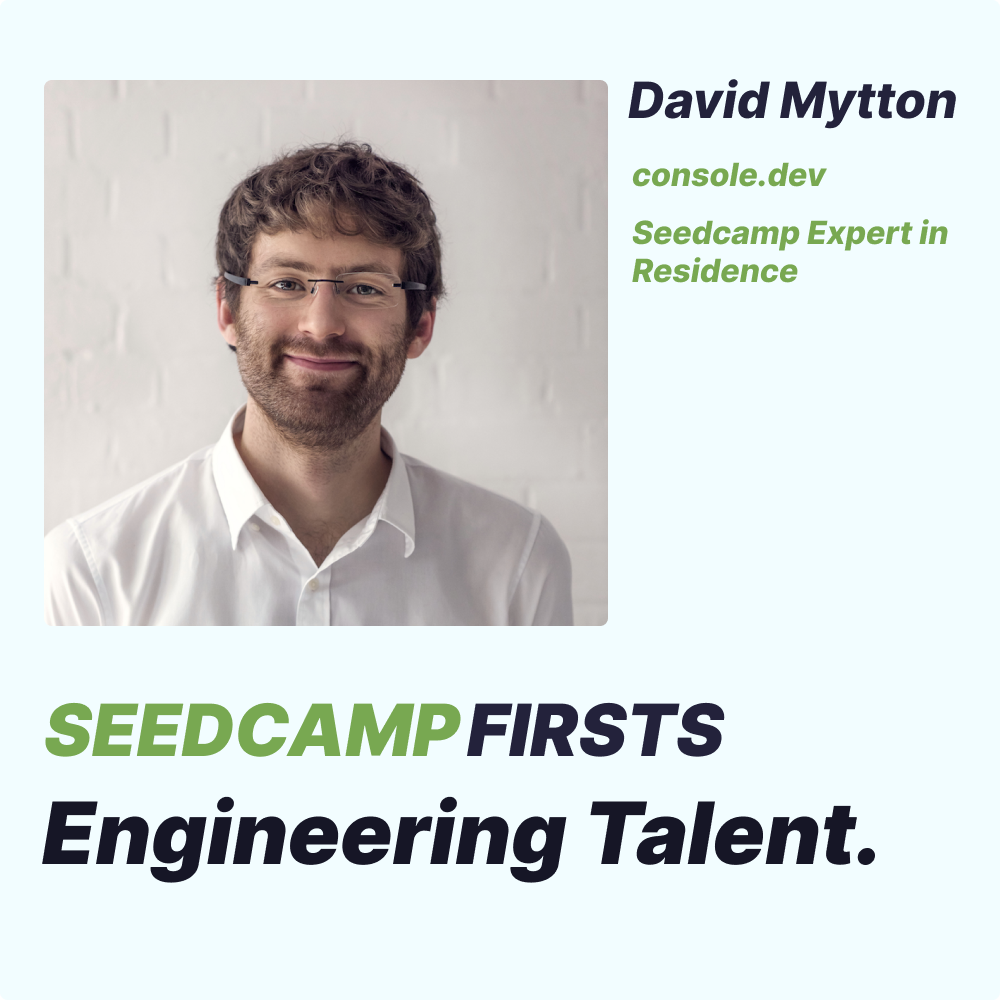 How do you branch out and source candidates outside your personal network? What are developers looking for, and how do you stand out? How do you know whether someone is good or not? Do degrees or specific tech experience matter anymore? What are market salaries?
These are some of the key questions David will guide you through in his two-part article focused on sourcing and selecting engineering talent in early-stage startups.
Hiring developers is hard. Hiring good developers is even harder.
When building your first engineering team, as an early-stage company, you'll go through two main stages: 1) Sourcing and 2) Selection.
Before sourcing, essential preparation is answering some of the key questions a developer or engineer wants to know before they consider applying:
What are the company values?
What are the standard benefits and the compensation package (e.g., health insurance, pension, etc.)
How do you work? What's your development process? How does code land onto main? How does that get into production?
Who is on the team, and in particular, who do they report to?
What tools are you using internally?
It's not sufficient to think about them and write them on a private Notion page. You actually need to get them online and start the selling process before you even put job ads out and start speaking to engineers. Good candidates do a lot of research into the company. The best engineers are rarely on the market, but when they see an interesting company, they want to learn all about it.
In Part I, I focus on sourcing engineering talent, from writing a compelling job ad to defining your selection criteria and identifying the right channels to reach out to potential candidates.
Sourcing Engineers
Finding good engineers in the first place is challenging. Start by figuring out what you are going to put in your job ad.
The question that you're trying to answer with this is, "What will I be doing?".
The areas to focus on are:
1) Putting in real numbers
2) Publishing what your selection criteria are
If you don't have a product in production yet, then putting real numbers in is a bit more challenging. This was a good way that we used to promote what were doing at Server Density, my previous company, because we were processing huge volumes of monitoring data.
We were processing over 150,000 writes per second into the database. These numbers are interesting to developers because it shows you're operating at a level where they're going to have to solve interesting problems. If you're not at that scale, then you can think about the challenges that you're solving in the product. UX challenges are interesting if you've got a product that is doing some innovative things on how your users interact with it; interesting things that you've done in the backend to deal with large volumes of data or transforming data; anything where there's an interesting technical challenge, whether it's at scale, whether it's interesting algorithms using interesting tooling and technologies, those are all things you can highlight in the job ad.
Next, it is essential to think through the selection criteria because it's how you assess candidates in an objective way. Putting these into the job ad shows that it's going to be a place that is thoughtful in how it evaluates candidates and is relevant to their current experience.
Also, be aware of what you shouldn't include in the job ad: a long list of detailed requirements (e.g., very specific technologies, excessive numbers of years of experience in those technologies, and things that really are nice to have rather than actual requirements). Otherwise, it rules people out. If you put too much, people just won't apply.
I would always prefer to spend time filtering more applications to find an outlier who might not otherwise have seemed like a fit than have them not apply because they didn't hit all the requirements. In particular, this applies to university degrees, which are generally irrelevant for startups. Unless you're doing something in a very deep tech, scientific sector, there's some regulatory requirement that means you have to have certain qualifications, or you truly need the algorithmic background that computer science brings, having them just rules people out. I've yet to find a startup that actually needs people with specific degrees.
Once you've sorted out the job ad, the next task is actually sourcing engineers. Below are some of the best places to start, broken into three levels with different frequencies of use:
Level 1: Everyone uses these recruiting channels
Your network: The first step is using your network – people you know, your friends, and people that your investors and other founders know who might be interested in joining the company.
This can scale for a surprising number of people. Once you've got a couple of people in, having them bring their friends in is a good way of building that initial team. The caveat to that is that you are more likely to be hiring people who are similar to you, which is generally fine at the beginning but starts to introduce diversity challenges pretty quickly. Having diversity of thought in all sorts of different ways is really important for solving those difficult problems later on.
LinkedIn: Despite the fact that it's not very effective, it is something that you have to do. Developers tend not to use the platform, even though they might have a profile. However, it is a way of finding people by company or job title and then using that to locate them in other ways.
GitHub is a very good way of doing this. A startup I know used the GitHub API to find a large number of profiles and do a lot of filtering to go out to make individual contacts with the developers on there. Often the email address is in the profile. If you want to be really cheeky about it, you can clone the Git repository and look at the Git log to get their email address, but you have to be careful with this because just spamming developers with generic emails is not going to put your company in a good light. Make sure the email is customized and relevant.
Jobs boards are another option, depending on the type of engineers that you are looking for. The best engineers don't really use job boards because they already have good jobs, and if they want another job, they're going to be able to find one very easily. They're good for less experienced developers. There are job boards that specialize in certain areas, but they tend to be pretty low yield in terms of the success rate but very high volume in terms of the applications. It's something that's worth doing because it's not particularly expensive, but the success rate is particularly low.
Level two: Things that lots of people do, but not everybody
Candidate search platforms Hired and AngelList (now Wellfound) are options that work. There are profiles on there, but they suffer from the same problems as job boards, even though they are a bit more specialized. AngelList has a reputation for being good for startups, which narrows down the filtering quite a bit. However, they are also high volume and low yield.
Depending on the type of person that you are looking for, universities can be quite good. They tend to work on the university term cycles. There'll be more people who are interested in jobs as we get into the summer term compared to the beginning of the academic year. This makes it more of a longer-term source of inexperienced candidates, but don't forget the graduate students as well – they may be taking a career break and could have just the experience you're looking for. Universities are very keen to engage with potential employers because it's all part of the statistics that they publish about how their graduates go to get jobs afterward.
Recruiters are another option, but you have to really think about the incentives and for which roles those are particularly important.
Unless you are headhunting an executive or you are recruiting just one or two people, recruiters tend not to work very well because the incentives are misaligned. If they're on a retainer, then there's no real incentive for them to find anyone quickly. And if they're on a success fee, then their profit decreases the more time that they have to spend searching.
So the only real way to use a recruiter is when you're hiring five to 10 people or more, and you have someone in-house, either as a contractor for six to 12 months or on a permanent basis. They are then incentivized to hire good people because they'll be working alongside them.
Level three: Few people do these things, and they certainly don't do them well and consistently
Blogging is probably the most effective way of hiring people, but it takes a lot of time, and you don't see the results right away. If you've ever read anything on the Cloudflare or Fly blogs, then you've read a recruiting blog. Their primary purpose is to hire engineers from technical blog posts. You can see the type of quality of blog posts that you need to write.
These blog posts also serve as a great way of raising the awareness of the engineering organization. You have to write technical blog posts. You have to get technical people to write them, and they have to be very high quality. The problem is that engineers want to be writing code rather than blogging, so this often requires dedicated teams of marketing engineers. In the early stages, that will just be one of the technical founders – it'll be one of the highest-yield tasks you can do.
There are often other communities that people are part of as well. You can mine these by actually just being involved – not scraping the participants and spamming them, but being involved in a way that raises your profile. Within this, open source is another way of finding people to hire. If you've got open-source projects, then hiring your contributors is a good way to get people on board.
Conclusions and key takeaways
Before even publishing your job ad, make sure you answer the key questions every talented engineer would have before applying, from company culture to how code is shipped:
What are the company values?
What are the standard benefits and the compensation package?
What's your development process? How does code get into production?
Who is on the team, and in particular, who do they report to?
What tools are you using internally?
Putting in real numbers and publishing what your selection criteria are essential in the sourcing process. They provide candidates with specific insights into how the engineering organization operates and also help you filter the right profiles.
Stay tuned for Part II, which will guide you through the selection process for building your first engineering team.
In Part II of his piece on building your early engineering team, our Expert in Residence, David Mytton, walks you through the five stages of selecting engineers. If you've missed Part I on sourcing engineering talent, you can read it here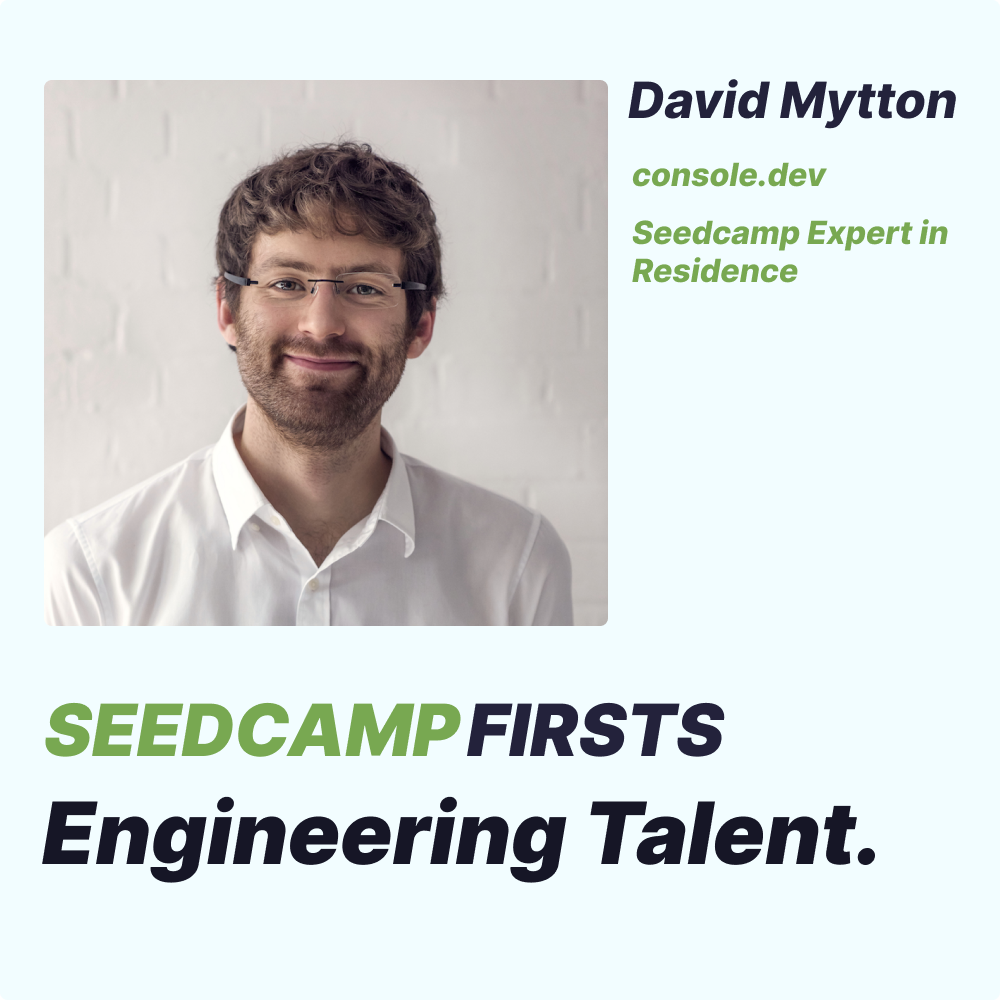 Once you've sourced candidates, the next part is the selection process. I'll break this down into five separate stages:
Stage one: Application
The best people never apply for jobs because they already know people internally, so they skip that process. However, that tends to be lower volume and you will still want to have brand new applicants applying through a normal process.
People applying will be sending their CVs through so you can do some very basic screening. A lot of companies just ignore the CV or only use it as a simple filter. Something that I used was to have a keyword that I required all applicants to put in their cover letter, even if there was nothing else in the cover letter at all. The keyword was in the middle of the ad, and that tested to make sure that the applicant had actually read the full advert. It allowed us to screen out most people who apply using a shotgun approach of sending applications out to hundreds of companies.
Stage two: Writing exercise
There is a direct correlation between the ability to write prose and the ability to code. The next stage that I always used was to have a short writing exercise. I asked them to compare MongoDB to MySQL or some other relatively easy technical analysis.

Ask candidates to write a couple of hundred words and spend 20-30 minutes putting together a short article on the comparison. With this, you are checking for the ability to explain and write without mistakes. If you can't write a couple of hundred words without making grammatical and spelling errors, then the quality of your code is also going to be poor.
Stage three: Coding exercise
A coding exercise is a good way to test whether someone can actually do the job. It should be very short, just a couple of hours (so someone can do it in an evening or weekend), and it should be compensated with a reasonable fee. It is important to make sure that you are not just doing random tests. It also needs to be representative of what they might do in their day job, which could be building a simple client for your public API or fixing an issue in a open source repo – something relevant and easy to do.
Stage four: Meet them in person
After you assess their technical ability, spend a bit more time by actually meeting them in person. This is a good way to assess them for cultural fit, but also just to see what they're like to work with. Even if you have a remote team, doing this in person has significant value. Some kind of pair programming session on a call is an alternative to that, but really try to do it in person if possible.
Remember that you're still selling. The person has applied to you, but you still have to sell them on your company and why they should join. Make the process very smooth. Show candidates that they're completely looked after – any travel is organized, and it feels like they're a VIP. Showing that you actually care about them is a good way to persuade them to join!
Stage five: Have a quick response
Then, finally, have a quick follow-up. You don't want to rush a decision, but it shouldn't take more than a few weeks to run through the entire hiring process.
Avoid puzzles and tests. Whiteboarding a theoretical technical architecture might be acceptable, but writing code in anything other than a fully set-up editor with the internet is a waste of time and not representative of real-world development. So is anything that is going to take more than a couple of hours to half a day. Remember, people have real jobs, they have families, and they have other things they would rather be doing.
Going through a very lengthy process is something you want to avoid. Also, don't ask about salary. Ensure you have a realistic market salary range decided up-front and in the job ad before people even apply.
Conclusions and key takeaways
The selection process must be well-defined, representative of real-world development, and lead to a quick follow-up.
Meet the candidates in person to see what they're like to work with and assess the cultural fit. A pair programming session on a call is an alternative if meeting in person is impossible.
Remember, you are still selling, even though the candidate applied for the job.
If you'd like to learn more about hiring engineers, read David's additional notes here.
Check out our growing Seedcamp Firsts Library here.
With a background in consumer brands and communications, Joanna Christie has helped scale a series of well-known and loved brands at various stages, from Lyst to TreatWell. Now she is a VP of Brand & Marketing at Seedcamp-backed company Gaia – the world's first IVF insurance product – where she is tasked with creating an industry-defining brand for a highly complex and first-to-market product in a highly emotional space.
With over 10 years focused specifically on marketplaces, she has performance-led experience in building, communicating, measuring, and marketing brands B2C, B2B, and B2B2C.
In a deep dive Q&A with our Head of Brand and Network Natasha Lytton, Joanna shares her best insights on how to lay the foundation for your startup brand and think strategically about the brand as you scale up.
At Gaia, we've chosen a brand that's so at odds, so different from anything else in the fertility space. There's no pink, there's no blue, and there are no babies being dangled. That, again, is a message we're putting out there to say this is different in a space that, sadly, is one that hasn't got a great reputation. We want to stand out by being different and strong.

Joanna Christie, Seedcamp Mentor and VP of Brand & Marketing at Gaia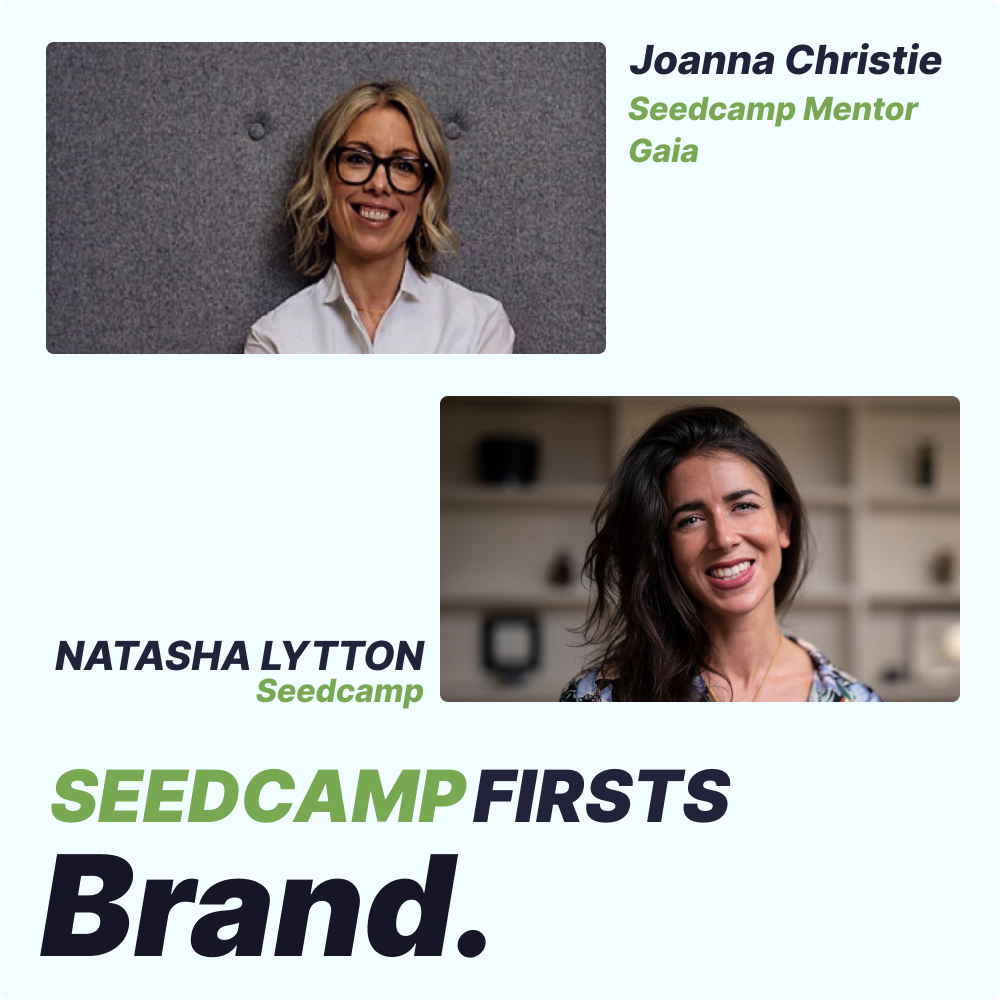 Key takeaways:
Brand is the first building block for anything you do as a business, not just marketing
When done right, the brand plays an important role in customer acquisition and retention
Brand equity is built on consistency and it evolves
Ideally, you want a brand guardian in-house
Brand equals recognition equals trust
For B2B2C marketplaces, you don't need different brands (e.g., supplier-focused vs. demand-focused). It is one brand, and you just have different audiences
Listen to the episode or read the full conversation below.
Brand doesn't need to cost a fortune but it's the first building block for anything you're doing as a business, not just marketing.

Joanna Christie
Why do you think that brand is foundational for early-stage companies?
JC: Brand is your guide. That's why you need to nail it very early on. It helps you make decisions, be that product, how you're pitching, or your customer service. It's your reputation. You get one chance to do it. So, it's core to everything. It's not just the marketing. It's how you speak, how you interact, and how people interact with you. And it makes you, you.
I don't often quote Jeff Bezos when it comes to brand necessarily, but he famously said that your brand is what people say about you when you're not in the room.
Being very clear early on about what it is you want people to say when you're not in the room and building everything around that is really, really important. There also seems to be this trend that people think that brand and growth are mutually exclusive. They fundamentally are not. You take something like paid social, for example, it's 80% creative or brand and 20% buy, and they support each other beautifully.
Brand doesn't need to cost a fortune but it's the first building block for anything you're doing as a business, not just marketing.
How do you manage founders when they come and say we just need growth, and we're not willing to invest in this brand piece? How do you help them understand why the two are so integrally linked?
JC: First of all, you point out the brands and the companies that they all aspire to be. You take someone like an Airbnb. It's taken a while, of course, but they've now turned off all of their paid marketing and are growing faster than they ever have before.
Founders are becoming much more aware of efficiency and sustainability. I think we've all seen, sadly, over the last few months how companies can fall foul when they go after that hockey stick and it's all about growth and not caring about unit economics and not thinking about lifetime value and retention – which are the goals of brand as well.
The beauty of brand is that it ticks everything. Brand can do your acquisition in a much more sustainable way than performance is going to do. Whereas, of course, there is always, a place for performance marketing, brand can do that and it also does a retention piece for you.
It does LTV. If you do it well, it's doing referral for you. That's where you get a product so good it's marketing itself, when the brand is really core to that. Many founders would aspire to create the types of companies that the best brands in the world are. It's as simple as that.
Education in terms of what brand means is core to that.
What do you believe are the key elements of a powerful brand, and how can you create standout in the early days when you are so constrained from a budget and a resource perspective compared to others?
JC: Byron Sharp, who wrote the book, The Marketing Bible, talks about mental availability and physical availability. From a mental availability point of view, it's all about this concept of building memory structure. It's very simple to choose one element and lean hard into it. Make it your hero. It could be a logo, or it could be a color.
For Monzo, it was a hot coral card, and they lent so hard into that. Consistency, consistency, consistency. If you believe in the seven-touch rule, which is that somebody needs to see something seven times before taking action, consistency is core to that. Understand what that element could be within your own organization.
Be consistent with whatever it is you decide to get behind. It takes a while and that's why it's so important that there's real integrity to it and it's true to the values and who that brand and business are. You need to sit with it for a while.
So, take a risk, and again, when you're early, what's the worst that can really happen? That's the fun bit about being early stage.

Joanna Christie
Choose one and back it. At Gaia, we've chosen a brand that's so at odds, so different from anything else in the fertility space. There's no pink, there's no blue, and there are no babies being dangled. That, again, is a message we're putting out there to say this is different in a space that, sadly, is one that hasn't got a great reputation. We want to stand out by being different and strong.
So, take a risk, and again, when you're early, what's the worst that can really happen? That's the fun bit about being early stage.
When you think about building out the brand function, how should startups be thinking about bringing support in? Should this be in-house support, somebody like yourself that they're looking to hire from the start, or is it easier and better to work with agencies or freelance talent in the early days?
I'm biased, obviously, because otherwise, I wouldn't have a job and a career, but ideally, you want to have a brand guardian, an advocate, and a protector in-house. I think I've seen too many times when a founder or a business will retain an agency to build a brand. The agency hands over this sort of glorified PDF, and they think that's the end of it, it's done.
Whenever you get your brand, whether it's from an agency or not, that's just the start. You need someone in-house who's driving that. Now, that can be the founder themselves, or that can be a CTO. I've worked with CTOs who love brand as well, but you need to have someone internal.
Again, to my point, because brand is not just an advertising creative, it is the product journey, it's the words that you use in that piece of UX copy. It's the user experience, it's how you invoice people. It's your paywall, whatever those pieces are.
You need to have that golden thread because what a brand does is builds the trust that people will have in you. So I would always advocate bringing someone in-house because you've got that nailed, and you can trust them entirely to take that PDF and make it a reality and start to build something distinctive and sustainable.
When you think about the role that trust plays, how important is that, and what are some of the best ways to get real insights from customers and integrate that into your marketing and brand strategy early on?
JC: Brand builds trust, and bad brand experience breaks trust, period. Brand equals recognition equals trust. Gaia is a really interesting example because we're trying to bring up a completely new product to market. So, we have that challenge in itself. The market is one where there's very little trust, it's very opaque. No one trusts anyone. And thirdly, people are so desperate for any sort of solution, specifically in financial support for IVF, that people are willing, in a dichotomy, to trust anything because they need as much help as possible.
For us at Gaia, it's been about being as open as we possibly can be. We talk a lot about surfacing our Ts and Cs (Terms and Conditions) as early on in the journey as possible because our members, our prospective members, are having enough doubt and confusion and uncertainty about lots of other things we don't want to add to that.
So, being clear about when people are eligible or not eligible for risk insurance has been really high in our priorities from day one. Also, there's this wonderful piece around being in a startup where you can appeal to people's kinder sides. There's a whole sort of Kevin Kelly's 1000 True fans, or how the SoulCycle girls started.
You ask. You say, "We're small, we're learning, give us feedback." At Gaia, we have a WhatsApp group of what we call our alpha members. We push for honesty, we don't want to hear all the lovely stuff. It's great to get those real insights by being as obsessed about why someone hasn't bought your product and asking them directly.
It's important to hear from the detractors as it is from the promoters because we can all sit there and glorify ourselves with all the happy stuff. But listen to why people don't want to use your product, and you'll get much more powerful insights. People will tell you because, as we know from reviews, it's polarizing. If people love you, they're gonna tell you about it. If they don't like you, they'll also tell you about it. So take the time to listen to that, and don't be defensive about it. It's very powerful. Feedback is a gift, whatever it is.
How do you balance the gift of feedback and the ones to action and the potential impact that will have and its relevance to the brand and the goals and where you wanna get to, and the stuff that's just an opinion?
JC: This is where data comes in. You can take a signal from a piece of cold feedback or insight. And then that's the beauty of working in digital and tech products. We can either take it and put it on an ad and go to Meta and give them a bit of money and put it out there and see how people respond to it. We can do AB testing with certain ideas.
Usually, you look for a trend. If several people are saying the same thing, that's something you need to sit up and take notice of. We're all smart, instinctive people. You can tell when there's just vitriolic outpouring because somebody's had a bad experience, but where you see a trend and where there's an easy way to then test that with, on a more quantitative level, that's where it gets interesting and you get some real beauties then that you wouldn't necessarily have thought of before.
Also, that feedback loop, being able to change something small and say to someone, "Thank you for your feedback." You've got an advocate for life right there. It's a very small thing to do.
How do you keep early power users involved and engaged as the brand moves on?
JC: At Let's do this specifically, we created this persona group called the Enthusiasts. They were those people who, very early on, were using the product. They loved running. They loved doing triathlons, they loved swimming. They loved the whole experience of it, they loved the community, but more importantly, they were those people who would start a WhatsApp group and put five people on it and say, "`Who's up for doing the ASICS 10 K in July?" So not only are they great advocates, and they're giving us great feedback, but the viral coefficient, the value of them at that level because of the referral power they had, was huge.
Bring those early advocates in, involve them, ask them for feedback, create a shadow board if you really wanna be as customer-obsessed as so many people claim to be, and make it tangible.
With crowdsourcing, there's the opportunity to actually have people involved and have an investment in your business. It's a fun thing to do, and you just never know what they're gonna say, which is wonderful as well.
At Gaia, because this is a community where people want to help people, the alpha users are helping the next generation of members that are starting their IVF journey. So there's this lovely sort of kindness that is a huge value for us, and how we fulfill that for our existing members and the members that are coming through and supporting each other. In the words of Kevin Kelly, if you find those true fans, the product markets itself.
Especially in the very early stages, it's getting to that product market fit and finding and identifying who those people are. And you maybe don't have as obvious a product market as you have at Gaia. The customer could be so many different things. Do you move the brand around who the customer is, or do you make the brand far-reaching enough to encompass all? How do you think about that?
JC: You have to make the brand far-reaching. One of the biggest pieces of advice I would have for founders as you scale – and I've been very lucky to work with incredible founders, and I've been with them as businesses have scaled – is you need to back your brand, whatever that foundation is and be smart about the foundations you lie.
Don't just choose a color because you like that color. Be thoughtful about the competitive piece. Any other colour that there is, any brand equity you need to be aware of in terms of the brands you're going up against, that you're gonna be trying to take a share of wallet from.
Once you have decided what it is, give it a chance. There will always be a level of flexibility. You have different personas.
For every brand I've worked in, there are different personas. Whether it's the guy who just wants to get that quick haircut at Treatwell or someone like me who is in their beauty salon every minute. The brand Treatwell didn't change. We had eight colors, so with eight colors, we were able to use different colors. It just gave that level of flexibility.
Definitely think about that because the reason you exist is your brand. It is the "why" and the "how". The "what" potentially will change. There are different propositions, and it's a living organism. There will be an evolution within it, but it can't change every time you worry about something or you get a piece of bad feedback.
And it also shouldn't change every time you bring in a different CMO. That's something else I see time and time again. I've definitely done it a few times, but that's because of the stage that I've entered businesses.
Brand equity is built on consistency and it evolves. If you look at Airbnb's first website versus where they are today, you'll see that there are elements of that brand, that identity that stays true, and a lot of the stuff that changes, thankfully, to how Airbnb looks today.
It's that consistency piece again because you pay for recognition, and if you lose it because you change things, you've just thrown away a load of equity that's very hard to build up.
If you are going to use agencies, don't go to the ones that everyone else has used and pay the big bucks for them. There are so many amazing agencies that are smaller that will care more and do more stuff. You don't have to chase after the big ones. It doesn't have to cost an absolute fortune.
What do you see as some of the main challenges for double-sided B2BC marketplaces, and how can you overcome them?
JC: The biggest issue is disintermediation, which effectively means that if you're a supply-driven marketplace, your suppliers don't necessarily trust you in this. They are worried that they will be removed from their customer's journey. The way to overcome this, from my point of view, is to be as obsessed with your supply value proposition as you are with your demand value proposition.
People think about the demand piece, and they don't think about the supply. And you could have however many people come into your website for a curry. If there are no curries there, you've lost them, they've gone off somewhere else.
Disintermediation is the big one, and being very thoughtful about what the concern would be for your supply. For Treatwell, it was a lot of SMEs and they were worried about paying a commission, time and time again, on new clients, and also that they were getting extradited from the relationship between them and their client. And clients were so important to them.
Spend time, be thoughtful, ask for that feedback, and make them feel like they're part of the business as well because they fundamentally are. In the perfect world, when marketplaces work, it's glorious because you become this highly efficient acquisition machine for them.
You're bringing a true value proposition to the market for consumers, and everyone is gloriously happy. There is this level of when it works, it's perfect. And at a brand level, B2B2C is the Holy Grail.
B2B2C is product market fit at the end of the day for marketplaces. Definitely, the challenge is disintermediation. So the way to think about that is, "How do I make my supply feel like they're part of my business and they're front of mind for me?" and they're not just a cash cow that I'm gonna take a commission from every time I send someone to them.
How can a brand, in those instances, maintain the trust and the relationship so that you still go through via their service versus going direct?
JC: It comes down to, again, this idea of advocates. how do you find those suppliers or those partners who do get it and love it?
Very early on at Lyst, when fashion was really starting to understand online and data, I remember we partnered with a website called Business of Fashion. Every single CEO and CMO was reading it because that was the source: What are people doing? What are Burberry Top Shop and Net Porter doing? They were leading the way and everyone was following them. We did that partnership with them because we knew that if we were in there, people are going to sit up and take notice because we're spending money, and we're taking the time to be thoughtful and to build thought leadership in those places as well.
Again, finding those advocates, finding those few that if you really focus on them, the others will come because you just need that one case study. You need to show success. You need to show you are supporting their conversion rates by doing X, Y, and Z. Be thoughtful. Treat them as an audience.
This is the other thing with brand. People often talk to me about "I need a supply brand or need a consumer brand, and then I'm gonna need an employer brand, then I'm gonna need an employee brand because employer brand is different to employee brand". It is one brand, and you just have different audiences, and that's where the flex needs to come through as well. You can speak to even those four as separate audiences and of themselves.
One of the biggest challenges that startups have is attracting great senior talent, especially when they're in the early days and building, and there's not much yet to show, and they just can't compete on the same level that the big dogs in the world can. What attracts you to join those brands, and what can companies do so that they can stand out when it comes to appealing to executive marketing talent?
JC: I think an understanding of brand and growth marketing. From very early on in my conversations with most of the founders I've worked with, there was this immediate understanding of how important brand is. You definitely have those founders who just want hockey stick growth. Unit economics isn't a phrase they wanna hear about, nor is sustainability and efficiency. They care about getting that growth to go raise that A or that B round.
Being a lot more thoughtful and having a much long-term view – brand and marketing do not sit in a silo and can't sit in a silo – is what I look for: a founder who understands that brand and marketing are as best mates with customer service as they are with the product, as they are with everything else. And a level of understanding of what sustainable growth looks like and that it isn't growth at all costs is really important.
So there's a level of patience in that because brand takes time, and it takes patience. SEO is exactly the same, but once it works, you've absolutely nailed it. So that's what I'm looking for in that understanding of the power of brand to support performance, but not performance at all costs.
Brand ticks off so many boxes because it does the acquisition, it does the retention, it does the LTV, it does the referral. You just need to be patient with it and let it do what it does best. And also, just think about the last brand that you talked about or the last brand that got you to buy and why.
It's very simple. We're all consumers, so don't overcomplicate it, either. A brand is a very simple concept. It just requires consistency, shepherding, and someone who is that busty. And ideally in-house to make sure it works. It can work and you can use data to make sure it works.
Brand and data are not mutually exclusive either, which is an important point as well. People think it's this sort of dark science that you can never attribute anything to, and you absolutely can. You just need to be creative and smart in the way you're doing it.
Check out our growing Seedcamp Firsts Library here.
When done right, strategic partnerships can be transformative for early-stage companies. Joining forces with an established player in the market brings you much-needed validation and can help you acquire new customers and generate new revenue models.
Our mentor and executive at portfolio company, Elliptic, Elsa Said-Armanet, shares how to set the ground for and implement a strategic partnership. Based on over a decade of experience building and leading partnerships at companies such as Stripe, Twitter, and Google, Elsa's insights will help you and your team successfully select a strategic partner, prepare and carry out your first negotiation, and measure the results of the collaboration.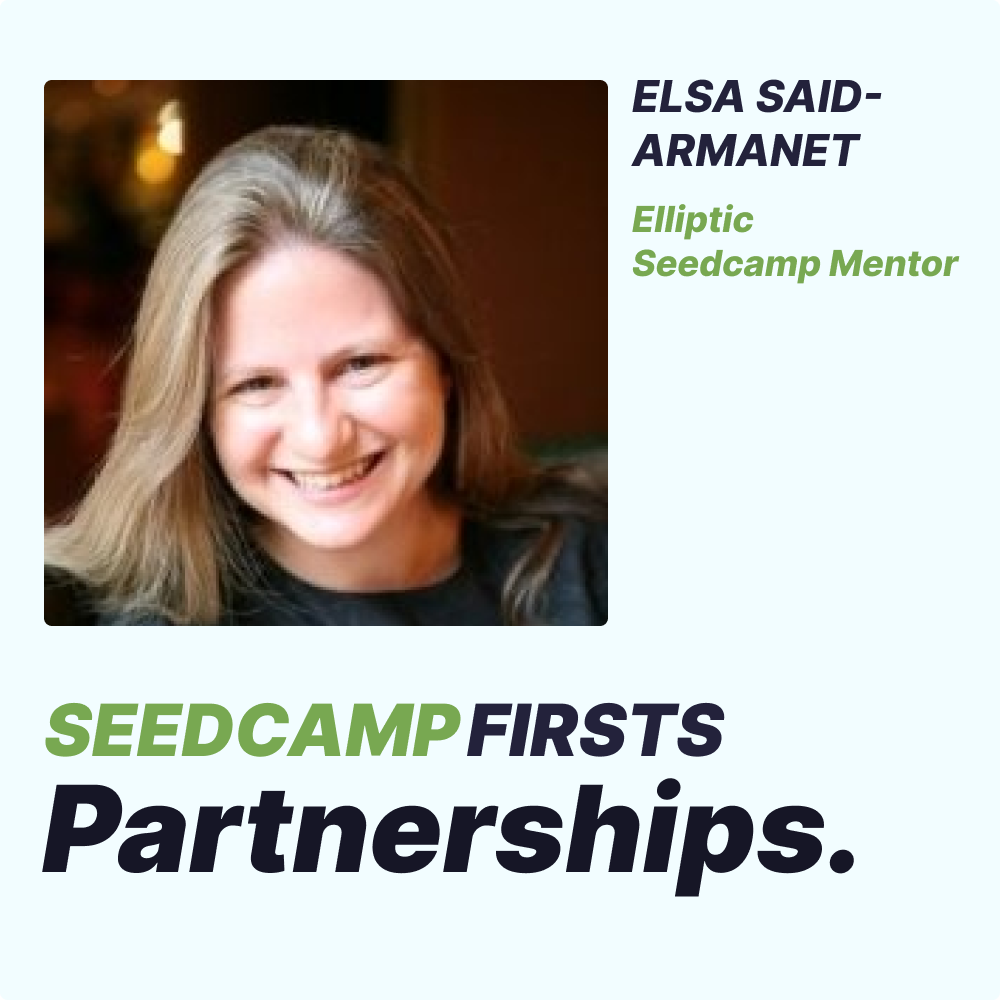 Read our deep dive interview:
1. What are the first steps in building a strategic partnership from a startup's perspective?
ESA: The first steps are internal. A Partnerships function needs to be integrated with and supported by a number of other functions within the company, typically product, sales, finance, marketing, and business intelligence. You need to define your partnerships strategy in the context of your startup's priorities and those of your other functions, most notably product, and engineering, respectively, sales and marketing. Partnerships should build an internal flywheel where they contribute to each of these functions, motivating them, in turn, to support partnerships with user research, product development, partner marketing, and go-to-market support.
2. What should founders have in mind before approaching a potential strategic partner (e.g., a corporation, an institution, etc.)?
ESA: Some of these strategic partners could be foundational partners: these are the partnerships that you might need because your product could not exist without them. For instance, if you are a Fintech startup, you may need to have a sponsor bank, making this a priority partnership for the business.
If this is not a foundational partner, avoid entering into a partnership at a too early stage, in particular, if this is a distribution partner. Your product must already have some traction in the market without the help of a partner. If this is not the case, this will put you in a very precarious situation. For a startup, partnering with a large company can be trajectory-changing, whereas, for large companies or institutions, the partnership may not even be a strong priority. If your company doesn't have product-to-market fit before entering the partnership, you will have difficulties negotiating reasonable terms from a strategic partner.
Choose your partners wisely, start small. Don't start with your favourite or largest possible partner, focus on smaller, fast-moving, tech-savvy companies which are eager to collaborate and launch a pilot with you. Measure the outcome of your pilot. This will help you refine your partnership proposition and/or approach larger partners with a much more compelling value proposition, thereby giving you a much stronger positioning in the negotiation with more strategic partners.
3. How should startups approach their first negotiation with a strategic partner?
ESA: There are many ways to approach a negotiation, and every strategic partner will have their own style. However, it is essential to master the general/basic rules of engagement:
Carefully choose whom you pitch: identify which function in the organisation is the most likely to advocate for you. When in doubt, approach the person who is the most likely to speak with you, and go for a warm introduction instead of spamming multiple stakeholders on social media, for instance
Work on your differentiation: you are likely not the first company approaching the strategic partner for a partnership. Outline how you differentiate from the competition and why they should choose you. Your message should take into account what would motivate the person to work with you: will you help them achieve their function's KPIs? For instance, if you are pitching to a sales team leader, how will you help this person grow their revenue? If the partnership can make your counterpart look good, this will provide them with great motivation to promote your company internally.
Articulate how the partnership would benefit the partner: form an idea before you engage with the partner, and iterate on your proposition (or reevaluate whether you should keep on talking to this partner as you explore a collaboration). Many partnership team members tend to reach out to partners without a compelling value proposition. If the partnership idea doesn't provide value to your target company, they won't progress the discussion at pace or at all.
4. How should founders define and prioritize the goals and outcomes of a strategic negotiation?
Be clear on your own company and functional goals, and why you decided to discuss a partnership in the first place. Are you trying to drive user acquisition by developing a delightful new user experience? Or is your goal to create a new revenue generation vertical by making your partners pay to join your marketplace?
Your goals and values should be aligned with those of the partner, and this alignment should be visible early on in the discussion. If this is not the case, or if you see that the negotiation becomes very difficult, then it is likely that there is a cultural or goal misalignment with your partner company, and it's often best to pause the discussion otherwise, even if you manage to sign a contract, the partnership is likely not going to be productive longer term
Identify must haves and nice to haves in the discussion:
How much revenue share are you able to give away without becoming unprofitable? What revenue shares are typical in your industry?
Which co-marketing activities can you offer: webinars, blog posts, events?
How many cross-functional resources can you allocate to support the partnership in terms of integration development or sales enablement?
Keep the big picture in mind: what will help drive revenue from the partnership at the end of the day? Even if you manage to negotiate a very advantageous revenue share for you, if the partnership doesn't generate revenue, this effort won't bring you much later down the line.
Typical metrics are:
Distribution partnerships, by partner:

MAUs (Monthly Active Users)
PQLs (Partner Qualified Leads)
Influenced revenue (sales deals or upsells, which your sales or account management teams could close thanks to the help or influence of a partner)
Sourced revenue (in the case of a reseller partnership, for instance, the amount of revenue paid by your partner to you after they resell your product).
[More information on metrics relevant to distribution partnerships can be found on the Crossbeam blog here]
Product partnerships: align your metrics with those of the product organization which you support. For instance, if you are working on partnerships with payment methods at a payment service provider like Stripe, your metrics could measure the adoption of each payment method by your clients (thereby validating that you integrated the best payment methods which are needed by your clients), and/or you could set yourself objectives to decrease the margins that you pay to each partner longer term.
5. How can founders deal with (inevitable) rejections?
ESA: Strategic partnerships sometimes require a multiyear timeline horizon for their execution, so it's important to keep a longer-term vision in your approach to building and investing in your partnership function.
Failure or rejection is fairly frequent in partnerships, but they are not necessarily permanent. View rejection as a "low point" in your multi-year relationship with the partner. Learn from it, and make sure to keep in touch with your partner occasionally (don't overdo it either!) in a friendly way, even if nothing is moving.
Keep in mind that you can't fully control or "de-risk" the outcome of a partnership discussion, given that, by definition, the successful execution of a partnership doesn't only depend on you but also on the partner. A strategic partner may have multiple reasons to drop a partnership conversation, such as internal reorganizations, budget cuts, changes of priorities due to market conditions, or differences in company culture between your company and that of the partner.
What matters is not that a specific partnership discussion failed but what you do instead to maintain a good relationship with the partner. Be it at Stripe or Elliptic, I have seen several partnership relationships start on the wrong foot, would pause the discussion, and rekindle it sometimes one or two years later, especially if internal stakeholders changed in the meantime. It is also important for you to reflect on what you learned from the relationship with your partner. Perhaps this is a sign that you should approach a different type of company, revisit your partnership business model, or do some user research on what your users would value from a partnership. This will help you succeed with your next partnership negotiation.
6. How can startups leverage the power of strategic partnerships as they prepare to scale?
ESA: Strategic partnerships can drive material impact on a startup in many ways, for instance:
Product partnerships or strategic vendors:

These partners are an important building block of your tech stack. For instance, at Elliptic, we work with blockchain infrastructure companies as well as digital assets, to enable our compliance products to detect financial crime activities on their blockchains.
These are critical partnerships for the existence of your business that enable your business to operate. Therefore, these are the partners which you need to address first.
As you scale, these partnerships can drive significant competitive advantage for your company. For instance, Stripe's recent ability to support Paypal as a payment method gives them a significant advantage, in particular in certain markets like Germany.

Distribution or Go-To-Market (GTM) partnerships:

Partnerships can help you grow revenue without relying on your sales team's bandwidth but by leveraging your partner's resources instead. A good example of such partnerships is Stripe's partnership with Shopify, where Shopify Merchants can create a Stripe account from the Shopify portal (thereby driving product-led growth by leveraging the partner's online resource).
Partnerships teams are small, high-impact teams that shouldn't be compensated on sales targets but instead tasked with identifying industry-first models and piloting them. Once you've identified a series of replicable business models, you then pick and choose the most impactful models and prepare to scale them by educating your sales team members on how to negotiate these new types of contracts with smaller partners, going beyond the most strategic ones.
Build a marketing strategy around the most strategic partners in your pipeline. While contract negotiation with them can take a long time, leverage your partners for quick wins by working with them on thought leadership pieces, blog posts, or webinars, for instance. This will help raise the attention of potential common customers who will want to pilot the partner.

Platform partnerships

Platform partnerships are when you're building a suite of APIs, and you want other businesses to integrate their product with those APIs so as to create additional product value for their customers.
Initially, you will build these partnerships through 1:1 interactions with strategic partners, and longer term, you may want to make these APIs and their documentation available publicly and deploy a partnership program allowing third-party companies to integrate your APIs with minimal oversight from you.
For example, at Elliptic, our partnership with the no-code case management software solution with Unit21 helps us offer case management functionalities to our clients without having to develop these features in-house.
Conclusions and key takeaways:
Before entering into discussions with potential strategic partners, clearly define your company and functional goals. Also, make sure you align your goals and values with those of your partner. To ensure the long-term success of the collaboration, focus on what will help drive revenue from the partnership.