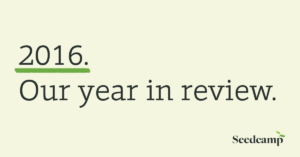 As 2016 draws to a close, we wanted to take a moment to reflect on the year that's been. Amid the turbulence there's been great work achieved and we're incredibly proud of our portfolio companies and the European startup ecosystem as a whole for how it's continued to evolve, in spite of external factors.
For us, 2016 has been our strongest year on record. We've backed over 35 companies across pre-seed and seed with startups spanning from Legal Tech to VR, and AI to marketplaces. As reported in the Financial Times, we also broke the traditional taboo on investor returns – revealing that we've returned close to 2x on our first fund, dating from 2007, with four exits this year alone (including the multi-million dollar sale of Stupeflix to GoPro) and companies have gone on to raise over $500M in further funding, including significant raises this year for FinanceFox, Property Partner and Transferwise.
Thank you to everyone who's supported Seedcamp this year. To our investors; whether you've attended an event, listened to a podcast, mentored one of our portfolio companies, applied for funding or viewed our online resources, your contribution is incredibly valuable.
Below are some highlights from 2016 at Seedcamp. Here's to more entrepreneurs and teams enjoying breakthrough successes in 2017 and to our tenth year! 
PLATFORM 
The Seedcamp platform continues to go from strength to strength with our curated calendar of events and masterclasses, in-house Experts in Residence and our expansive network. We've travelled the world – over 27 cities – in search of the best startup talent;  hosted over 100 events and worked with key partners to bolster our expertise around specific verticals
This year we assembled key speakers, founders and industry experts for our Seedcamp Summits. In March we tackled one of the keywords on every startups lips – Growth – with key speakers from Transferwise and 500 startups sharing their stories with a packed out room. In September we hosted our inaugural COO Summit in partnership with PwC and with great advice from one of the speakers: Ben Gately at Charlie HR. 
In June this year we focused our attentions on the fast-growing Legal Tech sector after issuing a global callout for startups in partnership with Next Law Labs, resulting in our co-investments in Libryo and Clause.
As we continue to invest across sectors using technology to shakeup industries that are ripe for disruption, we hosted our first event focused on one of the hottest topics of the moment – artificial intelligence –  for our 'AI is Now' panel with our friends at Northzone.
And we can't forget one of the highlights of the Seedcamp platform, the bi-annual US Trip; taking in the East and West coasts and introducing a number of our startups to key investors and companies stateside. Olivier Plante, at ThingThing, shared his tips on fundraising in the USA. Read more here.
PODCASTS
Carlos welcomed a host of incredible guests onto the Seedcamp podcast this year and celebrated the 100th edition with special guest, Werner Vogels, CTO at Amazon. 
Be sure to check out our Soundcloud page to hear more from founders, investors and leading tech voices; the people who've built businesses and products, scaled globally, failed fantastically and learnt massively.
Want to feature on the podcast in 2017? We'd love to hear from you.
PORTFOLIO 
We're incredibly excited to have backed over 35 startups this year – across pre-seed and seed – who are breaking new ground across myriad sectors. Read more about some of the newest additions to the Seedcamp family below.
EXITS
It's also been a stupendous year of exits for us, with four Seedcamp-backed companies being acquired this year. Stupeflix, which joined the Seedcamp portfolio back in 2008, was acquired by GoPro in February – followed shortly by Spanish banking giant BBVA acquiring the Finnish Fintech startup Holvi (2011) for an undisclosed amount. Meanwhile, September saw the acquisition of interactive video ad startup Brainient (2009) by Teads, following Farmeron (2011) being acquired by Virtus Nutrition in August.
RAISES
Seedcamp companies continue to raise money from great investors and 2016 was also a year of big raises. You can check out some of those in the press here:
How can companies promote great technical leadership, and how should startups approach hiring developers? On that topic Seedcamp partner Carlos Espinal is joined by Jackson Gabbard, one of the founding hires in Facebook's London office and now an Expert in Residence at Seedcamp.
Having made the transition from an English degree to a career in software development after teaching himself to code, Jackson also recalls how he overcame gaps in his technical knowledge through focus and hard study – leading to multiple promotions at Facebook after some initial struggles.
Jackson, who conducted over 500 developer interviews while at Facebook, helped create the mobile timeline and worked on abuse prevention systems, cautions against non-technical founders outsourcing their dev work abroad because it can limit product development in the long run.
Learn why the myth of the '10x engineer' is a dangerous one, the reason it's important to have product visionaries and not just great salespeople, and how tech companies can ensure good people management.
If the above player doesn't work for you, you can also listen directly from our Soundcloud page.
Listen to similar episodes like this:
It's the most wonderful time of the year and with it comes the quest to find the perfect Christmas gifts. If, like us, the thought of battling Oxford Street or Westfield fills you with dread then we have the perfect solution. We've teamed up with Google Campus and TechHub to curate a list of 11 startup products that will make for perfect Christmas gifts. 
From delicious, ethical coffee to made-to-order menswear, we've got gifts for foodies, fashionistas, and more. Save time and money, and support our growing startups from our community with our first-ever Startup Shopping Guide. 
Merry Christmas and Happy Shopping from us all at Seedcamp!

Cru Kafe

Great-tasting, ethically sourced coffee delivered straight to your door

BKD

Innovative baking kits for children, combining craft with baking.

Grub Club

Discover extraordinary meals in curious corners all over London.

| 20% off orders over £20 with code MERRYCRU1 redemption pp Valid until 31 Dec | | 15% off all products with code CAMPUS15Valid on orders over £30 | | 10% off first 20 bookings with code CampusXmasBook by 20 Dec |
| --- | --- | --- | --- | --- |

Vinterior

Curated online marketplace to discover, buy, and source stylish vintage and design furniture.

LALALAB

Print your favourite photos directly from your phone and have them delivered to your door.

Trouva

Discover unique products, straight from independent UK boutiques.

| £25 off orders over £200 with code STARTUP25 | | 30% off all products with code MerryCampusShipping costs excluded | | 10% off orders over £50 with code TechHub1 redemption pp Valid until 15 Dec |
| --- | --- | --- | --- | --- |

Shammane

A smartwatch designed as a pure jewel: a self-extension bringing back elegance and fashion into the connected world.

Spoke

Better fitting, better looking men's clothes made-to-order.

Chatty Feet

Serious fun. That's what ChattyFeet socks are all about. Funky socks with witty names to bring a little fun into your day.
| | | 15% off first order with code SEEDCAMP15Valid until 24 Dec | | Get 25% off on Meggy socks with code TECHHUB |
| --- | --- | --- | --- | --- |
Weengs

The easy way to send your stuff. Weengs collects, packs and ships.

£15 off first shipment with code Seed11

NearSt

Buy from real shops nearby on NearSt for 1-hour delivery or instant collection in store.

£5 off anything purchased with code CAMPUSXMAS

1 pp, new users only. Valid until 31 Dec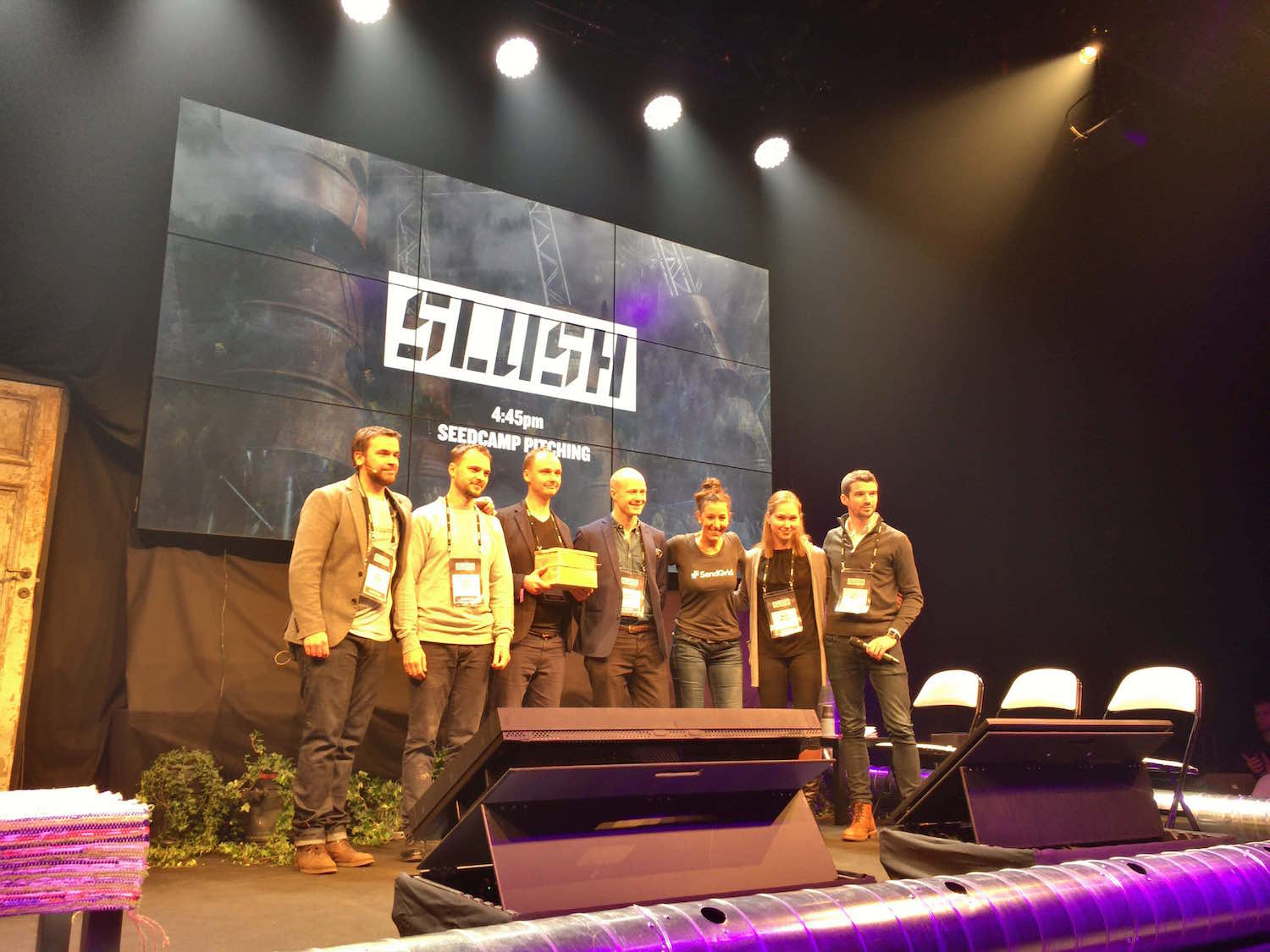 Winning teams from this year's Slush 2016 live pitching event with Dave Haynes & Tom Wilson from Seedcamp
Slush is over for another year and 2016 was bigger and better than ever.  The great and the good of the tech world flocked to a beautifully wintery Helsinki for the two day event packed full of incredible speakers and startup pitches.
Established to help the next generation of great, world-conquering startups, Slush has grown exponentially since launch in 2008 and we're incredibly impressed by the talent it continues to attract. I'd go as far as to say it's the best conference we've been to this year. Slush has built an incredible network and awareness in the Nordics and it's a great opportunity to come and leverage that and also meet with some of the exceptional startups emerging from the ecosystem that's been steadily cultivated here.
The Nordics is a real focus area for us in 2017. We consistently find the quality of founders to be very high and there's a great flow of talent coming out of established ecosystem companies, such as Klarna, Supercell and King (to name but a few). That's one of the great things about Slush; it attracts talent from these regions and gives us great insight into how the ecosystem is evolving and the companies to look out for.
At last years Slush, we were so impressed by the startups at the live pitching event we hosted that we went on to invest in one of the finalists, Estonian based Greenhouse.  For this years event we had an amazing 400 startups apply from which we narrowed down to a select group of seven companies to pitch on stage to a panel of judges including Anna Bofill Bert from Sendgrid, Marili Merendi at Karma Ventures and myself flying the flag for Seedcamp.
The companies, predominately originating from the Baltics & Nordics, covered a wide range of sectors including AI, logistics, robotics, VR and mobile and pitched to a packed out room on the Engine Stage on Day 1 of the conference. The quality, not just in the business ideas but in the overall presentation style and appreciation for  design in their early product was great to see. The quality of startups was so high the judges ended up selecting three winners from the seven, all with unique and compelling solutions to major pain points in key sectors.
Nordigen, from Latvia, impressed us by the early traction they've already managed to gain in a hot area: credit scoring for  lenders. They were selected as the overall winners with the judges particularly taken with the in-house tech they've built to categorise transactions that drives their credit checking engine. The founder did a great job presenting what could be quite a technical product and we think they're on to something really interesting here.
Another compelling founder came from Swedish company Shipwallet. Targeting one of the biggest outstanding pain points for e-commerce providers – logistics and shipping – they've created a logistics solution that plugs into the checkout process enabling merchants to provide a greater choice of shipping options. Last mile delivery is still a huge pain point and the judges were impressed with Shipwallet's good early traction in Sweden and their impressive partnerships with large brands in the region.
The last finalist we selected, Gleechi – also from Sweden – has created a state of the art software solution to create realistic hand movement and interaction for artificial hands. The software is based on 8 years of robotics research and solves a fundamental problem for both virtual reality and robotics, arguably two of the most important technology areas of the future. The judges were impressed with their approach of starting with VR and gaming enabling the machine learning algorithms to run on large amounts of data and improve over time.
Thank you to everyone at Slush for organising such a fantastic event, to our fellow judges and to all of the startups who presented. We're incredibly excited to see the talent that continues to emerge from the region in 2017 and, of course, for next year's event!
Tom Wilson, Investment Manager